On the first Saturday of every month, Mark will write about a topic of interest to Packers fans and the organization, and then answer five fan questions. Fans are encouraged to email Mark with their name and hometown at:
We entered this season with high expectations, having won 13 games three years in a row with the league's two-time reigning MVP on the roster. The start of the season has been disappointing. We've lost our last four games (the last time we lost four games in a row was 2016), and struggled in other stretches – losing to the Vikings to start the season and barely beating the Patriots in overtime at home.
It is a long season, though (we have nine games remaining), and things can change quickly in the NFL. I've heard from many fans who were disappointed that we were not able to make a trade prior to the trade deadline on Tuesday (thanks, by the way, to those fans who sent emails to MT5 regarding our failure to make a trade that didn't include swear words and calls for immediate resignations and firings). It was not for lack of trying. Brian Gutenkunst had active discussions about adding players in the weeks leading up to the deadline but ultimately was not able to consummate a deal that made sense to us.
Although we lost to Buffalo, I saw positive signs in the game (particularly in the second half) that I think we can build on. The Bills are arguably the best team in the league, with a great defense, and we were able to run for more than 200 yards and win the turnover battle. I have great confidence in Brian, Matt LaFleur and Russ Ball. I think they will make the moves needed to turn around our season and put us in position to make a run for the playoffs. It all starts in Detroit tomorrow.
Now, on to your questions.
George from North Mankato, MN
I was curious your takeaway from the game in London. The outcome of the game aside, how would you rate the experience? Do you think the players enjoyed the trip and any of the events or sights they were able to take in?
Knowing that the Packers will have to make the trip across the pond again, where would you like to see them play? Were there any parts of the trip you would have done differently? I know the fans were excited to see you and some of the alumni out on the streets. I would like to thank you for taking the time to talk to my brother who made the trip to watch the game and ran into you while there.
Great question, George. Overall, our experience in London was tremendous. The stadium is first class and the atmosphere in the stadium was electric. I would estimate that about two-thirds of the fans in the stadium were Packers fans. The team flew over Thursday night and arrived in London on Friday morning. We stayed in a beautiful resort called The Grove about 45 minutes from downtown London. It had a practice field on-site and the players loved it. The players were able to see some of the sights in London on Friday and Saturday. When we play our next game internationally, we may make some minor changes, but I think our plan this year was sound. We will not have to give up a home game to play an international game for another eight years. We could, though, play a game as a visiting team in the next eight years (if a team doesn't protect a home game against the Packers or both teams agree to play a division game internationally). I would like to see us play a game in Germany. I know there are a lot of Packers fans there, and that Germans love American football. The interest in the game that will be played there this year (Bucs versus Seahawks on Nov. 13) has been off the charts.
First I'd like to thank you for all the effort you've put forth to ensure the Packers stay the first-rate team they are. I'm sure when talking about mandatory retirement, the idea we all have faced is realizing how old we are (LOL).
My question: I enjoy watching marching bands, earlier years saw many bands perform prior to and during halftime. UW-Madison has done some prior to COVID, but why isn't there more of it? With schools like UW-Green Bay, Oshkosh, Whitewater, Lawrence and local high schools just wondering why? Is it a cost factor to bring them in, taking up seats. Thank you for your reply! Again, thank you for keeping the Packers and Lambeau a first rate organization…
"A nation that does not know its history and heeds its history has lost itself. Unless you know where you came from, you do not know where you are going to." -Woodrow Wilson
I'm glad you enjoy the marching bands at our home games, Greg. We did take two years off from hosting marching bands due to COVID, but we did have the UW marching band here for the Jets game. Going forward, we will try to have a marching band perform during at least one home game. The main issue is that we have so many other activities scheduled during halftime of games (e.g., Hall of Fame ceremonies, alumni celebrations, etc.). Weather also plays a role, as we only have marching bands perform in the early part of our season. With the Packers typically playing three games in December/January, that is not marching-band friendly.
Ian from Kirkwhelpington, UK
I read a report that the golfer Dustin Johnson was slightly disappointed to have "only" won $27 million in prize money this year, taking far fewer risks with his body and health than any NFL player. As prize money in other sports increases, can you see the NFL salary structure, both minimum salaries and salary caps, having to increase very sharply in the near future? Thanks for all you do.
You raise an interesting issue, Ian. Of course, Dustin Johnson left the PGA Tour for the LIV Tour, so he is receiving guaranteed money now (no cuts) while playing 54 rather than 72 holes. I do think that player salaries will continue to grow at a steady pace during the remainder of the current 10-year Collective Bargaining Agreement (particularly given the league's long-term media deals). The beauty of the current CBA (and really all CBAs going back to 1993) is that the players and owners both have an incentive to grow revenue, since both will benefit when revenue grows.
Patrick B. from Ornoco, MN
Congratulations to Jordy Nelson and Josh Sitton on their induction to the Packers Hall of Fame. How does the Packers HOF decide on the former players to be inducted.
Yes, I am pleased that both Jordy Nelson and Josh Sitton will be inducted into the Hall of Fame. They are both very deserving and it will be great to see them next year. Although the Packers run the physical Hall of Fame museum at Lambeau Field, the inductions are handled by a separate organization called Packers Hall of Fame Inc. We have input and make suggestions but ultimately it is the decision of their selection committee. To be inducted, players have to be out of the game for four years (one less than the Pro Football Hall of Fame) and obviously have to have played at a very high level for a number of years given the number of great players that we've had over the years. Hall of Fame Inc. keeps an ongoing list of potential inductees (players, coaches and contributors). Jordy and Josh are the 167th and 168th inductees.
For what it's worth, you have my permission to take a break from one football question this month and tell us about your favorite Thanksgiving meal instead. We'll be having roasted venison with sweet potatoes, green bean casserole, and apple pie. In the unlikely event that you'll be in NC with nowhere else to go, I can fill another growler, and give you an extra chair at the table.
Thank you so much, Gregg, and what a great idea. Also, thanks for the invitation, but I don't think I will be in North Carolina for Thanksgiving. Thanksgiving has always been a big holiday in our household. It is one of the few times when we all come together – our four children (and their spouses) and five grandchildren. With regard to the meal, we are very much traditionalists – turkey (with stuffing and gravy), sweet potatoes (with melted marshmallows and pecans), green bean casserole, mashed potatoes (smothered in gravy) and pecan pie (with ice cream). I hope you have a Happy Thanksgiving.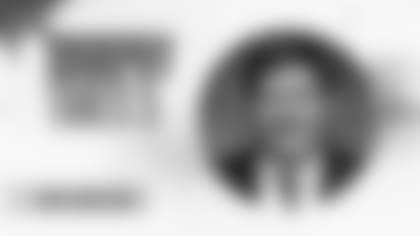 Murphy Takes 5
Email Packers President/CEO Mark Murphy with your name, hometown and a question.