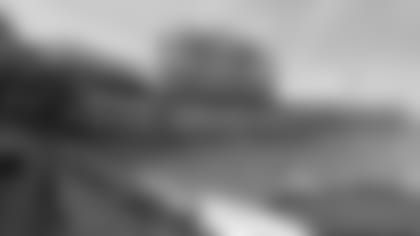 ](http://www.packers.com/media-center/photo-gallery/Lambeau-Field-video-board-installation-progressing/b37136a9-99c8-4d55-aae5-59ce748018a9)
Click to view photo gallery

The installation of Lambeau Field's new high-definition video boards is proceeding on schedule. All of the north board modules are in place and work on the south board will begin in the next two weeks.
The new video boards, four times as large as the previous video boards, measure 48 feet high and 108 feet wide and are equivalent to approximately 1,110 40-inch flat panel TVs.
Both the north and south boards will have a pair of adjacent auxiliary screens that are 31 feet high and 18 feet wide. The auxiliary screens will display statistics, scores from around the NFL and other information.
A new, state-of-the-art HDTV control room also is being constructed and will provide improved content for fans on game day. The Packers will employ eight new HD video cameras in-house, double the number from the old system, and three of those cameras will use lenses that are doubling in power from 23x to 50x. The number of feeds from the TV network cameras also will double from four to eight. Additionally, the replay capacity is increasing from eight to 12. Overall, the system has doubled the number of camera feeds from eight to 16 and the number of replay angles available has increased from eight to 12.
All told, game attendees will enjoy new video boards that will provide a dramatically larger, brighter and denser picture with content that includes improved replays and information that will be better than the in-home experience.
Other video board details include:
Each main screen consists of 104 modules containing a total of 4,738 individual lighting units.
Each main screen covers 5,222 square feet.
Each auxiliary screen consists of 15 modules containing a total of 540 individual lighting units.
The modules are 100 percent weathertight/waterproof with their own fan ventilation.
Each end zone screen is fed by a 24-strand multimode fiber optic cable (12-strand to the mains, six strands to each auxiliary), which supplies content to the screens.