*As part of the Green Bay Packers' celebration of the 10th anniversary season of the Super Bowl XXXI Championship, Packers.com is running a series of stories about the people responsible for bringing the Vince Lombardi trophy back home to Titletown.
Saying Craig Newsome is quiet is like saying the Green Bay Packers were a good team in 1996.
Talk about severe understatements.
Newsome was probably the most laid back, quiet, and perhaps shyest player on the Packers' Super Bowl XXXI team.
But, fortunately for the Packers, Newsome's game spoke volumes.
The 6-foot, 190-pound cornerback got thrown into the fold as a rookie in 1995 and became a mainstay on the Packers' defense for four years until a torn ACL slowed him down and eventually led to him being traded to San Francisco.
He may not have been overly fast or remarkably big for a corner, but Newsome, 34, had such a confident determination that he was never over his head despite playing an instrumental role in the team's success as a 23-year-old. And all this came after playing only years of Division I football at Arizona State, after spending his first two seasons at San Bernardino Valley (Calif.) Junior College.
Needless to say, Newsome didn't have much time to adjust to the NFL game, but then again, he handled himself just fine. In his rookie season, Newsome started all 16 regular season games at left cornerback as well as the three postseason games and finished fourth on the team in tackles with 85.
According to Newsome, playing for a Super Bowl team the following season wasn't all that daunting after gaining valuable experience the year before.
"I was never intimidated," Newsome said. "I wasn't intimidated because I played my rookie year when I first got drafted. I got that out of my system then."
He did, however, admit that all of this success may have spoiled him.
"I was surprised because it came so fast," Newsome said. "Like the Super Bowl, there's guys that played in the league for years and never reached that mark. For me, to only play two years and to get there, I was like, 'Wow, this is easy.'
"Which it isn't," he added with a laugh.
Newsome now lives in Riverside, Calif., and coaches football at a local junior college. When asked if he still finds the time to watch the Packers despite being nearly 2,000 miles away, Newsome acts surprised by the question.
"Oh yeah, oh yeah," Newsome exclaimed. "That's a must. I'm a huge fan. Not a big fan, a huge fan."
And there's no question he still has fond memories of his days spent in Green Bay. Yet, Newsome admits that he doesn't keep in touch with any of his old teammates because "guys move so much it's hard to keep in contact with them. And I'm kind of hard to keep in contact with, too."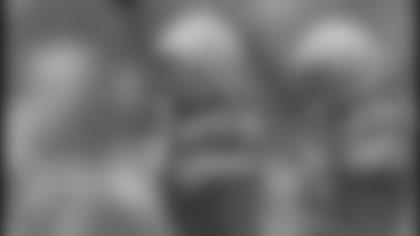 Though he hasn't been to Green Bay since his playing days, Newsome said he would like to make it back someday to watch his favorite team in action. He asks questions about current players and leaves the impression that he really does care about the team he once played so well for.
Newsome reminisces about several old teammates as well, including Reggie White and Doug Evans, and marvels at one particular friend that he learned a great deal from, the late Wayne Simmons.
"Wayne was a hell of a teammate," Newsome said. "The dude was tough, man, I'm telling you. Anybody on that team I would go to war with, it was Wayne. Honestly, Wayne was tough. And when I say tough, the dude would knock your head off."
Speaking of toughness, if there was one word to describe Newsome -- well, besides quiet -- it would probably be tough.
Coupled with Evans, the Packers had one of the best cornerback tandems in the NFL, something Newsome thinks is a lost art in today's game.
"That year was the year of the two physical, big, shutdown corners," Newsome said. "You just don't see that no more."
Newsome said he didn't have much choice to play any other way under defensive coordinator Fritz Shurmur.
"He was an old coach, but he had that fire in him," Newsome explained. "He had that fire in him that if you didn't play well, your butt was on the bench. So you had to play hard, you know, which paid off for us that year."
Coming from Newsome, it's another quiet statement that speaks volumes.