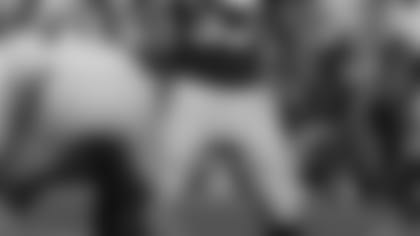 OLB Nick Perry
GREEN BAY—Nick Perry returned to practice on Friday less than two full weeks after injuring his foot in Baltimore, and the outside linebacker has a chance to play on Sunday night in Minnesota.
"Nick was in a very limited role today," Head Coach Mike McCarthy said. "Didn't want to overdo it. We'll see how he feels and hopefully get him ready for Sunday night."
Perry said the injury, which occurred when he strip-sacked Ravens QB Joe Flacco late in the first half on Oct. 13, is about "pain tolerance" at this point. But even if he can deal with the pain, he stressed that it won't be his decision whether or not he plays.
"It's going to be up to the medical staff and everybody else, but I just have to take it one day at a time and see how I feel," he said. "I may give it a go this week. It's possible, but it's not up to me."
Perry, who only played in six games as a rookie last season due to an injured wrist, was just starting to come into his own when the injury bug bit again. He had two sacks against Detroit in Week 5 and then added the sack and forced fumble the following week in Baltimore.
Playing without Clay Matthews and Perry for the last 1½ games, the Packers don't have a sack from an outside linebacker. Rookies Andy Mulumba and Nate Palmer have taken most of the snaps in that time, with some going to Mike Neal.
"I want to do anything I can for the team," Perry said. "If they need me, I want to play, but sometimes it doesn't come in my favor. I have to be smart about it and they have to be smart about it as well. It's a long season. I think we've got the people to do it, but it wouldn't hurt to have me out there as well."
It also wouldn't hurt the defense to get cornerback Casey Hayward back. Hayward has practiced all three days each of the last two weeks and is probable on the injury report. Also probable is running back James Starks (knee), who hasn't played since Week 3 in Cincinnati. Linebacker Brad Jones (hamstring), who has missed the last two games, is questionable, while wide receiver James Jones (knee) is doubtful after not practicing at all for the second straight week.
Hayward hasn't played yet this season, having injured his hamstring prior to training camp and then re-injuring it in his first preseason action, on Aug. 23. Hayward said he came back during training camp as soon as he felt good again, but now he's been in that good place for the past couple of weeks.
"This time I hope we hit it on the head and don't have any setbacks," he said. "I never missed a game before, even in college, high school, middle school, little league. I thought I was going to miss one or two, but the injury lingered around."
Hayward led the team in interceptions as a rookie last season with six, and in his absence it's not entirely a coincidence the defense has just three interceptions through six games this season.
"When I get back, I hope I can grab a couple," he said. "I don't think it's that we don't have any ball hawks. It's that the ball hasn't come in our laps sometimes. It's best to get lucky sometimes. Hopefully we can get some this week."
McCarthy said opportunities for interceptions are tracked, and the defense got its hands on a couple of passes last week that weren't hauled in, aside from the one interception by cornerback Davon House, which was the Packers' only pick in their last three games.
"We need to get some interceptions," McCarthy said.
"Casey Hayward has excellent ball skills. When it comes to route recognition, jumping routes and things like that, for a young player, he does it very well. We do need a spark." Additional coverage - Oct. 25