I've been waiting for just the right day to post the following questions.
I've been a Packers fan for the last 10 years and I hope you can help me with a man who was good to me in my teen years. Billy Joe Winchester, when I met him, I think he told me that he played for the Packers and Raiders. I thought it was cool that he didn't act like a superstar, though I figured he must have been just a decent player. He and his wife fostered a few kids and had one biological daughter. I went to school with all of them. He helped me complete my community service when I got into a little trouble. I admired the work he did in his community. I found out that he passed away in 2011. This is where I am stuck. People are telling me that he never played NFL football. Can you tell me anything about Billy Joe Winchester and his time with the team? I have been told he played in the World Football League.
Sorry, but no Billy Joe Winchester ever played for the Packers or the Raiders. I've told people in the seven-plus years I've been Packers historian that nothing has surprised me more than learning how many people over the years claimed to have played for the Packers, but didn't. Or at least their descendants have made the claim on their behalf based on stories passed down and obviously exaggerated over generations. I don't know if imaginations ran wild, people were better story tellers back when or what. But I've heard many a tale. Anyway, Winchester played in six games for the WFL Portland Thunder in 1975. He was an all-heart, 5-11, 260-pound defensive tackle. He also played two years at Oregon State and then transferred to Arizona State, where he played as a senior in 1974. At both schools, he was an outstanding weight man in track, as well. But, maybe more than anything, it sounds like Billy Joe was a character. He didn't make it when he tried out for the British Columbia Lions in the Canadian Football League in 1978, but he left a lasting impression. Eight years later, one of the Vancouver columnists wrote: "Nobody ever wanted it more than or trained with more enthusiasm than Billy Joe, the nicest man who never made the team. But he was at his best in the dressing room and in the rookie show, where he performed his never-to-be-forgotten impersonation of a starfish, in which he would run full-tilt at a wall or locker, leap into it with arms and legs outspread, and slide slowly down until he hit the floor. Sometimes it was an hour before he could do an encore." Glad to hear he helped you out when you needed it.
Jennifer from Cave Creek, AZ
My father-in-law, William Posorske, has told all of us in his family that his father played on the first Green Bay Packers team. His father's name was William Kenneth Posorske from Berlin, Wis. He tells us his dad made $5 a game if he didn't play and $10 if he did. He talks in great detail about how his father contracted Lou Gehrig's disease and how Curly Lambeau had his father sit on the sidelines later in his dad's life when he was ill and allowed my father-in-law, who was a young boy also to sit there. My father-in-law is a very successful businessman, a veteran and sharp as a tack. I know because he has lived with my husband and I for more than 20 years. He has never made stories up ever, but when I research the 1919 team, I don't see his dad's name. I just wonder if there is any way to explain this story such as possibly his father played in 1918 before the team became official? I hope you might be able to clear up this mystery for our family. Thank you so much!
No Posorske was listed as playing for the Packers in 1919 or 1920, when they were comprised of mostly local players and played an independent schedule. I couldn't find anything close to that name on the 1918 city team or teams, either. Nor did he appear in any team pictures. In 1919, 25 players participated in the Packers' 11 games and 24 of them can be identified. In the fifth game against Racine, a player listed as Bradlee in the game summary substituted at right tackle for Sam Powers. As far back as 1959, when many of the original Packers were still living, Green Bay historian Jack Rudolph attempted to identify Bradlee and nobody could remember him or his name. I haven't been able to come up with a name, either. From what I've been able to determine, your father-in-law's father took a teaching job at West De Pere High School in 1920. That's not much more than a five-mile drive from Green Bay. And there were two players who appeared in single games in 1920 who haven't been confirmed, either: a Smith and a Malle or Malls or a spelling close to that. But I believe the latter might have been a St. Norbert College student. I thought maybe I'd find a Posorske playing against the Packers for Oshkosh in 1919 or maybe for De Pere in 1920, but there were no names even close to it. However, keep in mind, the Packers-Oshkosh game was played on Oct. 26, 1919, and only five days earlier, The Daily Northwestern in Oshkosh said the team was just being organized. Oshkosh lost, 85-0, the Northwestern's story on the game consisted of one paragraph with no names mentioned and I don't believe the team ever played another game. It would be conceivable back then for a team like that to pull someone out of the stands to play. I researched your question more than some of the others here because many of the details you provided proved to be true, and also because I was able to determine William Posorske was an athlete at Oshkosh State Normal School in the winter of 1919 and may have coached, as well as taught, at West De Pere in 1920. I've found nothing to suggest he played for the Packers, but Lambeau and many of the team's local players from those first two years played on amateur baseball teams, amateur basketball teams, etc., in the summer and winter. Maybe he played with or against Lambeau or some of the other original Packers in another sport. I know William played basketball – and I think football – at Oshkosh Normal. In fact, I even checked the lineups for the Green Bay East High School-Oshkosh Normal football game in 1920, but found no Posorske. Lambeau was the coach at East High that year. As far as sitting on the sidelines, I believe the Packers for years allowed people in wheelchairs to watch the game from there. I don't think Lambeau would have had to give permission for that.
I have heard a family story all my life. My grandfather, Norbert Rondou, was said to play for the Packers prior to them getting into the NFL. The story goes that there was another team in GB, I have forgotten the name. This team played the Packers for entry into the NFL. My grandfather played for the Packers but changed teams for more money. The Packers won and my grandfather never played again. Any evidence on this story?
No. No Rondou played for the Packers in 1919 or 1920 unless he did so under an assumed name. Nor was there ever a game to determine Green Bay's entry into what was the American Professional Football Association in 1921. In 1922, a Norbert Rondou, who was 20 years old at the time, was struck in the face by a bat during a baseball game in Green Bay and was reported to be unconscious for five hours. I've also seen the last name Rondou in box scores, but as you may know, that was a common name in Green Bay in athletic circles and otherwise.
I have always been told my grandfather played for the Packers in the early years. Can you give me any information? George Prudhomme lived in Chicago and was from Belgium.
I've found no record of a Prudhomme playing for the Packers or even trying out. In the late 1890s, a George Prudhomme played on a championship team at the University of Ottawa in Canada, but that was more than 20 years before the Packers were founded. And I have no clue if that was your grandfather.
My grandfather was from Marquette, Mich. It has been rumored that he played center for the Packers in two different seasons. I've heard 1929 and '32, but I'm not too sure. My grandpa played under an alias because he was playing for the University of Michigan. His real name was John "Jack" Frisk.
By 1929, I find it hard to believe the Packers would have used any player under an alias. I think that time period of what Lambeau once called "tramp football players" was over, where they'd travel around the Midwest playing for the team that offered the most money on any given Sunday. The Packers were 12-0-1 in 1929 and won their first NFL title. I can't imagine that they would have risked all that by using an ineligible player. Plus, they didn't need ringers. They outscored their opponents, 198-22. Now, if you had said he played in 1919 or 1922, I might not have been as dismissive of the possibility. I believe a Jack Frisk played at Northern Michigan in the late 1930s, maybe 1940. If you don't know, I'd check your grandfather's birth date.
A number of years ago, I had the pleasure of caring for a nursing home resident named Modest Reince, who told me he played for the Packers. He was unable to tell me the year or years. Do you have any record? He also was a federal agent that was involved in the shootout at Little Bohemia Lodge in Manitowish, Wis., that involved John Dillinger and his gang.
I believe Modest might have been a federal agent. In 1934, the same year as the Dillinger shootout, he drove from the small town of Maplewood in Door County, Wis., to Shawano, about a 75-mile trip, to attend the funeral of a treasury agent, who had been killed in a liquor raid in Kenosha, Wis. But Reince never played for the Packers and I can't tell you for sure that he was at Little Bohemia during the Dillinger raid, either.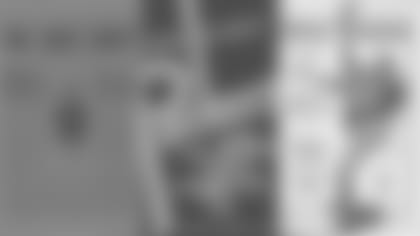 I'm writing for some information about my grandfather, Robert Hempen. It has long been part of my family history that he played for Green Bay under Curly Lambeau.
No Hempen ever played in a regular-season game for the Packers and I can't find any record of him being in training camp. A Bob Hempen played for the Racine (Wis.) Legion semipro team in 1947. I realize there were stories in a number of newspapers after that where he maybe told people he played two years with the Packers. But, no, he never did.
When I was in high school, I had a math teacher that claimed he played center for the Packers and was from Ripon College. I think he would have played early 1920s. His name was Dwight Kenyon. Could he have been one of the college players that got the team in trouble with the league?
Your teacher never played for the Packers in a league game, but I'm all but certain he started at left guard against the Hibbing (Minn.) Miners in the Packers' only exhibition game before the 1923 season. During Kenyon's stay in Green Bay, the Green Bay Press-Gazette referred to him only as "Crow" Kenyon, a product of Ripon College. I can't imagine it's not the same guy as your teacher. The Packers used only 12 players against Hibbing and Kenyon was the only starter who was replaced. He left the game in the second quarter. Why and why he never played again, I can't tell you. If I had three guesses, I'd say he didn't play well and was cut, he was injured and Lambeau got rid of him so he didn't have to pay him, or he simply quit. Playing pro football at the time wasn't exactly a life of luxury. Plus, he probably would have made more money as a teacher. He was a good player at Ripon. He was team captain as a senior and weighed 235 pounds, which was big for that time.
Longtime fan here and I appreciate your work and the depth you add to the site. Back in 1956-57 a football coach showed up at our little upstate New York high school named William "Bill" Skye. He had played four years at Syracuse and apparently one year in the pros, half with the Giants and then traded to the Packers. That would have put him on the team sometime in the early 1950s. He may have played under his family name which might have been Skyinskus or Skyinski. Injury or something else caused him to leave the pro ranks, but his legend to our little school was magnified by his time playing pro ball. He went on to have a long career as a high school coach and later as an administrator in the NYS school system. Can you find a record of his time in Green Bay?
Thanks for being a loyal reader. On Sept. 8, 1953, the Packers acquired rookie guard Bill Skyinskus, a 16th-round draft pick from Syracuse, in a trade with the Giants for an undisclosed draft choice. That was a little less than three weeks before the season opener. Thirteen days later, Skyinskus was waived by the Packers. He played in two exhibition games against Pittsburgh and Cleveland, but not any regular-season games. I also found a story in a New Jersey newspaper, where your coach admitted he didn't play in any regular-season games. So he was honest about it.
Can you find anything about my uncle Joe Varges playing for the Pack in the early 1950s after the Korean War? He turned me into a Packer fan.
I found nothing under the spelling, Varges. A Joe Vargas was a 29-year-old kicker for Santa Clara University when it upset Bear Bryant-coached Kentucky in the 1950 Orange Bowl (at the end of the 1949 season). But I can find no record of him trying out for the Packers, much less playing for them. Paul, here's my hunch about how some of these stories that are part of family lore get more and more embellished over time. In that 1950 Orange Bowl, Babe Parilli was Kentucky's starting quarterback and two years later he was the Packers' No. 1 draft pick. Bear Bryant was Don Hutson's teammate at Alabama. Upsetting Kentucky had to be one of the most memorable days of your uncle's life. He kicked the three extra points in a 21-13 victory. And, as time passed, what names on Kentucky would he most likely have remembered? My guess is Bryant and Parilli, both of whom had ties to the Packers. Who wouldn't brag about beating those two famous or well-known foes? Also, Joe Vargas became the football coach at Richmond High School in Oakland a year later. I believe Richmond was an athletic power back then. Perhaps he also coached or coached against someone who later had ties to or played for the Packers. And maybe that also had something to do with him being a fan or at least talking up Green Bay.
Pete & Margie, Las Vegas, NV
Our family always thought that my uncle, Paul Bergin, played on the Packers' early teams. Do you have any info on him?
My apologies, but I'm going to break your heart twice here. First, my favorite Las Vegas is in New Mexico. The Las Vegas that is home to New Mexico Highlands, Leonard "Graveyard" Garrett's school. When we drive to Arizona, it's a must stop, if for no other reason than to check out the football field and be reminded of where "Graveyard" – maybe the best nickname in Packers history – played his college ball. And, no, Paul Bergin never played for the Packers. If it's the same Paul Bergin, he was in a bad motorcycle accident in 1915, four years before the Packers were founded. The Press-Gazette referred to him as a "youth" and said he suffered a fractured skull and wasn't expected to live. But he did and joined the Navy and was stationed in California at about the same time the Packers made their debut in the fall of 1919. I did find where he played basketball in 1916 for the Hillsides, a club which fielded youth football teams at the time, and again in 1925 for the Sullivan Legion Post, when at least one or two Packers were teammates. Also, your relative did have at least one run-in with the Lambeaus. City councilman Marcel Lambeau, Curly's father, pressed to close his Pine Street tavern in 1933 for violating city sanitation regulations.