Cliff Christl started gathering oral histories with former Packers and others associated with the team in 2000 and will continue to gather them as Packers historian. Excerpts from those interviews will be periodically posted at *www.packers.com*
Nolan Luhn played end for the Packers from 1945 to 1949. A product of the University of Tulsa, Luhn was selected in the 25th round of the 1945 NFL Draft. Fellow end Clyde Goodnight, who also went to Tulsa, was drafted in the third round that year and the two were nicknamed the "Tulsa Twins" during their five seasons with the Packers. They joined the team during Don Hutson's final season and then had the unenviable task of filling the void Hutson left as a receiver. Luhn played mostly right end on offense and also defensive end his first three seasons. Luhn played in 56 games for the Packers and caught 100 passes for 1,525 yards, a 15.3 average. Luhn led the team in receptions and had his best season in 1947 when he caught 42 passes for 696 yards, a 16.6 average.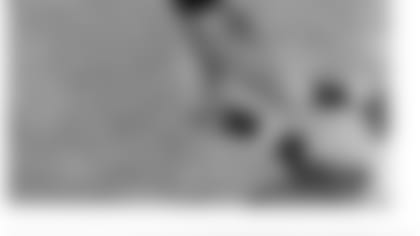 On how the Packers wound up with two ends from the same school: "I played with Clyde Goodnight at Tulsa and we played at the Orange Bowl. The Packers were scouting the game. Robert Conrad was the scout and he was disabled. He came to Miami, then he came to Oklahoma City where I was working at the time. Then he came to south Texas to sign me. He just worked for Curly (Lambeau). The Packers wanted a tight end who could catch the ball, (whereas) Goodnight was drafted to replace Hutson."
On Lambeau, his coach all five seasons: "I thought he was very sharp. He called all the plays. In fact, in the five years I was there, most of the plays were signaled to me or given to me and I gave them to the quarterback. I was the wide receiver or tight end to the outside and I'd look to the bench and Lambeau would yell the play to me and I'd take them to the quarterback."
On whether the linemen would make calls at the line of scrimmage:"My first year, I started calling the defense. I don't know why (Lambeau) chose me. All the time I was there, I'd call the defense. We'd go up to the line of scrimmage, I'd stand up and say '44' or '64,' a four-man line or six-man line."
On how he'd describe Lambeau's personality: "He was kind of jolly. He'd chuckle a lot. But, then, if you didn't play good, he was real serious. He'd break his cigarette holder in frustration. Throw it on the ground. He had a long cigarette holder, about six, eight inches long, that he'd smoke his cigarettes in. He'd stick a cigarette in the end of it, light it, then he'd be running up and down the sideline yelling at us, screaming plays in and this and that, then once in awhile he'd throw that cigarette holder on the ground and would have to pick it up."
On stories that Lambeau smoked, but didn't inhale: "I think that's why he used that holder. He never inhaled them. He'd just suck on 'em and blow smoke out of 'em as fast as he could during games."
On how players reacted to Lambeau's sideline antics:"We liked it when he'd tear off his sport jacket, throw it on the ground and kick it. Ten thousand people would come just to see Curly put on a show."
On how Lambeau motivated his players: "It was his enthusiasm. He coached with a lot of enthusiasm and it just came out of him. Sometimes it was frustration. A play wouldn't go right, the way he called it, or you didn't make a good enough block or tackle, he'd kick the sideline marker and hurt his toe and so forth. It was every play. He coached the same way in practice. He was very intense in practice. For instance, I was a tight end and I was a rookie. Curly had the offense by himself my first year and he'd try to teach me a pass pattern. He'd be right out in front of me: 'Ten yards and you cut across the field right here.' He'd run with me for a step or two to show me. He was that kind of coach. He was a hands-on coach."
On Lambeau's pregame and halftime speeches: "Back in Green Bay, we were playing the Bears and I was anxious to get out there and play football. He was talking in there about how we were going to run the ball this way and 'you can do it,' and all this. Not yelling at us, but walking back and forth, and trying to motivate us. About halfway he paused and I jumped up and ran out the door. 'Hold everything, I'm not through talking yet.' That's the kind of guy he was. He just pumped me up real good and so, too, with other players over the years."
On the Packers' struggles during Lambeau's final five seasons as coach: "I suppose you're going to say, 'Well, why didn't he win those later years?' The good players like Larry (Craig), Roy McKay, Tony (Canadeo). They were getting up to 30, 34 years old. Charley Brock. Ted Fritsch was up there eight, nine years. We were getting old. We needed some new players and he didn't have the money to get the new players."
On whether players were aware if the board of directors or executive committee was meddling with Lambeau at the end: "I don't think so. When Curly was there, he ran the show. I don't remember hearing anything from anybody other than Curly Lambeau. And Curly never complained about the board."
On playing with Don Hutson as a rookie: "Hutson always played left end, but we'd fool the defense at times. We'd be in the huddle and he'd tell me, 'Nolan, you go play left end, I'll play right.' I'd take about two men with me and he'd be wide open for a touchdown. He could run. He could outrun me about six yards goal post to goal post. He could really move. And he had quick moves off the ball and away from people. He could clear himself from people."
On how opposing teams defensed Hutson: "They were pretty stationary back then and didn't adjust before the snap. They didn't shift over at all. They stayed where they were and coming out, he'd say, 'First signal,' and away we'd go. He'd go 70 yards for a touchdown."
On Hutson's four-touchdown effort in one quarter against Detroit in 1945: "It was a great show. My gracious! That was my rookie year and I thought, 'Will I ever be this good?' He was a great football player. He could run. He could fake. A good eye on the ball. He had it all. I think we just caught Detroit off-guard. It was one of those days the wind was to our back, if I remember right."
On playing in Lambeau's Notre Dame Box offense his first two seasons: "Me being slow as smoke in the winter time, I did a pretty good job with it. We played the single wing at Tulsa. When I got up there, the tight end shifted and the wingback shifted behind me and it ended up as a single wing, really. I'd line up about a yard to a yard-and-a-half from the tackle. The left end, the right end and three backfield people, we shifted. 'Set, one, two, three.' When you hit on three, you had your hand on the ground. You'd be in a three-point stance."
On whether Lambeau split Hutson out wide in 1945: "Hutson and I would be about three yards behind the line of scrimmage and we shifted. We shifted up to the line of scrimmage. But Hutson had to really get in high gear to get out there about six yards where he was spread out."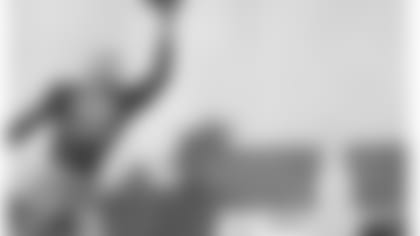 On Lambeau switching to a variation of the T-formation in 1947: "I think he studied it a lot and looked at a lot of films. It took a little adjustment, particularly for me because I had never played it. But after about three, four weeks of practice, it came to me. And we ran a modified T some, which put Tony Canadeo at wingback right behind me, just like we did in the (Box). Tony would shift out behind me, a yard out and a yard back. Then he and I would block on the right end, the tackle or the linebacker, depending on what play we were running. Tony was a good blocker, too. Lambeau knew the T well enough to teach it, but he got a lot of help from (Walt) Kiesling installing it."
On where Kiesling, a Pro Football Hall of Fame guard who played for the Packers from 1935 to 1936 and then served as line coach under Lambeau from 1945 to 1948, learned the T: "I think he carried it from some place back East. I think he knew a little bit about the T-formation. He was very patient with us on the offensive line to get our blocking schemes down. It was so quick, much quicker than the single-wing or Box formation."
On Kiesling's personality: "He was a slow, easy-going guy. He never got his feathers ruffled up. He was just calm and would say, 'No, you didn't do it the way I told you to. Let's do it this way.' He was real easy. Consequently, he and I got along just great. Being from Texas, I was kind of a slow talker and so forth. We all liked him. We sure did."
On the Packers' quarterback issues during Lambeau's final three seasons after he switched to the T: "Quarterback was a problem, particularly after Jack Jacobs chipped his elbow (early in 1948) and had surgery after the season. That was when we hit rock bottom. We didn't have a passing attack. (Jacobs) just never got back in the groove. Once in awhile, he'd throw the ball in the third row of the stands. You didn't know if he was going to hit you or not. I know it was from the operation. In 1946 and '47, he was a good quarterback. He would have been a great quarterback the next year."
On Jacobs' talents and reputation for being wild off the field: "He was about 6-1. He could play defense. He could run. He and I double-dated all the time. Jacobs dated Mary McMillin (a local golfer who once beat Babe Didrikson Zaharias in the women's Western Amateur). When I first got (to Green Bay), the first two days, I met a young lady, Barbara Horner, whose father owned the Press-Gazette, and I started dating her. She worked at the Press-Gazette. I'd go over to their house. I just didn't go to the bars like a lot of them did. (Jacobs) didn't drink very much, (but) he appeared that way because he was always so quick in his reactions. I think it appeared that he was wild and anxious. But I don't think he ever got in any trouble up in Green Bay. We'd stay after practice almost every day. Lambeau would come out and run us off the field. We'd throw passes, so we could get together. Lambeau would say, 'You're running your legs off. We need you for Sunday, not now.'"
On Irv Comp, the featured passer in the Notre Dame Box during his first two seasons:"He was just a big, strong person and he could run pretty good. He was more like a blocking back and running back up to that time. He also had a bad eye. Canadeo would pass, too. Take a pitch, stop and throw."
On Cliff Aberson, a promising passer who didn't play college football but played in 10 games for the Packers in 1946: "He played for the Chicago Cubs and came up three weeks late for practice. He was a pretty good quarterback. He was tough. He could throw a ball like from home to second base on a straight level and knock you down with it. He had a strong arm. But he never played much and I think he went back to baseball. He wasn't very accurate."
On how much one-platoon football the Packers were still playing at that time: "I played both ways my first three years. We usually played a 4-4 or five-man line. I was a down defensive end at 210 pounds with Larry Craig at the other side. When we got away from the Notre Dame Box, Craig only played defense. That was 1947. Don Wells would play defense for me. I'd run down under a punt, play the first play on defense, then Wells would come in after that. Wells played defense pretty much the whole time."
On whether it was true Lambeau fined the entire team following a loss to the Chicago Cardinals in 1948:"I remember a little talk about that, but I don't remember losing any money on the situation. Maybe he didn't call me in. He used to put a little card in your mailbox and if you got that card, you better go see Curly. I never did get anything. I remember one time in about '46, he gave me a $1,500 raise about the fourth game of the season. I thought he was going to fire me then or ship me off some place. He said, 'Have a seat,' and sat me down in front of his desk and pitched a little check over to me and said, 'Here's $1,500. You've been playing pretty good football.' But then shortly after, a year or two after that, I heard he fined everybody. But I never really got involved in those things."
On playing in old City Stadium: "The first thing I remember is that it held about (25,000) people and it was always full. I enjoyed playing in that stadium. The people were close to the field. They had the track around it, then the people were right there. I think there was a good close connection between the people in the stands and the players. Most of the people in those days, I'm going to say were 30 on up to 60, 70 years of age. Today, you have a younger crowd going to the games."
On the small locker room under the south stands at City Stadium: "We had a little room back there with a little training table where you'd get your ankles taped. Then Lambeau had his little office with Walt Kiesling, our line coach, there. You had to go outside our locker room to get to Curly's office. It was right next to it. If you cut a hole through the wall, it was right there. But you had to walk outside the locker room to get to it. It was just made of wood. It looked like it was plywood or something like that: Four-by-eight sheet plywood. Now, (Lambeau) had a nicer office downtown."
On playing at State Fair Park in Milwaukee: "They had a grandstand over on the west side. Not too many people would come. It was a home game, but they never would fill it. The stands were a long ways away. You couldn't even throw a football up into the stands. It seemed like there was a track around it: a trotting track, a horse track, maybe a racecar track. I know it was a long way behind the bench to the stands."
On the facilities at State Fair Park: "We stayed at the Schroeder (Hotel) in Milwaukee and took the bus to State Fair Park. Got on the elevator with our shoes off. When you got to the bus, you put your shoes on. I was always honored and thrilled that Hutson wanted me to sit with him and he always sat in the front seat because he was a coach and player. We talked about what we were going to do."
On Rockwood Lodge, the Packers' training facility from 1946 to 1949:"It had a nice, big dining room that sat 60, 70 people. We had a little lounge. Then up in our rooms upstairs, we had big, large rooms with I think six players to a room. We had radios up there, each one of us. We had like three married couples and Lambeau had built four cottages out in the back: One-bedroom cottages and that was where they stayed. Of course, we all ate our meals there. Room and board was free in Green Bay the whole time I was there. That made up the difference between not getting paid much to play."
On the practice surface at Rockwood: "It gave me shin splints … but we drove back to town after that. I told Curly my shins were hurting me. He said, 'You've got to be kidding me.' I said, 'No and I'm not the only one who is hurting.' He said, 'That's it. That's it. We're going to move to town.' So he called the team together and announced it. So we went to town and practiced behind the field there."
On whether he lived at Rockwood during his final four seasons: "The last two years I was married. I rented a house – about three acres – a mile up the road. I went down to the lodge to eat my meals all the time. It cost me $25 a month to rent. How about that? And the guy had a place down on the bay where you could go fishing. Of course, I mowed the lawn and everything. It was down by Shore Acres. It was a two-story house with a full basement."
On staying at the Astor Hotel in downtown Green Bay as a rookie:"The lobby was ours. We'd sit there. The bar was right next door off the lobby and we weren't allowed to go into the bar. Of course, I didn't drink and most of them didn't. My wife says, 'Huh!' I enjoyed living there. It was convenient. You could walk around the streets, go to movies or whatever, go get an ice cream cone. We only went about 10 blocks down the street to the stadium, where we'd practice. We'd walk across the street from the Astor to the YWCA cafeteria to eat. We'd also go to the YMCA cafeteria on occasion. We'd eat three meals a day at the YW."
On Sue Wallen, assistant manager and front-desk clerk of the Astor Hotel: "She looked after us just like she was our mother. A real nice lady. She'd talk to every one of the players every day. She'd more or less screen prank calls or whatever. She seemed about 50. Just a lovely lady. She knew every player, their mom and dad, girlfriends, whatever. Clyde Goodnight and I roomed at the Astor and then at Rockwood."
On stories that he feared flying and would get sick on trips to the West Coast: "I think I started vomiting about 30 minutes off the ground and was still vomiting when we got on the bus. I always have gotten airsick. Even going to New York one time, we couldn't go down. We had to go in a pattern and it got a little windy. Man did I get sick! I was still vomiting when I got to the hotel. I vomited all over my suit, my shoes."
On how his teammates reacted: "Everybody wanted to give me an empty bag on the airplane. We'd fly in on Saturday and practice. We'd go to the hotel, say in New York, and I'd just get over being sick when we'd get out to practice, say at 2 o'clock for about an hour. Man, then we'd go back to the hotel and I'd lie in that room until Sunday morning, 10 o'clock, until we had a meeting. But I was all right on Sunday."
On Packers Hall of Fame fullback Ted Fritsch: "Ted Fritsch was the only clown we had. We'd get on a train and he'd try to entertain us as well as all the people on the other cars. He'd pretend like he was leading a dog through the cars to the diner. He'd be talking to the dog and getting everybody laughing. About the second trip through, everybody knew who he was. Whether we went to California or Boston or Chicago, he was always entertaining people. Kind of a jolly guy."
On Packers Hall of Fame tackle Baby Ray: "Baby Ray was the toughest guy to block because he was about 6-5, 255. He was so raw-boned and hard. He'd hurt me when we had to hit. He was a tough sucker."
On Packers Hall of Famer Pete Tinsley: "He was a little wiry guard. He was tough as a boot. He was hurt half the time, but he stayed in the ball game. He played hurt a lot of times. He was tough and would charge."
On the 1949 intrasquad game, played Thanksgiving Day, essentially to save the franchise: "It was snow and cold. They took a little road-grader and dragged the snow off the field and we played. We tried to play the best we could, but it was adverse conditions. You didn't have any traction on the field. The field was frozen solid with snow about a half-inch thick. It wasn't a touch game, but you couldn't play hard. I don't remember anybody complaining. We wanted to save our jobs, so we went out there and accepted it."
On retiring after only five seasons: "At the end of the '49 season, I asked (Lambeau) for a three-year contract. He said, 'I can't do that.' I reached out and shook his hand and said, 'Hey, I've got a company that wants me to come and work, I'll see you around.' So we packed up and left town. I was making $6,000 and asked for $10,000, $12,000 and $15,000 for three years. They didn't have the means."
Luhn died in 2011 at age 90. The excerpts above were taken from interviews conducted in 2001 and 2002.