*As part of the Green Bay Packers' celebration of the 10th anniversary season of the Super Bowl XXXI Championship, Packers.com is running a series of stories about the people responsible for bringing the Vince Lombardi trophy back home to Titletown.
Even if you had no idea about the man, the nickname alone might cause you to have a few preconceived notions about him.
The "Bad Moon Rison" term had been attached to Andre Rison throughout most of his NFL career and often times led people to view the 6-foot-1, 195-pound wide receiver in a negative light regardless of whether they knew him or not.
So, when 1996 rolled around and the Packers were in need of a wide receiver, many people raised their eyebrows when Rison was claimed off waivers from Jacksonville.
The Packers had a 6-1 record at the time Robert Brooks suffered a torn anterior cruciate ligament (ACL) and patellar tendon in his right knee, but they went 2-2 without his services. Sitting at 8-3 and at a crossroads in the season, Green Bay was entering the stretch run without one of its top playmakers.
And that's when Rison entered the scene.
Rison came in and helped make up for the loss of Brooks by starting in seven games and giving the Packers another vertical dimension in the passing game. Still, some thought that he'd be a bad influence on a team with such strong chemistry. Others said Rison wasn't going to be satisfied without being the focal point of the offense.
So, was this a bad move for the Green and Gold?
Well, considering the Packers were 8-0 with Rison in the lineup and became Super Bowl XXXI champions, it'd be difficult to argue against the addition of "Bad Moon."
Actually, he wasn't really "Bad Moon" anymore according to several teammates.
Defensive tackle Bob Kuberski said the Packers had nothing to worry about when it came to Rison's attitude or personality.
"Everything was fine," Kuberski explained. "Everybody made a big fuss about it, but he came into the team, and was assimilated into the team. And I think he came in and said, 'Ok, I see what these guys are doing, and I'll do the same thing.'
"You know, he was great."
Keith Jackson, who also played an instrumental role in the Packers' success, echoed those sentiments.
"You had heard all of this stuff about him," Jackson recalled. "Bad Moon Rison, how he used to do this and how is he going to conform. But I learned a life lesson. I learned if you really are unwavering in a commitment to one another, a person on the outside will come in and they will become a part of the group instead of pull someone out of the group.
"And Andre Rison came in and he was the perfect gentleman. He did everything that the coaches asked him to do. That was a huge play in the Super Bowl that he made to help us secure that game."
The play Jackson is referring to is arguably one of the biggest in team history and it came on only the Packers' second offensive play from scrimmage. Brett Favre saw a favorable matchup at the line of scrimmage, and he made eye contact with Jackson, Rison, and Antonio Freeman to make sure everybody was on the same page.
Seconds later, Favre found Rison wide open and the star receiver made an over-the- shoulder grab for a 54-yard touchdown. The play set the tone for the game and Rison finished with two catches for 77 yards.
Ten years later, Rison, 39, fondly recalls the role he played in the Super Bowl.
"It was great making the plays for my team," Rison said. "We got off on the right foot against a great team.
"It was a check off to me. Antonio would have been outside and I would have been inside. But I was outside, and Free went inside from the outset. Brett relayed the signal and then we hit it."
According to Rison, both he and Favre knew they had the ability to connect on big plays against New England.
"I knew I could beat those defensive backs anytime I wanted to," Rison said. "I played them twice already with Jacksonville. And one touchdown, Brett missed me on. I was even more open than the one I scored on. That one would have been an 80-yarder. He threw it behind me."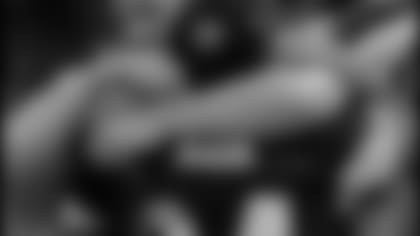 It's clear that Rison's contributions to the Packers paid off. He did everything that was asked of him and then some. Then again, that's what he expected to bring to the table.
"I was always a perfect gentleman," Rison claimed. "Writers write what they write. Teammates don't write the articles. That was a great case of that right there."
Regardless of what his critics thought, Rison was pleased to prove people wrong and help the Packers win a Super Bowl.
"I just thank the Lord that I had an opportunity to play with a playoff team and we won a world championship in Green Bay," Rison said. "We brought the Vince Lombardi Trophy home to Vince Lombardi."
Rison, who currently resides in Miami, played eight games with the Packers and then signed with Kansas City in 1997. After three years there, he moved on to Oakland for one season. Still feeling the itch to play, Rison spent parts of two seasons in the Canadian Football League, helping the Toronto Argonauts win a Grey Cup in 2004.
Reflecting on his brief period in Green Bay, Rison said he "enjoyed the crowd and sharing in the world championship," as well as reuniting with Favre, with whom Rison spent a season in Atlanta.
"It was a great situation," Rison explained. "We had former players that played with different teams and both were at the top of their game.
"I wish we could have played a few more years together, but unfortunately we didn't. I feel if they would have kept that combination together, then Green Bay would have won another one."
Rison said he's trying to get a shot again in the NFL, but if he doesn't, the spectacular touchdown he scored in the Super Bowl will forever live on in the storied Packers' history books.
"Coming from Brett Favre, one of the best quarterbacks to play, the first pass of the game, the first drive of the game, it doesn't get no better than that," Rison said.
"It doesn't get no better than that."
Doesn't seem right anymore. How about Rison to the Occasion?