Like they do before every road game, the Packers practiced this week with crowd noise piped in for the offensive snaps. The team worked in the Hutson Center to simulate the environment at the Metrodome in Minneapolis, where the Packers play Sunday.
This week the team continued to practice its silent count because of the excessive noise the Metrodome is noted for, and because a miscommunication with quarterback Brett Favre taking a shotgun snap without a silent count forced a costly turnover last week at Buffalo.
"We feel like we're pretty good in the crowd situation and we like silent count," rookie left guard Daryn Colledge said. "Brett seems to actually like it better than a normal count.
"For us it's just an adjustment. I know the Metrodome is going to be a little louder than it was out there (at practice), but hopefully we'll do what we can to keep them quiet."
Green Bay's only indoor game thus far this season was in Week 3 at Detroit's Ford Field. But the noise was never really a factor, partly because there were numerous empty seats during that game, and because the Packers held the lead essentially from start to finish, taking the crowd out of it for much of the game.
That would be the best formula at the Metrodome as well, but unable to count on that the Packers have done their best to prepare.
"It will be louder than we've been exposed to all year, but we're ready for it," Head Coach Mike McCarthy said.
Cornerback Charles Woodson (questionable, knee) returned to practice Friday as expected and should be ready to play on Sunday, McCarthy said. Whether or not Woodson would return punts in addition to his defensive duties will be decided over the weekend.
Receiver Greg Jennings (questionable, ankle) practiced but did not make it through the entire workout, and McCarthy said he would be a game-time decision after a morning workout on Sunday.
"I just felt it was smart (to have him quit early)," McCarthy said. "I saw what I needed to see. He felt better than when he started, so we're just being smart. He did team (11-on-11) stuff. He just didn't do all of it."
Defensive tackle Cullen Jenkins missed practice because of soreness with his ankle, the injury that forced him to miss two games before he returned last week. McCarthy said the rest was just precautionary and he expects Jenkins to play.
Like the rest of the team, kicker Dave Rayner and punter Jon Ryan practiced all week in the Hutson Center with the upcoming indoor game Sunday at the Metrodome.
But both soon will start kicking periodically inside Lambeau Field to try to get used to the wind and cold weather the Packers likely will encounter during their three December home games. Winds have been known to swirl around inside the stadium bowl in the wintertime, making it difficult for kickers and punters to gauge.
"What I've heard about here is it's a whole different level of cold and wet field and all that kind of stuff," Rayner said. "But I'm not that nervous about it. Obviously I'm going to make some changes with my footwear.
"We're actually going to try to get out in the stadium I think once a week when it starts to get cold out here, just to hit some balls and get used to the wind."
One of the Packer players' favorite pastimes in the locker room is the game of backgammon, and they now have a new table on which to play.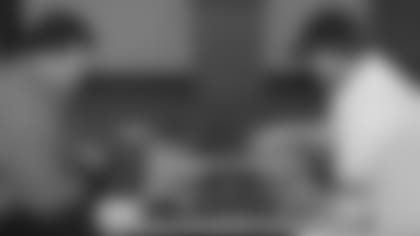 An exquisitely decorated stone granite backgammon table is now in the auxiliary locker room, adjacent to the main locker room. The table itself is the game board, bordered by etchings of the names of all the Packers in the Pro Football Hall of Fame, team logos on all four corners, and small etchings of Lambeau Field on each half of the board. The game pieces all have the helmet of another NFL team on them as well.
"It's nice. Fantastic," said center Scott Wells, who was playing on it Friday after practice against running back Arliss Beach. "It looks phenomenal, the way it incorporates all the tradition and rich history. It's such a nice gesture."
The board was constructed and donated by Scott Carlson, owner of Marble Essence, Inc., in De Pere. Carlson said it took him about 120 work hours to construct, and he considered this one of the more elaborate projects he's undertaken.
Offensive linemen Mark Tauscher and Chad Clifton played the first official game on the board late Thursday afternoon, when most of the locker room was empty.
Tauscher had never heard of backgammon when he joined the Packers in 2000 but caught on as fellow offensive linemen Frank Winters and Marco Rivera played regularly.
"It gets pretty competitive," Tauscher said, noting that he feels he and Aaron Rodgers are the two best players on the team. "Guys don't like to lose."
There's a fair share of trash talk that can accompany any backgammon conversation as well.
Rodgers hadn't played a game on it yet, as of Friday afternoon.
"I only play with A-leaguers," he said. "We've got A, B, C and D-leaguers, and myself, Tausch, Cliffy and possibly William Henderson are the only A-leaguers in here."
Tauscher added that backgammon seems to have replaced Dominoes as the pastime of choice in the locker room this year. By some estimates, as many as 30 to 40 percent of the players know how to play.
"It's all cyclical," Tauscher said. "One year it was chess I think. But backgammon is kind of the staple this season because a lot of the younger guys decided to pick it up."