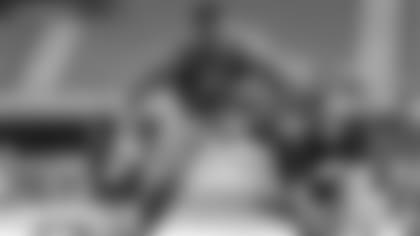 LB Stephone Anthony
Jimi from San Clemente, CA
Vic, what would have happened to professional football had the AFL and NFL never merged?
It's difficult to imagine both of them surviving their salary war. One would've either died or some of its teams would be absorbed by the other. What if the AFL had won and wanted only big-market teams to join its league? Al Davis was the AFL commissioner at the time of merger negotiations and he didn't want to merge. He believed the AFL was in a strong position to carry on the fight. He believed the AFL could win the fight.
Vic, there are a lot of rumors some very talented players could fall to the Packers. Do you think Ted Thompson would ever consider drafting a Shane Ray or Randy Gregory if they fell to us because of their character concerns?
When it comes to prospects with off-the-field issues, I try not to have an opinion because I clearly don't have enough information. We all make mistakes, but are they isolated incidents or indicators of a deeper problem? Every team in the league has a security director that can provide information that'll help answer that question. Jameis Winston is different in that his troubles have been publicized and discussed. I don't know enough on these other guys.
Did you see Ray Lewis' video post regarding the Baltimore riots? What are your thoughts on the impact of high-profile athletes weighing in on prominent social issues?
I believe in the right to free speech and encourage its use.
Vic, what do you think of Carl Davis from Iowa? Do you think he'll fit where the Packers pick?
He's one of several quality defensive linemen that would seem to fit in the area in which the Packers are drafting. Within that group, I favor Eddie Goldman.
Since less than 25 percent of players make above-average salaries, doesn't it make sense to concentrate the bulk of the draft effort on the later rounds, where most of the players on your team are going to be selected?
Let me put it this way: Those late-round picks are of critical importance because they protect your salary cap.
Christopher from Kansas City, MO
Who do you think, among the cornerback prospects, best fits the Packers' scheme and value at the end of the first round, or just in general?
It's not about fit, it's about talent. I like Byron Jones where the Packers are picking in the first round. I like Eric Rowe, too. Tony Pauline told me he thinks Rowe could be a fit for the Packers in the second round. I don't think Kevin Johnson will be available to the Packers in the first round. If he was, pick him. The Packers need to address cornerback. You have to have quality depth at that position to avoid matchup problems in sub packages.
The last three months have been agonizing. The pre-draft is indeed boring. It's not fun. It means nothing but a waste of time. When it's time for Ted to pick, then I care. But speaking of your answer to Jake, for Seattle to do to New England as Green Bay did, Seattle needed depth at WR. Another reason they should have run the ball at the end. WR on offense can be just as important as CB on defense, but it depends on the team.
Yeah, but quality wide receivers are generally easier to find than quality cornerbacks.
Darren from Washington, DC
Of the projected needs (CB, ILB, TE) the Packers have for this draft, which position group do you believe would best weather not having a rookie this season?
The critical nature of the cornerback position makes that, in my opinion, the Packers' No. 1 need. The other two positions should be easier to address.
Matthew from Kingsford, MI
I keep thinking up truly insightful questions and wording them grammatically, only to finally realize I'm asking an idiot.
I think this is your best question, though it's really not a question.
Joshua from Los Angeles, CA
Which team will improve the most this season from last season?
Who are we not going to draft this year?
Marcus Mariota. Even if he falls to the Packers at No. 30, they don't need him, so why draft him, right?
Are there any schools that excel in producing NFL quality players at a position?
Wisconsin is known for turning out offensive linemen, but I have a feeling you already knew that, didn't you?
Out of the following, which would be the better fit for Green Bay at ILB, and why? Denzel Perryman, Benardrick McKinney, Eric Kendricks, Paul Dawson, Stephone Anthony?
As I've written, Tony Pauline believes McKinney is more of an outside linebacker. Among the others, I favor Anthony because he would appear to be the highest-rated of that group.
In the first round, would you rather go with a guy who has a lower floor with higher upside, or a guy who has a higher floor but not as much potential? So a top-class athlete vs. a more well-rounded football player.
I want the guy that'll reach a higher level of play. The draft is all about the future. If you're drafting for now, you'll be 8-8 every year.
Johnny from East Palatka, FL
Besides the S. Merriman incident, have you any particular memories of Maurice Jones-Drew as he retires today (a Jaguar, notably)?
He's the most powerful small runner I've ever covered. I loved covering him; I loved interviewing him. I hope he reads this because I admire what he did with his football career, and I'd like him to know I value having watched him do it. BTW, thanks for reminding me of the ban I imposed on using the name Sean, Shawn, Shaun and the nine million other versions of it.
Patrick from Fort Dodge, IA
Do team owners or presidents have much say in draft picks? If so, what are the pros and cons of ownership having their hands in the mix?
When you're talking about bringing a potentially troubled player into your community, the guy at the top has to get involved because this becomes more than a football issue. Lawrence Phillips is the perfect example.
Bryan from Springfield, VA
Vic, I decided to test your "you can't lose with big guys" and BAP theories out in Madden. For two seasons, I took a less than stellar team and focused my free agency spending on retaining younger, up-and-coming guys, while letting older vets go. I drafted big guys up front and developed them over time. The simulated result? A team that went 4-12 improved to 7-9 and then 11-5, with a loss in the championship round. Crazy computer coincidence or method to the madness?