Q. What's it like being a long snapper?
A. It's a lot of fun getting to play in NFL games and getting to work with both Mason and Tim has been a blast over the years to bond with them and be able to be a part of the situational aspects of the football game a lot of people don't know a lot about.
Goode bikes to a 2011 training camp practice
Q. What do you do at practice? Does it get boring?
A. Well I think every job does at some point get boring, but I think the thing we focus on is just trying to get better and not over-doing yourself, but obviously staying atop your game. You have to get better and improve each week.
A. Technically, to the eye of the general fan, yes. If I don't get the laces right on the field goal, I don't consider that a real good snap. If the snaps offset and then Tim asks me to move left or right, in my eyes it's not a good snap as well. It's stuff like that that I really am trying to improve on.
Q. What position did you play in high school?
A. Center and long snapper at Fort Smith Northside, AR.
Q. What's a good snap time?
A. Between .7 and.75 seconds.
Q. How about on a placement snap?
A. Never timed it; it's the whole operation that you want to get under 1.25-1.30 seconds.
Q. How did you come to join the Packers?
A. A guy actually got hurt in the last preseason game here and I came in and tried out with a couple of other guys and won the job. The next week was the first game of Monday Night Football in 2008. I had gotten cut by Jacksonville in June so I didn't go through training camp with anybody.
Q. How long do you think you can play in the league?
A. As long as they let me; as long as I stay healthy and consistent and keep improving, I think I can continue my career. It means a lot, personally, in getting cut twice, knowing how hard it is to get in and then seeing it as a revolving door. Guys come in for other positions and you see them kind of come and go a lot quicker than what the average fan would see because you see the constant transition, especially with the training camp going from 90 to 53, and now 46 dressing and being able to be a part of that. Knowing what goes into that internally, it means a lot.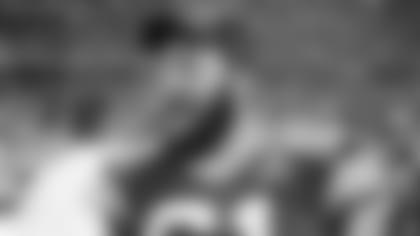 Goode after the Packers' Super Bowl XLV win
Q. What's given you the biggest thrill of your career?
A. The Super Bowl. You grew up watching that and being able to be a part of that was pretty memorable. I still think about Dallas. We haven't been there since winning the Super Bowl. I have great memories there. I grew up being a Dallas fan because that was the area there and that was all you really had on TV. To do that in their stadium was pretty memorable.
Q. Do you ever feel unappreciated?
A. I don't really think that because most of the people that have that mindset don't really understand the aspects of the game, the intricate details that go into everything; they just see the scoring of the points from the quarterbacks and a couple of big plays and turnovers. As long as I know I'm helping out the guys that I'm around closely, helping them do their job, I'm good.
Q. What do wind and cold mean to long snapping?
A. That's for anyone who touches the ball. You have to keep your hands warm and play the wind a little bit. Tim helps out a lot; it's both of us working together and knowing through a lot of repetition, doing the same thing over and over, knowing which way the ball will move with the wind. It may not be perfect but you really want to hone in on the details of it.
"It's been a dream come true. Every day I wake up, you're living the dream."
Q. If you could play another position, what would it be?
A. The closest thing I've ever played is offensive line so I think that would be it. I'm not big enough to do that but I think I would pick up on that more than anything else. I played running back in Pop Warner and then I kind of got slower as the years went on, so I had different positions.
Q. What will you do after football?
A. Move back home. I definitely want to be back home in Fort Smith. There are a couple of options. I could do something in sales. I don't know if I really want to travel but I want to have a family one day and really be able to support them and just be able to be back there. It's been a dream come true. Every day I wake up, you're living the dream. Playing the game for a living and making a lot of money doing it. The weather and stuff, you manage that just like you do any other job, especially outdoor jobs. I was looking out my window and there were construction workers on the roof, putting up stuff, and I was thinking I could be doing that. It's got to be brutally cold but those guys have to do that because that's what they do for a living. I think the community here has so much support and the best fans that you could possibly ask for, the best organization; everything is first class.