Q. What's the mood of the team right now?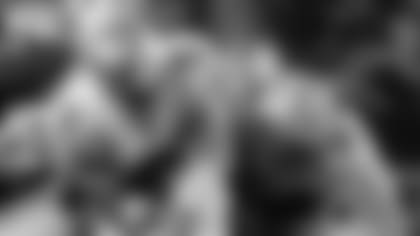 The Packers have forced eight turnovers
over their last three games, No. 3 in the
NFL over that span
A. Well, I think it's very optimistic, especially coming off that win. You look at our team at halftime, there were a lot of guys in there, myself included, I'll admit to it, who thought let's at least keep this score respectable and not get blown out on national television. After having the win against Atlanta in that fashion, coming back, that was the type of game that propels you into the playoffs, and now we're in a position where we can control our own destiny, very similar to the 2010 year. Hopefully, getting a few players back from injury will only help us out. We're feeling good and we like where we're at and ultimately we're in control of it and that's most important for us.
Q. Does this remind you of 2010?
A. Obviously, you could dig deep and talk about the injuries and everything we've had to overcome, but for the most part our playoff like mentality began with two games left in the regular season in 2010, and now here it's four games. So we're two games in and we have six more to go if we want to reach that goal. You know we're not looking that far ahead, we're looking at the next game in front of us. If we can get through a Pittsburgh team that plays really good football, then it's one game to get in. You take it game by game like we did in 2010.
Q. Are you getting back to 100 percent?
A. I'm getting there; I'm getting closer. This injury has definitely been the most difficult in my career, even though it hasn't been the most widely talked about or scrutinized. I haven't regained full mobility and I'm still playing in a hard cast. You truly don't realize how much you use your hands in the position in which I play, which is rushing the passer and holding the edge against the run. So it's been difficult and like I said I'm not going to use it as an excuse and I am getting closer to that day when I don't have to wear a cast and a brace. That'll definitely help my game out tremendously, but for the time being, I'll just have to stick with rehab and understand that although it's called a broken thumb, it's a bad broken thumb to have. Hopefully, like I said, we'll have guys back healthy and, hopefully, I'll be one of them getting back to 100 percent.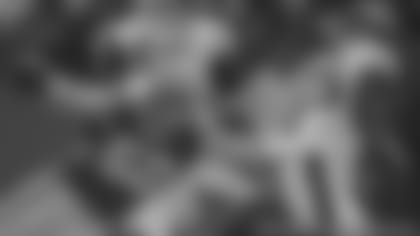 Matthews missed four games with a broken
thumb earlier in the 2013 season
Q. What's it like playing hurt?
A. You don't realize how great you feel and how great you are when you're out there 100 percent. I had the cast off today and was practicing with some tape on and just felt so free and had so much more to give. Injury is always difficult, especially for me to not be able to play to the standard that I hold myself to, not that I'm still not holding myself to that level, but the physical fact that it's hard to rip off blocks or defeat tackles with one hand. I'm still able to here and there, but that's the most difficult part, knowing you could be that much greater without injury. I think you take it as it is; injuries are part of the game and this is one of those freak accidents and it won't be long lasting.
Q. Is the cold something that has to be overcome, or is it no big deal?
A. To be honest, for us being a cold-weather team, I think it's no big deal. Now this is coming from a defensive standpoint, I'm excluding the handling of the ball and throwing the ball. Since you live here, you become accustomed to the weather that it's not so much a shock, you're always cold, but you just grow accustomed to it. You bring these teams that aren't used to the cold and you bring them out here, I think it affects them mentally. I think more so for us, it's not like we're a big tough team because we play in the cold, but I think the more you're outside and practice outside, the more you're just used to it and I think that's the biggest factor we have.
Q. How would you describe this season?
A. Well, I think that's yet to be determined, to be quite honest with you. I think it's been a season full of adversity, probably the most I've seen here, and that goes back to the 15 guys we put on IR in 2010, the game in Seattle to the last second loss in Pittsburgh in 2009 and the Cardinals loss. So we've definitely dealt with a lot of adversity here, but now we have guys going down each and every week, bringing guys in off the streets. Are we getting this guy back, are we getting that guy back? I feel now this is where we're at in the season and it seems as if things are pointing forward, so we've got a good opportunity ahead of us and, hopefully, we'll get some of that luck.
Matthews and Rodgers at a
2013 training camp practice
Q. What happens to this team when it gets Aaron Rodgers and Randall Cobb back?
A. Well, I think you not only become a better offense for the simple fact you have the best player in football coming back, and obviously a heck of a wide receiver, young talent and all-around player, but also because the entire psyche it has on the team is positive. As much as it's not talked about with the defensive struggles and Aaron gone, it does affect you, not only the time of possession but the psyche of your team. I think it's big, and after that win we almost feel as if we bought another week in order to get Aaron back. We understand that every great championship team has a good quarterback and a good defense. We had that going for us and we lost both of those. The second half of the last two games we've shown that we show promise on the defensive side of the ball and on offense as well.
Q. Did the boos as the Packers left the field at halftime in the Atlanta game inspire this team? What impact did they have?
A. That was the first time I think I heard our fans boo. At first you're taken aback. These are your home fans booing you and you don't expect that, especially from Packers fans, but you take another step back and you realize that was some bad football both teams were playing out there in the first half of that Atlanta game. They come to support us but they come to support winning championships around here. Whatever our record was at the time, and giving up too much yardage and points especially coming off that Thanksgiving loss and offense not putting up enough, I guess you come to expect that. There are no hard feelings but they were cheering at the end of the game so you take the good with the bad. That's what the sport is all about.
"I think it's been a season full of adversity, probably the most I've seen here"
Q. What's been the problem on defense and is it fixable at this point in the season?
A. Unfortunately for one reason or another it's always been big plays here and there. You can attribute that to a number of things, whether it's time of possession in which the defense has been on the field too long, or playing with younger or new players rotating into the lineup. But ultimately it comes down to accountability and responsibility, and you notice with these big plays it's always one guy who's out of alignment and one guy who's playing outside of the scheme. It's funny because the first half of the season we were kind of a first-half team and took our foot off the gas, and now we're becoming a second-half team; we just need to put that all together. We've shown tremendous flashes on this defense and of what we're capable of doing, and it's just about putting it all together. I think we definitely have something special; we just need to put it all together. I don't think it's too late.
Q. Despite the games you've missed, you're tied for the team lead in sacks. What's your personal goal for what's left of this season?
A. I always try and exceed what I did the previous year, but for me right now it's obviously try and get as many sacks as I can but contribute by continuing to make big plays. I think the numbers, when you miss four games and you're not at 100 percent, you have to dial back those statistical expectations and understand that when I go out there I need to make a presence and dominance felt and finish the season in that regard. I think I'll continue to get stronger and healthier, and that'll show as the season is moving forward.