Q. In what ways did your struggles early in your life shape you?A. It made me humble, made me hungry, definitely made me appreciate a lot of things in life when you grow up struggling the way I did, and me and my mom did. You appreciate the little things a lot more. You understand that you can't take anything for granted.
Q. What do they mean to you now?A. It means everything to me because I told my mom once when we were going through the struggles that I was going to make it to the NFL and make sure she wasn't going to have to worry about anything for the rest of her life. As a mom, and as you're going through certain situations, you kind of look at your son like, at seven years old, telling you he's going to take care of you, and you're living in the homeless shelters, you really look at him like he's stupid. Like, we're trying to figure out a way to get some food tonight, son; I don't need to hear all that. So, just for it to all come true and me be able to take care of my mom and buy her a house, be able to bless her with everything she needs, it truly made me feel good, you know. Besides me getting drafted, me buying my mom's house and my children being born and me getting married were probably the best times of my life, just because I've seen the results. You work so hard to see results, and when you finally do see the results and you think back to how hard you worked, it's a good feeling. The biggest thing was my mom. When I first started playing football and I would hear from all my coaches, like you have the opportunity and talent to make it to the NFL, to take your talents to get a scholarship and all the things I started hearing. Every coach started saying the same stuff, Pop Warner, college, high school, every coach started saying the same things. So I would listen and I would think I really do have an opportunity to change my family's life. My main motivation was my mom, whenever I was lazy and didn't want to go work out in high school and college, I just thought of my mom, and was thinking I'm not just in this for myself, I'm not just doing this for myself, I'm doing this for my mom and my family as well. It always kept me hungry and kept me getting up every day, working harder than everybody else, staying extra hours working out, watching film, whatever I had to do to make sure I was trying to reach my goal.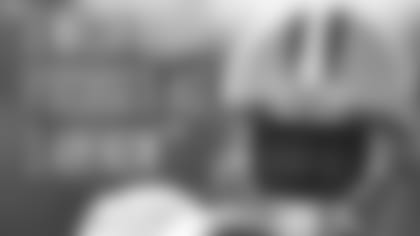 Q. Your best season was last year, your sixth in the league. Why do you think it didn't happen earlier in your career?A. I wasn't as focused as I am now. When I first got here in the NFL, I kind of was just going through the motions and, you know, when you're going through the motions good things can happen and bad things can happen. I worked extremely hard in the offseason but during the season and game time we had so many weapons that I was just kind of going through the motions. Some games I wouldn't play a lot; some games I would play a lot and I would just be going through the motions and that's when I would just let opportunities slip through my hands. Last year, I had the mindset that no matter what, if I get one ball in the game and that ball comes in the fourth quarter, I'm going to make a big play. And I just had that mindset from day one. I would talk to myself every play, every play I would talk to myself, James stay focused, stay hungry. I would just say little things to myself to keep myself motivated. And it helped me through the year and I'm just a lot hungrier, and when I see my sons they depend on their dad, when I see my wife she depends on her husband to provide for her, and it gives me an extra little motivation to make sure they have everything they need.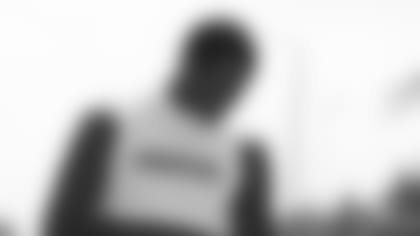 Q. Has there been a turning point in your career?A. Probably my son; my son being born. When you have to provide for another person and that person is dependent upon you, you better start doing the right things, you better start making plays, especially with the opportunity I have to go out there and play this game and make a lot of money. And you know, the birth of my son, and my wife and my kids are truly all of my motivation now.
Q. What do you envision for yourself this season?A. To be completely honest, I don't really get into all the stats and all that stuff. I just want to be consistent. Every game I step on the field to be consistent, whether Aaron throws it to me 10 times or two times. Just to be consistent and help my teammates. Just to be a better leader and be a better teammate. And win another world championship.
Q. How about for the offense?A. Overall, I think we're going to be a very explosive offense. I think people are going to see a lot of points being scored. We're doing a lot of things now where it's fast paced; just the guys we have in that huddle. On that offensive side of the ball is a special group of men, not just athletically, but we're extremely close, we fight for one another. And once you start building that early, you know it's going to be tough to stop a group of guys like that.
Q. Would a stronger running game make a difference?A. Yeah, it definitely would make a difference; I don't really look into all that too much, but if we can run the ball and force teams to have to worry about the run game and, you know, kind of get out of the cover two and play us a little bit more one high, that'll help. But at the end of the day you have to score points, whatever defense they give you, and I believe we have the guys in that room to do that.
Q. Who are the best cornerbacks you face?A. Revis is in there. Revis is extremely smart. People don't understand how strong he is. He is extremely strong. He's probably one of the more complete corners we have in our game. Second one is Patrick Peterson; extremely athletic, understands the game really well and doesn't really let you get over the top of him to beat him on deep balls.
Q. What's your favorite game in your career?A. Favorite game of my career is probably, personally, individually, the Texans game last year. When I had those two touchdown catches, which are really tough to do on a consistent basis. That's one of my favorite games because it truly just showed how focused I was on making the play when the ball was in the air, no matter where the ball was, no matter who was on me. And it truly showed just how I was changing into becoming a better receiver, mentally and physically.
Q. What are your thoughts on Sunday's season opener in San Francisco?A. Thoughts are we have to win. First game of the year. I think this is the best game to set a statement, period. We're going into a hostile environment, with a great ballclub, a ballclub that a lot of people picked to go to the Super Bowl. We have the opportunity to go into their house and get a victory. It'll be an exciting game and I'm looking forward to the challenge.