Q. Where do you think your game is right now?
A. I feel like my game is still not at the peak, that level that I want to play at. I feel like it's rising there, getting there, and I'm maturing in the game and getting a little smarter and a little wiser, if you want to say that.
Q. Is this your best season?
A. I would say consistently, yeah. I would say yeah, for sure.
Finley and tight ends coach Jerry Fontenot
work on fundamentals at practice
Q. You've spent a lot of time working on catching the ball? What has it done for you?
A. I've put a lot of effort into it, the eye coordination and just getting the touch of the ball and just plucking it. We don't have a guy that throws a cotton ball back there; we have a guy that throws a laser. So that's one reason why I'm five yards away from (Coach Jerry) Fontenot, so I can get the acceleration at its peak.
Q. So, are you a tight end or a wide receiver?
A. I consider myself a tight end. I get my nose dirty a little blocking wise, but I can go and flex out and get in a two-point stance, too, but I'd say I'm more a tight end.
Q. Do you want to stay with the Packers?
A. Do I want to stay with the Packers? My family is comfortable, I'm comfortable, it's a great family environment to raise a family and the fans are absolutely off the Richter scale, so I would love to be a Packer for life.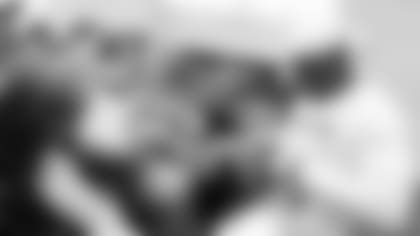 Finley signs autographs for fans attending
training camp at Ray Nitschke Field
Q. What do you like about Green Bay?
A. It's not too much. I can get from point A to point B in no time. I don't worry about my finances, where I can go to the Galleria somewhere and spend money. My kids love the school here; they have awesome friends that they love to play with. My wife, she's comfortable. Of course, traffic is a big thing in big cities, especially if you work. So it's just a great city all-around.
Q. How would you describe your youth?
A. That's a good one. It was a little different than the casual upbringing, where you have your mom and your dad raising you. My mom had me, but my grandmother raised me at the age of two. My grandmother had me all throughout my life. As I got older, I started figuring out what she does, so I started asking why is she gone so much? I started asking what she does for a living and she told me she was a cook or a chef for a hunting lodge out in East Texas; where trees are big and a lot of deer and turkey are running around. They would slaughter the deer or turkey and bring it in, cook it up for them and have it ready for dinner. Then I had a little brother that moved in when I was the age of 12. I was starting to get older and needed someone to play with. So my grandmother started raising him; he was also from my mom, same mom, different dad. We started to get closer and closer and as that went on my grandmother left us at the house so we had to cook our own meals, walk home from school, catch the bus to the Boys and Girls Club, then walk home from there. It was just one of those childhoods where you have a lot of memories of taking care of yourself at some point.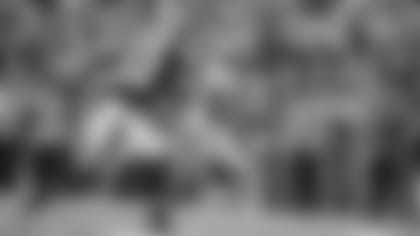 Finley's 52-yard catch and run on third down
helped
clinched the win over the Ravens
Q. What did you see on that third-down play last week? What made it work?
A. It was the matchup that we wanted to see the whole game. We had a safety matched up on me, press man, and I mean with the scheme and quarterback we have he can pretty much put the ball where he wants. I ran my route as fast as possible and gave him a move at the top and shot across the middle and saw Aaron looking at me. He passed it off and I turned around as I kind of stuttered a little because I'm not used to having all that green grass right away. I'm used to getting hit right when I get the ball, so I caught and stuttered and took off and the guy met me halfway and I tried to stiff arm and stay in bounds, but it was at the point where I couldn't.
Q. Did anybody tell you that you should've stayed in bounds?
A. I had a ton of people that did. A couple of peers of mine were just yelling that I should have stayed in bounds or slide or get down, but once you have that adrenaline rush, something takes over. It took over and I just tried to make a play at the end of the day.
Q. Your goals for the rest of the season?
A. One goal of mine, of course, is to have the Green Bay Packers win a world championship, and that's what we all play for. Another one is to improve as a player as a teammate, and off the field as a husband and father. There are a lot of things that I have in mind, but I just want to improve overall.
"I feel like my game is still not at the peak, that level that I want to play at."
Q. What don't we know about you?
A. That I'm a friendly person. Don't try, but I want everyone to like me. I kid you not. I speak every day to you, whatever it may be, a handshake every day to you, and make sure you're okay every day. There are some things that maybe I said three or four years ago that I totally didn't mean any harm or anything about it. It was just the competitive nature that I have in me. I was the only kid in the house for a long time, so it could've lingered on from there, but I love the game, man. That's one thing about me. I love the game. I love the people that watch us play every Sunday.
Q. What are your plans for when you're done playing?
A. I could see myself getting into a little media broadcasting. I don't like to talk but I can tell you pretty much anything you want, the game, after the game. Hopefully, I'll have enough money to sit down and rest with my kids a little.
Q. How do you relax when you're away from the game?
A. I have two little boys that I spend all my time with. They got the most energy ever; a five and a one-year-old. That's what I do, man; 24/7, I take care of my little ones and make sure they're OK. We don't get much time off, so I have to seize it and take advantage of it while it's there.