Q. What was it like being "Mr. Football" when you were in high school in Tennessee?
A. That was probably the biggest thing for me in my career at that time. I come from a high school that has a lot of players, and my freshman and sophomore year I didn't really get to play at all, then my junior year I finally got to start at quarterback.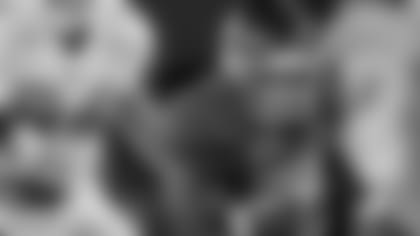 Cobb eludes Tennessee defenders
in a 2009 NCAA game for Kentucky
Q. You're from the Knoxville area, so why did you decide to go to Kentucky and not Tennessee?
A. The coaching staff. I really believed in what they were telling me at Kentucky. They had told me they would give me a shot at quarterback and it would be on me if I stayed at quarterback, but they told me they were going to give me a shot. So that got me there. I joke around with Aaron all the time that I can still play quarterback, but I don't know about that.
Q. What went through your mind when the Packers drafted you?
A. It was a dream come true for more than one reason. I saw some of the receivers that came before me and I felt like I was better than them; you know, Titus Young, Greg Little. There were a few guys that were before me and I was like I know I can play better than these guys. Then I get the call from the Packers and I felt it was the best organization, I fit the mold as far as the receiver and I know I can play as a returner, and I got to learn from a good group of receivers.
Q. Mike McCarthy has spoken about his interview with you at the scouting combine. What do you remember of that interview?
A. I remember him asking me a bunch of questions and me firing all the answers back, and at the end of the interview, every team after the end of the interview, they would give you a t-shirt and I had a big stack of 6-7 t-shirts, and he picked my stack up and took them to the trash can. I said you can throw those away if you draft me. Crazy enough, I put that shirt on when I left the combine. One of my buddies has a picture of me in that shirt the day I got back to Lexington after the combine. And then, I never heard anything else from the Packers until draft day.
Q. Is the 108-yard kickoff return in your pro debut your favorite play of your football career?**
A. I think it's the most memorable. I would say for me, my favorite play would be in the Detroit game this past year. It's the touchdown catch I had towards the end of the game, because I felt I did something that we were preached and taught not to do as far as inside releasing on a deep corner route and Aaron still trusted me to throw the ball even though I went against our technique rules, and he trusted me and I felt like I had made a connection with him on a higher level.
Q. What are your thoughts on not being used as a kick returner?
A. I think for career longevity, it's a plus, but my mentality is I love playing football so I want to be on the field. I would love to be out there but I understand what my role is going to be this year and understand what we're trying to accomplish as a team.
Q. What do you see as your role?
A. To be more of an offensive threat, to provide more on offense and be more in tune with the offensive side of the ball.
Q. You had the arm injury in training camp. Is playing hurt part of being a pro?
A. Oh, definitely. I think even on the college level, I remember playing hurt a lot of times. One of the things my trainer in college used to say is you're never going to be 100 percent in the SEC and I think that carries over to the NFL. You're never going to play at 100 percent.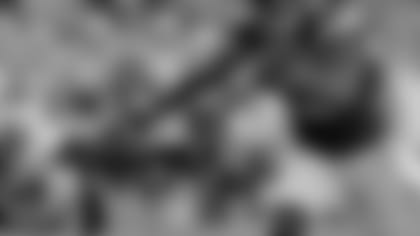 Cobb's NFL debut included a receiving TD
and a 108-yard kickoff return TD
Q. How good do you think the Packers can be in 2013?
A. I think we definitely have an opportunity to be a Super Bowl contender. I think the physicality that we've played with all offseason, all training camp, and even into that first game, I think it was a very physical game on both sides. If we can continue that through the year and stay healthy, I think that's one thing that you really have to have going into the playoffs is a physical football team, and if we continue to display that I think we'll really have a shot.
Q. Do you have personal goals?
A. Yes, always. I always keep them to myself.
Q. What's your favorite game as a member of the Packers?
A. I'd say the first one, coming out of the lockout, my first game as a rookie, coming through the tunnel and passing one of my role models, Tony Dungy, seeing him and then running onto the field, and just that whole atmosphere of I'm actually playing in the NFL. Then the game to go down to the wire like it did and for me to provide some part of the game, in the return end and as a receiver, and for it to end the way it did it was probably the top game I played in.
Q. Your favorite game in college?
A. It was my junior year against South Carolina. They had just come off beating Alabama, who was No. 1, and South Carolina was ranked No. 5 when we played them. The game went down to the wire, we scored a late go-ahead touchdown with about two minutes left in the game. We came back, down 21 at halftime, to win it.
"I've always said that good can never be good enough, you have to push yourself to become great. So why not me? Why can't I?"
Q. What drives you?
A. I think just my past, where I've come from, being told I can't do things, people telling me I'll never amount to things that I've already exceeded. Still using that as fuel and motivation to become great. I've always said that good can never be good enough, you have to push yourself to become great. So why not me? Why can't I?
Q. What about your past and your hometown?
A little small-town kid from Tennessee that is undersized, that was always too slow, not big enough, not fast enough, can't jump this high. Not the typical athlete but find a way to still get to college and play in college and play well in college and get drafted and have the opportunity to get drafted and the opportunity to play in the NFL. I was a middle-of-the-road kid. I had athletic ability but I wasn't blessed with this crazy body, or the brains of A-Rod. I was still able to find a way to have a piece. I think in college I ran sub-11 in my senior year in high school in the 100 meters. My fastest was 10.75, but the state championship I ran 11 flat. I wasn't the fastest, never the biggest, never the strongest. I believe my heart is what defines me and that's something you can't measure.