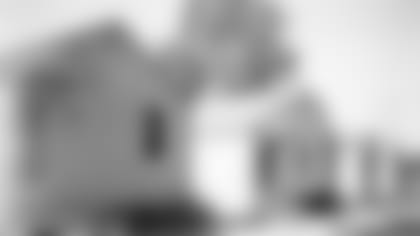 When Mann joined the Packers he stayed at Goeben's Cabins, which were located behind Kroll's East along Main Street. Mann's cabin consisted of one room and a bath.
Photo courtesy of Leonard Goeben
*Cliff Christl started gathering oral histories with former Packers and others associated with the team in 2000 and will continue to gather them as Packers historian. Excerpts from those interviews will be periodically posted at **www.packers.com*
GREEN BAY—Bob Mann is the first African-American to play for the Packers. An end – or wide receiver by today's terminology – Mann played for them from 1950-'54. Mann joined the Packers on Nov. 25, 1950, and played the next day against the San Francisco 49ers at City Stadium. He was released following the fourth game of the '54 season. Mann played his first two years with the Detroit Lions, but despite leading the NFL with 1,014 receiving yards in 1949, he was asked to take a pay cut, then traded when he refused and cut by the team that acquired him. Mann was inducted into the Packers Hall of Fame in 1988.
On how he wound up with the Packers: Mann--"I was with the Lions and they traded me to the New York Yanks for Bobby Layne. With the Yanks, I think there was a race question. They had about four black guys on the team and they decided not to have another one. I had some problems with the Lions because of another situation. Edwin Anderson was one of the owners of the Lions and also president of the beer company that I worked for in the offseason. I wanted to get some black drivers, so we had a little run-in. So we had that and some other problems. Then Tarz Taylor (Packers line coach in 1950) called me in the middle of the season and asked if I wanted to play. I said, 'No.' Then he called me again – or maybe somebody else called – and said they knew (Gene) Ronzani well and that he was fair and he convinced me to come up. So I went up the day before the game and played in the game."
On his reception in Green Bay: Mann--"My first memory of the locker room was that I came up there on a Saturday with about three games left in the season. I remember it being small and the guys were all sitting around on the little benches. I think the first guy to come over and talk to me was (Tony) Canadeo. Everybody was friendly. We got along real well."
On the reaction of Green Bay's fans: Mann--"They were the greatest fans in the world. It's the only place they don't boo you."
On playing in a city that had less than a handful of African-American residents at the time: Mann--(The only two blacks in the city at the time, according to Mann, were a porter for the Hotel Northland and a cook for the railroad.) "Those were the only two black people around. Ronzani was always nice about letting me leave town, going to Milwaukee or Chicago. I remember I had a 300 Chrysler, which would fly."
On the social life in Green Bay: Mann--"In Green Bay, everybody knew the players. So if you went out and had a beer, they would call the coach and say, 'So-and-so was in the bar.' So one night (a bunch of players) decided to go somewhere about 30 miles from Green Bay. I don't remember where it was. But we walked in and the bartender called everybody by name. I mean first name. You couldn't get away from being a Green Bay Packer. No way in the world. Not around Green Bay."
On what he did in Green Bay away from football: Mann--"I used to go into a record store all the time. It was downtown. Then there was like a hunting and fishing store, Bertrand's (Sporting Goods). I used to go in there all the time. They were nice people."
On whether he had trouble finding housing in Green Bay: Mann--"I don't know whether it would have been a problem at an apartment. I didn't try to stay at one anyway. I got a real rate at a motel and stayed at the motel."
On whether he was allowed to stay at the team hotels when the Packers were on the road: Mann--"I had to stay at another hotel (in Baltimore), a black hotel. I couldn't stay with the team. I went to a meeting and after the meeting I had to go back to my hotel. Dick Afflis walked out with me and he called for a cab. So the cab pulls to the curb and when the driver finds out that Dick The Bruiser or Dick Afflis wasn't going to get in the cab, he told Dick he couldn't take me. So The Bruiser reached in and snatched him out of the window and said he better take me. He pulled his whole body out the window. The cabbie said, 'I'll take him.'"
On any problems he had with opposing players: Mann--"The (Eagles) had a tackle who was nasty as could be. He made some derogatory remarks and we were walking off the field. We had won the game and I had scored three touchdowns. (Packers fullback) Jack Cloud came and kissed me on my cheek. I said, 'What's that all about?' He said, '(Mike) Jarmoluk shouldn't be making those remarks about you.' I got my teeth knocked out that same game by Chuck Bednarik. I don't think that was racial, though. I think he did that every Sunday."
On Ronzani as a coach: Mann--"He was kind of a haphazard coach. We went to New York to play the Giants. We got in New York and half the guys went out when Ronzani decided to have a meeting. The other teams – say like Paul Brown (in Cleveland) – if on say, Nov. 3, you're going to be playing the Giants, you're going to have a meeting in such-and-such a room at 7 o'clock. It's a matter of organization. (Ronzani) was not well organized."
On the train rides to the West Coast in the early 1950s: Mann--"Ronzani wouldn't fly over the Rockies. That was a problem. We took the train, which was a handicap because you got out of shape. He should have taken the train and let us fly. You missed three days on the train -- 36 hours anyway. The two years I went west, we took the train."
On Lisle Blackbourn: Mann--"I don't think he fully understood the pro game. I remember we played an exhibition game and they threw an up-pass to me and it went for a touchdown. I came out of the game and he said to me, 'I can't believe it. I can't believe it.' He couldn't imagine picking up that kind of distance in two plays. He was used to running the ball a lot. I don't think he was ready to coach pros. I think he was in awe, not of me, but what the professional passing game was like."
On Tobin Rote: Mann--"He was a good quarterback. He had a lot of guts."
On Babe Parilli: Mann--"Babe Parilli told me one time he never really thought about me, which I thought was ridiculous. Here, I'm on the team starting and he said he never thought about me. I never have forgotten that. He wouldn't throw the ball to me. I thought that was unusual. I don't know if it was (racial) or not. I can't say it was. I'm just quoting him."
Mann died in 2006 at age 82. This interview was conducted in 2001. At the time, Mann was a practicing attorney in Detroit.