Pictured above: 1894 Carlisle Indian Industrial School team
Sergey from Kiev, Ukraine
Please tell us about the first Packers coach, Willard "Big Bill" Ryan. What is known about his life path?
With Aug. 11, 2018, the Packers' 99th anniversary or birthday just two days away, it never ceases to amaze me how a team that started with maybe a few hundred local fans standing around an open field in Hagemeister Park to watch the games now has a truly global following.
Sorry that I couldn't decipher what I'm assuming was the Ukranian spelling of your name. Also, you listed two names and Sergey was second. Again, I'm assuming the first name listed is your surname and Sergey is your first name. If that's incorrect, I apologize.
Willard J. Ryan, sometimes referred to as "Big Bill," was a native of Washburn, a small town along the Lake Superior shoreline in one of the most scenic parts of Wisconsin. Both of his parents were of Irish descent.
Ryan coached football at Green Bay West High School in 1916 and '17, coached a service team in 1918 and returned to West in 1919. In his first two seasons at the school, he coached seven of the 25 original Packers and compiled a 16-3 record.
In 1919, he doubled as coach of West and the Packers, whereas Curly Lambeau doubled as captain of the Packers and coach at East High. Almost three weeks before the Packers held their first practice on Sept. 3, 1919, Lambeau was named captain and, thus, he called the workout. Ryan was announced as coach the next day.
At the time, the role of captain was much different and more important than it is today, partly because coaches were limited by the rules as to how much game-day coaching they could do. Accordingly, it's hard to even speculate how Lambeau and Ryan divided authority or if either one had more say than the other.
On Sept. 6, 1919, the Green Bay Press-Gazette reported the Packers would practice at 2 p.m. the next day at the Indian Packing Plant field and that Lambeau wanted every player on hand. Two days later, the paper said the Packers would practice at 6:45 that evening and "Coach Ryan wants every man on the squad to report for practice at the Packing(sic) plant gridiron…" And so it went for much of the year.
When Ryan died in 1962, the Press-Gazette's short obituary referred to him as "the original coach of the Green Bay Packers." George Whitney Calhoun, co-founder of the Packers, was retired but still writing a weekly column for the paper, and he noted, "When the Packers were first organized in 1919 E.L. Lambeau asked Ryan to assist him in coaching the team, and they did a splendid job."
Ryan left Green Bay before the start of the 1920 season, settled in Minnesota, and later became school superintendent in Gilbert, which is part of the Mesabi Iron Range. Ryan was 71 when he died in Phoenix, Ariz.
How big was "Big Bill"? On his World War I draft registration card, he described himself as "tall" with a "medium" build. In 1942, on his World War II "Old Man's Draft" registration card, he listed himself at 5-9 and 210 pounds.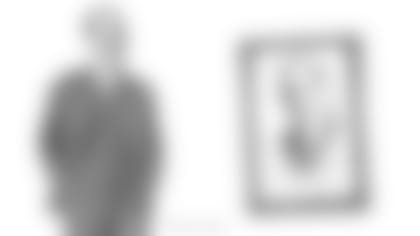 Were there any players on the early Packers from the Oneida Indian Nation? There's a large photo inside the Oneida Nation Gate that shows two football players. Did they play for the Packers or is it just a photo associated to football? Also, is there any reference book that might list Packers of Native American origin?
I'm not sure who those players are. Perhaps one of them is Tom Skenandore, who played for the 1897 Green Bay City Team and holds the distinction of being the Green Bay area's first professional football player.
But he quit playing long before the Packers were founded, and the 1897 city team has no more connection to the Packers than the 19th-century sandlot baseball teams in Milwaukee or even the 20th-century minor league Brewers have to today's major league Brewers.
If any Oneida tribal members played for the Packers, I'm not aware of it. I also can't tell you how many Native Americans played for the Packers prior to the most famous one, commonly known as Indian Jack Jacobs, a full-blooded member of the Creek tribe and a Packers quarterback from 1947-49.
That said, there might have been others, but if they weren't full-blooded I wouldn't know how to confirm it without DNA evidence. Nobody knew at the time, as far as I know, but Walt Jean was the Packers' first African-American player in 1925-26 and the only reason we know now is because his descendants have shared DNA results.
To be clear, what I consider most important here is that the Oneida tribe has a rich football history dating to the 19th century and there are places to learn more about it. One of the reference books I rely upon was written by Tom Benjey and titled, "Wisconsin's Carlisle Indian School Immortals." The archivists who oversee the Carlisle Indian School collections at Dickinson College in Carlisle, Pa., and the Cumberland County (Pa.) Historical Society also have been very helpful when I've contacted them.
Oneida tribal players not only had an impact locally, but nationally.
On Dec. 25, 1899, for example, captain and left tackle Martin Wheelock and fullback Jonas Metoxen played prominent roles as Carlisle beat the University of California, 2-0, in the first ever intersectional football game played between teams from the East and West coasts. The Christmas Day game pitted Cal, with a 7-0-1 record, against a 7-2 Carlisle team coached by Glenn "Pop" Warner. Carlisle won when Cal botched a fake punt and Metoxen fell on fullback Pete Kaarsberg in the end zone. Wheelock was named a second-team tackle on Walter Camp's All-America team that season and was named second-team again in 1901. Camp's All-America teams, selected from 1889 to 1924, were the most renowned of that era.
Thom from San Antonio, TX
Tom Skenandore was my great grandfather. He was a full-blooded Oneida Indian.
Be proud. Although the game has changed dramatically, I consider your great grandfather and others like Metoxen and the Wheelock clan among the greatest football players produced in the Green Bay area.
Several years ago, I gathered material on a number of Oneida athletes who had made a mark in sports and suggested to some tribal members that they create a sports hall of fame. I'd like to see it happen just so I could visit.
Your great grandfather – listed as Schanandore on the Carlisle rosters in the two collections previously mentioned – and others weren't connected to the Packers, but they made a mark on the game of football that I find just as impressive.
I have concerns about the acknowledgment of the man who is generally credited with starting football in Green Bay. His name is Fred Hulbert. For years, he has been erroneously identified as Fred Hurlbut, a native son and Green Bay businessman who may or may not have played in the first years of football in Green Bay in the late 1890s. Carl Hanson and I spent much time straightening this out in our research for "Before They Were The Packers." I'm hoping this will be straightened out in the new Packers Hall of Fame.
First, I agree that you and Carl got it right in your book. Fred Hulbert might not have acted alone in bringing organized football to Green Bay, but everything I've read suggests he was the driving force behind it.
In 1895, both Fred Hulbert and Fred Hurlbut Jr. played on the first organized football team – or make that teams – in Green Bay. Hulbert played the year before for what was then Wayland University in Beaver Dam, Wis., and was 25 years old. A native of Chicago, he grew up in Racine, Wis. Hurlbut, a native of Green Bay, was 15.
In what was the first organized game, which you referenced in your book, the East Side with eight players tied the West Side, which had 10. Hulbert started at quarterback for the West Side and Hurlbut started at right halfback for the East Side. At the time, touchdowns were worth four points and the game ended in an 8-8 tie. In fact, according to local historian Jack Rudolph, Hulbert and Hurlbut accounted for three of the four TDs.
A week later, with 11 players on each side, the East Side beat the West Side, 6-4. Again, Hulbert scored all of West's points, but pulled his team off the field late in the game over a dispute with the officials. The officials said there were six minutes left when East scored its winning TD, whereas Hulbert argued time had run out. The Green Bay Gazette commended Hulbert for playing a good game, but also accused him of "dirty" play. Meanwhile, Hurlbut moved to left end for East.
In essence, the two games also represented the start of high school football in Green Bay. After the first game, The Green Bay Sunday Gazette referred to it as a matchup between the East and West high school teams. Later, it noted the East Side team also was composed of high school players after the second game. The Green Bay Advocate, on the other hand, reported earlier that the West Side Athletic Association, which Hulbert helped organize, was recruiting players from both sides of the river.
Following those first two games, the East and West teams combined, as you know, and went 1-5 against outside competition, beating Menominee (Mich.) High School for its only win.
But one thing was clear in the Gazette's coverage over the remainder of the season, Hulbert served as the team's captain. Hurlbut, in turn, continued to play left end.
Admittedly, I wrote a story for the Press-Gazette in 1984 and got the names confused. My error; no excuses. Fifteen years later, the Brown County Historical Society in celebration of its 100th anniversary wrote a series on prominent Green Bay figures and credited Hurlbut with starting "the first Green Bay football team in 1895."
In 1913, Hurlbut succeeded his late father as president of the F. Hurlbut Co., and was one of Green Bay's leading 20th century industrialists. Those of you 60 or older who grew up in Green Bay probably remember the large Hurlbut clock at the north end of Washington St.
I've seen references to football being played in Green Bay prior to 1895, but I don't believe there were any organized teams until Hulbert took charge that fall as you uncovered in your research.
Is it possible that Hurlbut or someone else actually called the first practice or that others helped Hulbert instruct players who were new to the game?
I don't think it can be totally ruled out. According to the Gazette's Sept. 9, 1895, edition, East High started practice first "under the captaincy of Harry Cotton." Hurlbut, in turn, was manager of the team, the Advocate reported three days later. The Gazette also noted as early as July of that year that Hulbert was one of several players with football experience trying to form a local team. It noted Austin Larsen played at Lake Forest, Ill.; John Thomas at Beloit College; and Bert Groesbeck at Ripon High School.
All that said, I have no quarrels with what you and Carl wrote about Hulbert's role in organizing the first team.
Hulbert died in 1937 in Port Washington, Wis., at age 67. He started in the canning business in Green Bay and was running the Saukville Canning Co., at the time. Hurlbut died in Green Bay in 1959 at age 79.
I would anticipate your next question might be: Why, then, isn't Hulbert featured in the new Packers Hall of Fame?
No. 1, it's a hall of fame devoted to the Packers, not the history of football in Green Bay. Yet there's also an area on the second floor with photos and vignettes devoted to early football in the city.
It includes mention of the East-West rivalry, and also East High's team in Lambeau's senior year. Clearly, East-West football was the genesis for the start of the Packers, much more so than any of the local amateur or semipro teams.
I believe you referenced close to 75 different teams in your book and I'm not sure how anyone could decipher which ones might have played some part in Packers history and which ones didn't.
On the other hand, at least 17 of the 25 original Packers played for East or West high school, including four of Lambeau's teammates and seven players who played for West at the same time. What's more, a handful of early football fans and local historians who watched the Packers grow from their infancy told me in separate interviews that the two high school teams were what fueled the passions of Green Bay's football fans.
One of the two amateur or semipro teams we featured in the pre-Packers display was the 1897 Green Bay City Team, which compiled a 4-0-1 record and outscored its opponents, 142-6. That was the year Skenandore was paid to play and he's in the team picture.
Quite frankly, the first two city teams didn't accomplish much under Hulbert. They were 3-10 against outside competition. Moreover, in 1896, Hulbert was elected captain, but then Joseph Miller took over the team as coach and O.W. Neeves replaced Hulbert as captain. Furthermore, Hulbert disappeared for much of the season. In early October, he sent a letter to Leslie Larsen of Green Bay claiming he was sick and in Racine. Then three weeks later, he played in a game in Racine.
When Green Bay lost to Oconto, 34-0, in its third game of the 1896 season, the Advocate reported the team was on the verge of folding. But on the same day, the Gazette revealed Tom Silverwood, Oconto's right guard and a former player at the University of Wisconsin, was considering relocating his budding law practice and moving to Green Bay.
Silverwood was in Green Bay's lineup for its next game against Oshkosh Normal School and within 10 days after the season ended his teammates unanimously elected him captain for the 1897 season. "The first part of the season the team was not well organized," the Gazette reported, "but on the arrival of Silverwood things took a different turn and an advance was steadily made from that point."
Hulbert was back playing, but Silverwood ran the show in 1897 and that's probably why Harold T. Shannon, Green Bay's first sports historian, called him – and not Hulbert – the "Father of Football in Green Bay."
Our pre-Packers display also includes something on the 1894 Carlisle team, which featured Skenandore and two other Oneida tribal members; Joe Hoeffel, Green Bay's first college All-American, captain of Wisconsin's last unbeaten team in 1912 and coach of the 1921 Packers; and the 1917 so-called state high school championship game played between Marinette and Watertown, and hailed as the biggest football game ever played in Green Bay to that point.