GREEN BAY – The Packers attacked their depth chart at two different offensive positions in the fifth round of the draft Saturday.
Both players came to Green Bay for pre-draft visits and got good vibes regarding the Packers' interest and how they'd fit the team and culture here.
Clifford (6-2, 218) is as experienced as they come for a college quarterback, having started for four years and 46 games total. He set school career records for passing yards (10,661) and passing TDs (86) while winning a program-best 32 games at QB.
"The intelligence this kid has (stood out), and being a really good fit both in that room but then in our locker room too," said Packers director of football operations Milt Hendrickson. "The kid's got some gamer to him, which we really liked. His personality really came through when he was here."
A four-year team captain, Clifford felt his game progressed to where he could add aggressiveness to his smarts to keep Penn State's offense on the go.
"I think just decision-making and being able to create plays," he said of his biggest growth in college. "Making smart decisions … and being able to create when the pocket might break down or something doesn't go completely right."
Clifford has some running ability as well, racking up more than 1,000 rushing yards with 15 scores on the ground over four seasons. He finished his career winning the Rose Bowl offensive MVP award in Penn State's victory over Utah.
"He's played in big games," Hendrickson said. "That kid, coming into the environment at Lambeau, it's not going to be too big for him. That experience, along with the moxy he has as a guy, it's a combination of those things."
Despite his extensive experience and track record, which included three honorable mention All-Big Ten selections, Clifford was not invited to the scouting combine. But typical of a competitor, he's filed that away as motivation for his NFL career.
"I thought that my body of work should have allowed me to be there, but at the same time, everything's a blessing in disguise," he said. "It just added a little bit more fuel to the fire, training harder and making sure I'd be ready."
In Green Bay, Clifford rejoins former Penn State teammate and offensive tackle Rasheed Walker, who protected his blind side for multiple seasons before the Packers drafted him in the seventh round last year.
As for the pending competition with former LSU starter Etling to be Love's backup, Clifford is simply eager to get going.
"I'm just excited to learn, learn and grow, especially soon," he said. "I want to get up there. I want to get the playbook and just get my head into it, so that way I can really start to contribute however I can."
Wicks feels the same way, saying he's "ready to go get to work" after what he termed great conversations with Head Coach Matt LaFleur and receivers coach/passing game coordinator Jason Vrable during the pre-draft process ultimately led to his selection at No. 159 overall.
Wicks (6-1, 206) had a record-setting season in 2021, breaking former Detroit Lions star Herman Moore's Virginia record for receiving yards in a single season with 1,203 to go with nine touchdowns. He was named first-team All-Atlantic Coast Conference, tying the school mark with six 100-yard receiving games.
It was an impressive rebound from missing all of 2020 due to a foot injury. His numbers then fell off in 2022, though, to 30 catches, 430 yards and two TDs, for a number of reasons.
"When you watch the '21 tape, there's a significant difference," Hendrickson said. "At this point in the draft, that's what we're hanging our hat on."
A coaching and system change at Virginia was a significant adjustment, and Wicks felt once he started to settle in, he then missed a couple of games due to injury. Finally, and tragically, the end of Virginia's season was canceled following the fatal shooting on campus that took the lives of three Cavaliers football players.
Their memories are firmly with Wicks as he takes the next step in his football journey.
"It means a lot, knowing that they wanted to be in this position that I'm in," he said. "I was close with them, so doing this for them, being able to get my name called, knowing that was their biggest goal to achieve, being able to be in this position, I thank God and I'm thankful for that.
"And I know they're watching me. So, I'm going to work as hard as I can every day, like I'm already doing, and continue to use that as a drive and a motivation to be the best I can be."
Wicks also was critiqued for having several dropped passes last season, which he attributed to thinking too much as he adjusted to all the offensive changes.
As he looks to bounce back in 2023 just as he did two years ago, he believes all the adjustments he went through last year will assist him in making yet another transition.
"It helped me out a lot," he said. "Going into the Senior Bowl, I was able to go out there and play with great energy, play fast and be myself. I don't think it'll be a problem adjusting to a new system since I've been through it already."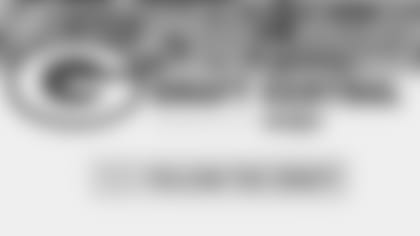 Packers Draft Central | Recap the 2023 NFL Draft
Follow packers.com's coverage of the 2023 NFL Draft