As an athlete. As a business owner. And even as a gamer.
The Packers linebacker grew up around video games. His dad owned a Super Nintendo with a catalogue of cartridges. His siblings and cousins jousted for bragging rights in the trenches of "Donkey Kong," "Mario Kart" and "Super Smash Bros."
When Smith wasn't playing sports or running around outside, he spent a lot of Georgia summers with a controller in his hand. Video games were a reprieve from the real world but not competition.
"I feel like I was born to this gaming world," Smith said. "Anything I could be competitive in when I was younger. I guess I always liked things that had objectives."
Over the past year, Smith has taken his love of sports, gaming, and entrepreneurship to the next level with Hall of Fame Gaming, a lifestyle and esports organization Smith formed with former teammate and three-time Pro Bowl receiver DeSean Jackson.
Both avid gamers, Smith and Jackson wanted to create a company that not only affords streamers a platform to showcase their talents but also gives fans a way to connect with athletes on a deeper level.
For Smith, it's sort of funny looking back now. Outside of local arcades, gaming used to be a very isolated experience. Even as recently as 10 years ago when Smith was at Mississippi State, there was no outside community to plug into and form connections.
"It's a great hobby because it's like playing football, I'm doing something I love." Packers LB Preston Smith
If Smith took his Bulldog teammates to school in "FIFA," nobody outside the locker room knew about it. The same was true when Smith and Jackson were both part of an ultimate "Madden" franchise with their teammates in Washington. Streaming just wasn't mainstream at the time.
Now, Smith is one power button away from exploring worlds he never imagined. From his rapidly expanding home studio, the ninth-year NFL veteran welcomes followers of his @PrestonSmith91 account to join him on the journey on Twitch.
"You never realize other people, like fans and stuff, who want to see you play a game or interact with you," Smith said. "It's a great hobby because it's like playing football, I'm doing something I love. I play the game most days anyway. It's just throwing on the camera and letting somebody see me play the game."
Smith gives former Packers receiver Marquez Valdes-Scantling credit for helping set up his PC and streaming channel during their time together in Green Bay. In a lot of ways, Smith has modeled his streaming off many of the things Valdes-Scantling does.
It turned into a passion project for Smith over the past year. In the offseason, he'd train during the day and fire up the system once the family settled in for the night, cycling through games of "Madden," "FIFA," "NBA 2K," and "Grand Theft Auto V."
Though released 10 years ago, "GTA V" has taken on a life of its own through multiplayer modification, the process of altering gameplay to create an open-world sandbox.
It was through a mutual contact in the popular GrizzleyWorld RP realm, owned by rapper Tee Grizzley, Smith reconnected with Jackson. At first, the two weren't even aware each other was playing on the same server until another streamer, DeAndre "Chief Drizzy" Williams, brought them together.
"I met DeSean in the city and was helping him out getting familiar with stuff since I'd been playing for a while," said Williams, who was the chief of police in GrizzleyWorld. "And then I met Preston shortly thereafter and I'm like, 'That's just crazy that a bunch of these NFL guys are in here interacting daily, but they don't really interact in real life.'
"They use different names in the game, so they had no idea. The voice might sound familiar but you're not thinking, 'Oh, that's Preston.'"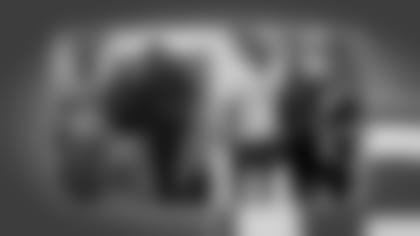 Williams worked with both NFL stars to get more eyeballs on their streams and create original content for their social channels. The relationship progressed to the point the three decided to launch a joint venture last winter: Hall of Fame Gaming.
With Williams serving as the company's CEO, HOF Gaming began signing popular streamers like Chibatta Mitch (a.k.a. MADDEN GOD) and formed strategic partnerships with NFL running backs Antonio Gibson and Kenneth Gainwell, and NBA player Montrezl Harrell.
While sports games are at the center of its business model, HOF Gaming also has branched out into tactical games such as "Call of Duty: Warzone" and "Apex Legends," as well as "Rocket League," an arcade-style vehicular soccer game.
Recently, Hall of Fame Gaming's Riley "zSmit" Smith and his team qualified for World Series of Warzone Global Finals in London, which will be held at the Copper Box Arena in Queen Elizabeth Olympic Park on Sept. 16.
"We have a top 20 Warzone player in the world competing on the largest global stage, a line of custom apparel coming this month, and an exciting rest of year packed with IRL activations like TwitchCon Las Vegas," Hall of Fame Gaming chief marketing officer Kerby Fortner said.
There's plenty more on the horizon, too. Jackson has opened his own "GTA V" server, CrenshawRP, that Smith now plays on, and also recently announced a new project, "Pros vs. Bros" series, a spinoff of the "Pros vs. Joes" TV show where a general-public player will square off with Jackson and other NFL stars in football activities for cash prizes. The first event takes place on Wednesday in Los Angeles.
"I still have to pinch myself to make sure it's real. It's crazy. A year or two ago, I was playing the game and thinking about how it would be cool to meet these guys. Now, I'm working for them." DeAndre Williams, Hall of Fame Gaming CEO
While focused on his upcoming fifth season with the Packers, Smith has long-term aspirations to bring an esports tournament to the Green Bay area under the HOF Gaming umbrella. He's already had some discussions with Williams about possibly hosting an autograph signing or meet-up to bring awareness to a future event.
"The goal is to use my resources and try to help get sponsorships and do events," Smith said. "I would love to host a "Madden" event or tournament in Green Bay with some "Madden" streamers and maybe find a venue we can make that happen at and live stream it across Twitch, YouTube, Facebook, all the streaming platforms."
On a personal level, Smith has enjoyed working with Jackson once again. A second-round pick in 2015, Smith played his first two NFL seasons in Washington with Jackson, who was already one of the league's top receivers.
Smith laughs about how, as a rookie, he was unwilling to trade the virtual DeSean Jackson to the real one in their shared "Madden" franchise. "The price wasn't right," Smith quipped. "It was DeSean Jackson. He had 99 speed."
For Williams, a 25-year-old native of St. Louis, this burgeoning endeavor with Smith and Jackson has been more than he could've ever wished for. Only six months in, Williams is in awe of how quickly HOF Gaming has grown in such a short period of time.
"I still have to pinch myself to make sure it's real. It's crazy," said Williams, laughing. "A year or two ago, I was playing the game and thinking about how it would be cool to meet these guys. Now, I'm working for them. But the connections and the people are way more beneficial than the money at all. I thank God."