Jeffrey from South Milwaukee, WI
Vic, I understand Ted Thompson's philosophy with regards to draft and develop, but judging from the responses I read when other readers ask you why he doesn't spend in free agency, it appears you are opposed to that nine times out of 10. It also appears you tend to side with the team's way of doing business most of the times (not that their way of doing business is wrong). Then it dawned on me. Is it because you work for the Packers? And I don't mean that in a mean-spirited way. I guess my question is how can I value your input when you work for the very team you are covering?
That's a question you have to answer. If you believe I am presenting information to you in a disingenuous way, solely for the purpose of shaping your opinion to favor the Packers, then you should never read anything that bears my name. Here's my dilemma: If my opinion is supportive, then I'm a company man. If my opinion lacks bias for the team, then I'm not a fan and I have no business writing for this website. That's what I get every day; one or the other. I have been a draft-and-develop devotee forever. I worked for a team that went hard into free agency, and it was obvious in my writing that I didn't agree with that approach, and I respect Wayne Weaver for having allowed me the freedom to voice my opinion. Now I work for a team that believes as firmly in draft and develop as I do. So, what I am supposed to do, change my beliefs just to convince you I'm not a company man? Nope. My opinion of free agency remains the same. Be very, very careful, because it can ruin a team.
Doug from Union Grove, WI
There's a feeding frenzy here that people feel Peppers is the second coming of Reggie. I think when they saw Peppers' picture at Lambeau Field they were hoping to hear God told him to come here. Overly high expectations or hope?
It's silliness. You want another Reggie White so badly that you're willing to burden Julius Peppers with expectations he can't possibly satisfy. It's all part of the titillation of free agency. Last week produced the highest number of visits in "Ask Vic" history. We blew away Seattle week. Questions poured into the column by the thousands. People were angry. Some of their comments were borderline threatening. When the Packers signed Julius Peppers on Saturday, joy filled my inbox. It was as though I could hear it giggling, and then chortling because I had said Peppers wouldn't take less money. He took less money? I don't know what it is about free agency, but in terms of fan intensity, it is off the charts and growing more intense by the year. Frankly, I think it's taken the NFL by surprise. I don't think the league expected fans to get so passionate about signing players other teams weren't willing to re-sign. Free agency has become the major event of the offseason. In terms of fan interest, it's bigger than the draft.
So the signing of Peppers will bring a lot of joy to some, if not all Packers fans. I am not so sure, especially in regards to the price we paid for his services at his age, but I get the feeling there is a lot more to this signing than meets the eye. Do you agree?
It's all about the role in which he will be cast. He is not a conventional, two-gapping, 3-4 defensive end.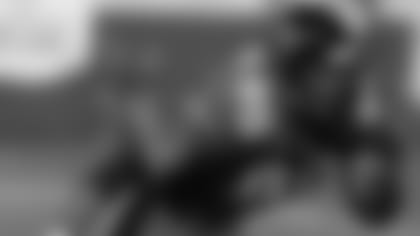 Tony Brackens
Kyle from Black Earth, WI
In what way will Julius Peppers fit into our defensive scheme and how big of an impact do you think he will make?
Maybe it was fate that I continued to write about the way Dom Capers used Tony Brackens in Jacksonville. Well, here it is. My expectation is that Peppers will be Brackens, which is to say the equivalent of a 3-4 linebacker with his hand on the ground. Capers coached the Jaguars in 1999 to the No. 1 rankings in points allowed and sacks. He did it in a 4-3 alignment, which has been the point of my having mentioned it so many times. Again, alignment isn't scheme. It's what you do in that alignment that is your scheme. Capers incorporated a lot of 3-4 principles into the 4-3 alignment the Jaguars used in 1999. I'm expecting something similar for the Packers next season. I see Peppers being moved around. I see him dropping into coverage, just as Brackens did. Peppers is a great athlete; he played basketball at North Carolina. I see Peppers being used in space as a playmaker, just as Brackens was. I see Peppers being used in a lot of stunts and twists. I see him rushing the quarterback and I see him intercepting the pass of a quarterback that didn't expect Peppers to drop into coverage. That's the kind of versatility Peppers offers Capers, just as Brackens did.
Josh from Seoul, South Korea
Vic, the Peppers signing gave me, as a fan, something of a thirst quencher. Offseasons for Packers fans are a bit dull. I feel like this gave us a bit of excitement to hold us over.
Vic, I'm perplexed. We could afford to sign Peppers but couldn't keep Dietrich-Smith to protect the investment in Rodgers?
Again, free agency is all about price point. You assign a value to each player and you don't stray from it. Your analogy is a rationalization. When you begin applying rationalizations, that's when you get into trouble.
We essentially gave Peppers a one-year deal to see what he has left in the tank. At least that is what I have understood when reading about it. Let us give Jared Allen a deal equivalent to Peppers and give these young guys a year to learn from two studs. It is a fun thought.
Yeah, it's a fun thought, but I think you've fallen in love with the free agency game. It's become its own season. How many big-name veterans can you collect on your roster? A part of me wants this to end because it's become outrageous, but another part of me wants it to continue because "Ask Vic" is on fire. We're killing it right now. This is what the fans want so I'll keep giving it to them.
Claus from Honefoss, Norway
Vic, I was hoping you could confirm one detail of the signing of Julius Peppers. Given that the Bears released him and he was not an unrestricted free agent per se, is it correct to assume he will not play a role in the compensatory pick formula?
He will not figure into the formula for compensatory pick consideration. It's the advantage to signing guys that were cut prior to the start of free agency. Baltimore consistently does this so they can get comp picks: Elvis Dumervil last year, Steve Smith this year.
Jerry from Des Moines, Iowa
Vic, is Julius Peppers a good value for the price? Would you have done that deal?
It's all about the role for which he was acquired. This isn't a best-available-athlete signing. Peppers was signed with a specific role in mind and his ability to execute that role will determine the return on his value. Would I have done the deal? If my defensive coordinator had come to me and said I can use this guy in a role that will make us a more multiple and formidable defense, and given the way the deal is structured, and given a thumbs-up on Peppers from my personnel department, I would've done the deal. Without that specific role in mind, I would not have done the deal. Coach Capers is bearing a lot of pressure to fix the Packers defense. You have to give him the players he needs to do that.
McCarthy said shortly after the season that he wanted to be more multiple on defense. I think we're starting to see what he meant.
Signing Peppers, in my opinion, is confirmation of the intent to be more multiple.
Jered from Baton Rouge, LA
Vic, it would appear as though Ted listened to Jared and did go back to the veteran pass rusher tree. Ted began to shake that tree vehemently, and out of it fell Peppers, right into his lap.
Whoa! Get that notion out of your head. "Veteran pass rusher tree" is a metaphor for leftover, minimum-wage pass rushers. Peppers is not a leftover, minimum-wage pass rusher. This is a premier free-agent signing. This is the one you all wanted. This is the one you bashed Ted Thompson for not making. He didn't go out back and pick Peppers off a tree. Thompson went to the head of the class and signed a big-name guy for a sizable guaranteed-money commitment. Be happy. Giggle, chortle. The day for which you have longed has finally arrived. Knock yourself out.
Evan Dietrich-Smith
What is your interpretation of Ted Thompson not re-signing Dietrich-Smith?
I think Evan wanted to remain with the Packers. I think a warm, sunny day in March and no state income tax are tough to beat. The Bucs knew that. They were playing with a 7.75 percent advantage. It is what it is.
Vic, explain to me the upside of signing Peppers. Then explain to me the downside.
The upside is the Packers have acquired a player that'll allow Coach Capers to wear out a lot of chalk. Remember that interception by B.J. Raji in the NFC title game? You're gonna see more of that, but with Peppers dropping. I remember seeing the Lions use Ziggy Ansah in a very creative pass-rush stunt last season. It's the kind of stunt that's perfect for Peppers. Remember how Coach Capers talked about needing length and athletic ability in space against quarterbacks such as Colin Kaepernick? Peppers is that kind of player. I think we're going to see the depth of Coach Capers' playbook now. Most of last year, with Clay Matthews out of action, the Packers were vanilla. They couldn't do much because they didn't have much available to them. Matthews was out, then Nick Perry was out, and Datone Jones had yet to develop into the space player he was drafted to be. I envision those players meshing with Peppers into something creative and exciting. That's the upside. The downside is that Peppers is 34.
Vic, I know signing Peppers was a cheap deal relative to NFL standards …
It is not a cheap deal. Just because the deal is structured to protect the Packers' salary cap doesn't mean it's cheap. If he plays out the deal to its fullest, Peppers would currently be the third-highest average-salary player on the team. It's the lack of a lot of guaranteed money that makes the deal favorable for the Packers because it protects the team against Peppers' age. That doesn't mean it's cheap. It just means it's smart.
Patrick from Palm Coast, FL
Why has James Jones made it this far into free agency?
It's a bad year to be a free-agent wide receiver. The draft is loaded with wide receivers. Dime a dozen.
So how many fans that were complaining that the Packers were not blowing all of their cap space on free agents are now complaining that they signed Peppers?
Not many. This signing is being received as a slice of heaven. Packers fans are experiencing nirvana.