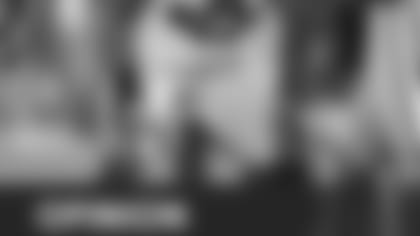 Packers CB Casey Hayward
There's a thing called "dead money" on your salary cap, and then there's a kind of "dead money" on your roster, and you don't want either. That's why it's important that a team receive some immediate impact from its draft class.
Yes, it's draft and develop, not draft and be a star, but the salary cap era has made it important for teams to expedite the development of their young players because teams can't afford to dedicate a portion of their salary cap to noncontributors.
Look at it this way: If a seven-man draft class is on the roster and fails to provide impact, then 13 percent of the roster and the cap room it occupies is dead wood.
This isn't to say that every draft pick should be expected to be a difference maker in his rookie season, but it's not unreasonable to expect a couple of the team's top picks to provide upgrades at the positions at which they were drafted.
Draftmetrics.com confirms that games played by rookies hit an all-time NFL high last season: 903. It was up from 870 in 2011, which was up from 782 in 2010, which was up from 712 in 2009, which was up from 656 in 2008. The trend is undeniable. The increase in games played by rookies over the last five years is dramatic, and that trend is likely to continue.
Why is this happening? It's because of the cap. Nobody can afford to park millions of dollars of cap money, let alone real money, on the bench. It's also happening because games lost to injury continue to increase, therefore, young players are being forced into the action sooner than later. Remember James Starks? Who expected him to become an impact player in the playoffs as a sixth-round pick?
The Packers had holes to fill on defense last season. They did that by making defensive players their first six selections in the draft, and then those draft picks, led by cornerback Casey Hayward, provided a lot of immediate impact that helped the Packers raise their defensive ranking from last in the league in 2011 to 11th in 2012.
If rookies can come in and make an impact right away, that's a bonus. There's certainly that expectation with first-round picks, and in many cases second-rounders as well, but beyond that, remember there's a "develop" part to draft and develop.
Even with some of those high picks, easing that immediate-impact pressure can pay dividends. Aaron Rodgers wasn't expected to play right away, and his development speaks for itself. Jordy Nelson was drafted in the second round when the Packers were fairly deep at receiver, and he caught just 55 passes total in his first two seasons. Now he's one of the top receivers in the NFC North.
In the middle to later rounds certainly, it should be about the payoff down the road. Tight end Jermichael Finley (third round), guard Josh Sitton (fourth round) and linebacker Desmond Bishop (sixth round) are good examples. Those three didn't have much to show for their rookie seasons but grew into the prominent roles they have now.
Fourth-round picks Mike Daniels and Jerron McMillian obviously played as rookies last year, but the defense benefited more from the development of young players like Morgan Burnett and Brad Jones.
That's how the 2013 defense will improve the most, too, as Daniels, McMillian, Davon House, Mike Neal, M.D. Jennings and Dezman Moses, among others, continue to develop. If the impact of the 2013 draft class is greater than that of the players just mentioned, I would argue that's potentially a bad sign for the Packers, not necessarily a good one.
A draft-and-develop team needs to take the long view, and it needs to count on its draft picks and college free agents developing over time. Not all of them will, obviously, but they need to be given a legitimate chance. That's not to say immediate impact is a problem, however.
What running back James Starks provided late in 2010, and what tackle Don Barclay was able to do last season, made a difference for the Packers. There's no doubt about that.
But contributions like that are a lot to ask of players getting their first taste of the NFL. They should not be the expectation, but a bonus – a bonus that might put a team over the top, sure, but a bonus nonetheless.
Cast your vote in the poll on the right, please.