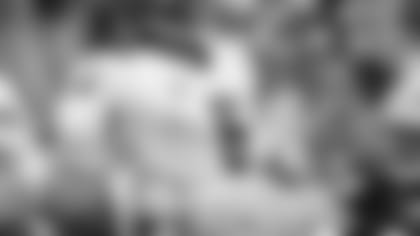 It's hard not to think that the Tampa Bay Bucs have improved themselves more than any other team over the last couple of days. They've added two significant pieces on offense, as they continue building around promising quarterback Josh Freeman, landing receiver Vincent Jackson from San Diego and guard Carl Nicks from New Orleans. They have also begun addressing their defense with cornerback Eric Wright from Detroit.
Tampa Bay spent a ton of money, no doubt, but I'm not going to get into value here, just how much better the Bucs are now than they were when this week began.
In Jackson, Freeman finally gets a true No. 1 receiver to join pass catchers Mike Williams and Kellen Winslow. Jackson is a big-play guy who has averaged 18 yards per catch over the last four years. He can take advantage of Freeman's strong arm and adds a new vertical dimension to Tampa Bay's offense.
Nicks was a second-team All-Pro two years ago and a first-teamer last season. He's as good as there is at his position and he's only 27. He's a road-grader of a blocker who should make running back LeGarrette Blount very happy.
In Wright, the Bucs haven't fixed their defense – which struggled mightily the second half of last season – but they've addressed a key area, which was a weak and thin secondary. There's more work to do there, but getting a solid, veteran cover man is a good start.
Did Tampa Bay overspend? Probably. Did they have any other choice? The Saints and Falcons are the class of the NFC South right now and the Panthers are a team on the rise with a franchise quarterback in Cam Newton.
The Bucs had to make a splash in free agency to provide legitimate hope, and to help ensure that new coach Greg Schiano's tenure isn't as short as his predecessor's.
Remember, this team is only two years removed from a 10-6 record that left them just out of the playoffs (we all know another 10-6 team in 2010 that happened to get in). The Bucs also started 4-2 last year and took the eventual 15-1 Packers to the wire at Lambeau Field before Raheem Morris lost the team and losing snowballed.
All that talk last offseason about the Bucs being a team to watch turned out to be just that, talk. The team wasn't ready for prime time. In just two days, that may have changed.
I'll say this for the Washington Redskins: They're no quitter.
The trauma the Redskins have endured in free agency would cause most teams to turn their attention to the draft, but every March – last year it was July – the Redskins have stepped up to the plate and taken their swings, and this March is no different.
Last summer they signed O.J. Atogwe. He's no longer with the team. The Redskins spent and enormous sum of money on Albert Haynesworth. Ouch! Adam Archuleta got a big payday; he was gone a year later.
The Redskins have been the poster team for what not to do, which is to say trying to build your team through free agency, but they were at it again when free agency kicked off this week, and I think they got it right this time.
Forget about value. The Redskins always overspend, which is the very nature of free agency, but the owner apparently has a limitless supply of money and the Redskins aren't opposed to pushing money onto future caps; they needed a new CBA in 2006 because they had pushed so much into the future. All the Redskins want out of free agency is to have signed players that will make them a winner, and I think they might have achieved that goal this year, depending, of course, on what they do at quarterback.
The moves the Redskins have made in free agency this week would seem to dovetail with the trade the Redskins executed with the Rams that positions the 'Skins to draft quarterback Robert Griffin III. With the additions of wide receivers Pierre Garcon and Josh Morgan, Head Coach Mike Shanahan will have acquired playmakers to help make RG3 a Cam Newton-like instant success. The Redskins were also in hot pursuit of wide receiver Eddie Royal, a teammate of Morgan's at Virginia Tech.
It's the re-signing of defensive lineman Adam Carriker, who settled into the nose tackle position and had some success with the Redskins last season after having been a first-round bust in St. Louis, that I like the most. Carriker has all of the measurables you want in a 3-4 defensive lineman; maybe end just wasn't his position.
The Redskins say they're not done, yet. They've scheduled a visit by cornerback Aaron Ross on Friday, and signed safety Brandon Merriweather, a former first-round pick of the Patriots, on Thursday.
When free agency is over, the money the Redskins will have spent is likely, again, to be alarming, but I finally like their selection of free agents.