I was on the Redskins website to look at reaction to Sunday's game. One of the players said the Packers quarterback misread coverages all day but made some great throws. What? Rodgers was misreading the coverages? Evaluate, please.
It's a good thing for the Redskins that he did, or he might've thrown for 960 yards and eight touchdowns. The whole scheme evaluation craze is out of control. I'll never forget a conversation I had with Terry Bradshaw late in his career. We were talking about the criticism of him for not looking off safeties. He pointed his finger at me and said in a raised voice, "I've never looked off the safety." I didn't get it at first, and then it hit me: Looking off the safety was something guys with weaker arms had to do. All he needed was a window and he'd get it there now, and that was his source of pride. Just win, baby.
John from Grand Forks, ND
I don't see Manziel translating well to the NFL, almost Tebowesque, if you will. Who, in your mind, translates best to the NFL next year?
Next year's quarterback crop is said to be deep and talented, but I've looked at it and I don't see what others are seeing. I'll look harder and deeper as the season goes on. Of the guys in that class, Tajh Boyd is the one I like. He's mobile enough to be new age, but he's pass first. I see him as more of a scrambler than a runner, and I think that's how a quarterback's legs should be used. He's on the short side and that'll move him down the draft, but I haven't seen evidence that a lack of height has caused him a problem. He's got a good arm and his accuracy has greatly improved. He's played in an up-tempo offense, but he never appears rushed or jittery. I think he's a sensational athlete whose draft stock is going to rise considerably as the season wears on.
Randall from Zarczyce Duze, Poland
You've covered a lot of games in Cincinnati. Which is the most memorable?
The one on Thanksgiving weekend, 1976. It's as though I'm looking through the press box window at Riverfront Stadium right now and the snow is just starting. It happened so fast. Just as the last player disappeared in the tunnel at the end of the first half, the snow started to fall. Within seconds, we were in a whiteout. Within minutes, the field was a blanket of white. I remember watching the players do a double take as they came back out onto the field for the second half. They said after the game that it was as though they were in the wrong place. It snowed at that pace for the remainder of the game, and it created one of the most stunning visuals in football history. I can still see the pictures in Sports Illustrated from that game. They were more than photography, they were art, and they became famous. It was also a game of huge importance. It was, essentially, for the AFC Central title and my final memory is of Isaac Curtis alone in the back corner of the end zone on the final play of the game, and Dwight White lying on the snow-covered ground as he clutched Ken Anderson's leg, and Anderson pumping and pumping as he tried to get enough into the throw to get the ball to Curtis. Anderson would pull his arm back and White would pull Anderson's leg. It was a moment frozen in time for me. It might be my favorite game of all time.
Anthony from Minneapolis, MN
I think some people forgot that Cleveland traded up with Minnesota in the 2012 draft in exchange for their first (fourth), fourth (118th), fifth (139th) and seventh-round (211th) picks to draft Trent Richardson third overall. This minor, unnoticed detail makes Cleveland look worse, Indianapolis look better and Minnesota look like geniuses, which I don't like, of course.
They traded away four picks to move up to draft a player they would trade away a year later for a pick that will likely be significantly lower in the order than the pick the Browns used to select Richardson. Oh, my. The guy they get out of all of this better be the next Jim Brown or Otto Graham.
Vic, often your comments are insightful and I appreciate that. I'm wondering, though, if you really enjoy the negative comments from many writers. It's true, you do write with an acerbic wit, almost what I would describe as the Harbaugh of writers. Just remember, though, like football, writing is a game of replacement. I don't hasten that day for you, but I won't miss you, either.
While you're in Cincinnati, is there any chance you could use some of your influence from the old AFC Central days and ask the Bengals to stop with their Frankenstein uniforms and, for the betterment of the league, change into something less awful? There's no hope for Jacksonville, as those monstrosities are here for four years minimum, but if Buffalo can do it and look good, Cincinnati can, too.
I like the yikes stripes. At first, their helmets reminded me of a pumpkin with varicose veins, but I've grown to appreciate the unique identity the Bengals have acquired with that uniform style. When I started covering football, the Bengals were a new team and they wore the word "Bengals" on the sides of their helmet. It looked as though one of Mike Brown's kids used a stenciling kit to paint that on there. A bad uniform on a winning team is distinctive; a bad uniform on a losing team is ugly. For a lot of years, the Bengals' uniforms were ugly. All of a sudden, they're starting to look pretty good.
Kevin from Bellingham, WA
Vic, you said the other day that good coaches shouldn't be fired. What about Andy Reid and Jeff Fisher? It seems that sometimes such long tenures can make a team kind of stale. What are your thoughts on this?
How did firing Reid work for the Eagles last night? Reid and Fisher got stale in Philadelphia and Tennessee because the commitment to each of those coaches began to soften, and it was perceptible. They became lame-duck coaches. It makes no sense to fire good coaches.
Patrick from Charlotte, NC
It's still early in the season but you picked Kansas City to be a surprise team. Well played, sir.
A blind man could've seen it coming. Koigi from Lynchburg, VA
Vic, do you see a sure No. 1 quarterback in this upcoming draft? I don't. I don't see an Andrew Luck worth giving everything up for.
I don't see one either. I see a lot of risk, not much reward. I'll give you the name of another quarterback I like: Connor Shaw of South Carolina. Some services don't even have him carrying a draftable grade. I have to do some work on this draft class. Obviously, I'm missing something.
Travis from Eau Claire, WI
If a quarterback fakes the handoff on a read option and is immediately tackled in the backfield, why is that not a sack?
If he was faking the handoff with the intention of passing the ball, it's a sack. If it was to be a running play, it's a tackle for loss. Getting that right is important because it goes to incentives in players' contracts. The team will provide the accurate information, although the actions of the other players on the offense will make it clear as to whether it was supposed to be a run or a pass.
Vic, does the NFL have anyone assigned to re-watch the games and make sure all of the yardage stats and everything else is correct?
Coaches watch for that stuff in their tape reviews. Position coaches are vigilant about getting the stats right. They want every half sack and yard to count; their jobs can depend on those stats. The Dolphins found extra yards for Mercury Morris to get him to exactly 1,000 yards rushing in 1972, making Morris and Larry Csonka the first thousand-yard rushing tandem in NFL history.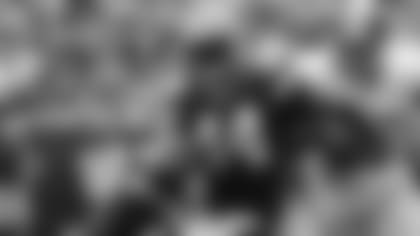 RB James Starks
Vic, am I the only one excited to see Johnathan Franklin this Sunday? He could be a big factor, given his career at UCLA.
Sometimes I am befuddled by the questions in my inbox. James Starks has a breakout game that could launch his career to a higher level and my inbox is full of questions from people who want to see Johnathan Franklin. I don't get it. What did Starks do wrong that you don't want to see more of him?
Vic, a Mushmouth Pacetti reference and nobody responds. Really? Perhaps one of the greatest moments in sports history; Mushmouth vs. dog.
Yeah, I was surprised I didn't get any comments on this great event. That dog hit that pizza like Jaws on Captain Quint.
Is the decision to keep the Redskins name solely up to owner Dan Snyder? Has the NFL ever weighed in on this sensitive issue?
It sounds as though the league wants Snyder to change the team's name. Here's what I'd do if I was Snyder: I'd tell the league I'll change the name of the team to the "Redshirts," if the league will promise me the Redshirts will never have to play a game wearing anything but a red shirt. The league gets what it wants, and my team gets uniqueness that'll help me sell this idea to my fans. The big one here is the song: Hail to the Redshirts.
Steve from Lake Stevens, WA
Vic, what would you say are the strengths and weaknesses of the Bengals?
They have a rugged front seven and an efficient short-passing game they blend effectively with their running game. They also have a very good short-yardage runner. Their weakness is, in my opinion, an inability to strike quickly. Get a lead and take them out of their personality.
It's picks not players, but is Trent Richardson special enough in your opinion to warrant trading a pick?
It's been picks, not players for as long as I've covered football, but the Colts have just shown us a very effective way of acquiring a star-caliber player at a greatly reduced cap hit. This requires some study and possible adjustment of the picks, not players philosophy.
Vic, did we just witness the beginning of the end of Chip Kelly's high-flying offense?
LeSean McCoy has rushed for nearly 400 yards in three games and the Eagles are 1-2. That would bother me greatly.