*As part of the Green Bay Packers' celebration of the 10th anniversary season of the Super Bowl XXXI Championship, Packers.com is running a series of stories about the people responsible for bringing the Vince Lombardi trophy back home to Titletown.
As the confetti fell at the end of the Green Bay Packers' 35-21 win in Super Bowl XXXI, guard Aaron Taylor knew he had reached the pinnacle of his athletic career.
"That's when the realization hit me," he said. "We had won, and we had done what we set out to do."
In January, Taylor, 34, viewed championship confetti cannons from a different vantage point. From June of 2004 through the 2005 season, he served as a college football studio analyst at ABC Sports. As part of his job, he dissected one of the best college football games of all time -- Texas' 41-38 ebb-and-flow Rose Bowl victory over USC.
"As football fans, those are the kind of games we all enjoy watching," Taylor said. "It was a very unique spectacle ... It was great just to be a small part of it."
Landing the ABC studio job was just as serendipitous. After teaching English to teenagers in Chile and Peru for five months, Taylor served as a studio analyst for College Sports TV in 2003. He admits he accepted the job more so that he could afford to live in New York City rather than to analyze football. In an industry where people step on each other to secure an on-air gig, the TV stations chased Taylor rather than the other way around. He does not even own an audition tape, a staple for any aspiring broadcaster.
"I don't even know how I got this job at ABC," he said. "Everything I was doing was geared toward teaching."
CSTV sent a 10-second clip of one of his studio snippets to the Sports Emmys. To this day Taylor does not even know which clip, but the footage impressed ABC.
Although Taylor liked working at ABC, he resigned in early April of 2006 from what many would consider a dream job. He left on amicable terms; Taylor simply wanted to follow his heart, return to the West Coast and explore his true passions in life.
"It was a decision for personal reasons," he said. "As tempting as television was and as fun as it was and as much as I enjoyed doing it, it wasn't as complete a picture as I would (like to) have it."
Taylor has not chosen his next occupation. One idea includes creating an organization to help college athletes adjust to the professional ranks. In the meantime, he will substitute teach at Pioneer Elementary School in Escondido, Calif., a suburb of San Diego. A full-time version of that vocation occupied him before he accepted his ABC job, and Taylor could return to a similar line of work.
"If I had to guess, it's going to involve some form of teaching, some form of mentoring children," he said. "I don't know, but I have a feeling it will be dealing with kids and education and some sort of travel or hopefully all of the above."
Education, travel and helping others have served as a major part of his life since retiring from the NFL. Taylor has "run with the bulls" in Spain, taught English in Peru and Chile and traveled through 13 countries in Europe. In January of 2005, 39 days after a tsunami ravaged Sri Lanka, he delivered goods and built a community center and more than 40 temporary homes for the Sri Lankans.
"I'm just continuing to look for ways to influence life and make a difference in the world," Taylor said. "I'm just getting started."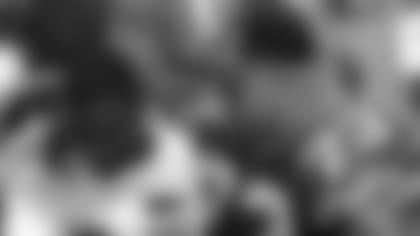 His post-tsunami work is not Taylor's only humanitarian effort. In the spring of 2005, he set up a health and education endowment called the Aaron Taylor Impact Fund, which acts as an intermediary between philanthropists and beneficiaries. Taylor actively raises funds and secures corporate sponsorships, including a $35,000 donation by NFL charities. Despite his role overseeing the fund, Taylor still has time to travel.
He recently journeyed to the Baja Life Camp retreat in Mexico where he practiced functional stretching, body alignment and an organic, raw food diet to remove body toxins. Although a February trip to Brazil challenged his eating restrictions, Taylor has felt the benefits of eating non-cooked, preservative-free foods.
"I definitely noticed a difference," he said. "That kind of woke me up."
The stretching routine at Baja also proved helpful for a player whose early playing career was marred by injury. Before his rookie season began, he tore the patellar tendon in right knee. In his second season he suffered the same injury to his left knee during the first round of the playoffs. After another offseason of rigorous rehabilitation, his third year proved to be a charm. Taylor started all 16 games and capped it by winning the Super Bowl.
"For me it was extra special because of everything I had to overcome," Taylor said.
Taylor last traveled to Green Bay, the city where his redemptive season took place, a year-and-a-half ago. Taylor remains good friends with Packers college scout Lenny McGill and several others in the area and would like to make it back soon.
He might first, however, have to become more flexible with his organic diet to allow for some beer and bratwurst.
For more information on the Aaron Taylor Impact Fund, go to www.atimpactfund.org.