Aaron Rodgers was accurate, decisive and in control of the action in a West Coast possession passing attack. Earlier in the week, he said he was a little off. Last night, he was a little on.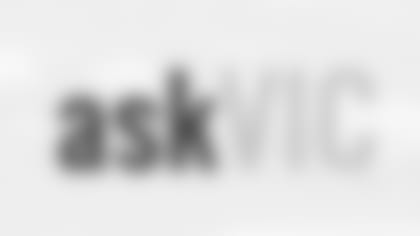 Dustin from Warrensburg, MO
Where are the McCarthy play-calling haters now? He designed an entire game around the fact he had no running back. Hats off to Montgomery. He did fantastic!
Mike McCarthy did what he had to do to win a football game. The scheme was creative, but it was the execution of it that made the difference.
Dennis from Rhinelander, WI
And all is well in Packerland.
It's never all well, nor is it ever all bad. In this case, it's one win. I wouldn't read more than that into last night's game.
I've been saying it for two years: Wins start with the pass, not the run, contrary to what you guys say. We're not a running team, so stop trying to force something that's not in our nature. Packers passing history proven again tonight. It's sad it had to have the running backs go on injured reserve for us to force a pass-only type of offense, but I believe it's the best thing that's ever happened to our team.
I disagree. Balance is the key. No run, no balance.
Could the injuries to the running backs be the best thing that happened to this offense?
Vic, even though we won, I didn't feel very good about it. I'd like another title for Rodgers, but they look far from it. I am a believer that if your receivers are consistently not open, a lot of that is coaching. Scheme to get open. Am I wrong?
Jerry from Wilmington, NC
Vic, could this be the turning point?
It's too early for turning points. It's one win. The Packers found a way to win a game. Now they need to find a way to win another one.
Simms had the announcer quote of the year last night: "Numbers lie in football more than in any other sport."
"Listen" to your eyes. They'll never lie to you.
Luc from St. Thomas, Canada
Love the all-whites. I hope they wear them again!
I would describe them as tidy, understated.
Happy victory Friday! There are quite a few things I didn't have a problem with during this win. I didn't have a problem with Montgomery and Cobb getting a majority of carries. I didn't have a problem with Rodgers throwing the ball 56 times. I didn't have a problem with the dink-and-dunk passes. I didn't have a problem controlling the clock by passing. And most importantly, I didn't have a problem with the all-white, color-rush uniforms.
When you win, everything you say and do is right. The opposite is true when you lose.
Vic, Knile Davis. What can he bring to the Packers offense?
The Packers need a pounder. They lost a good one.

Taylor from Des Moines, IA
Guys, Deion Sanders said it last night; there is nothing wrong with Aaron Rodgers. I think this fan base owes him a huge apology.
Here's how you do it: Be loyal, be patient.
Pancho from Neshannock, PA
The Packers weren't the same team after they gave up a defensive touchdown to the Bears. That's the way it looked on TV. Is that what you saw?
What did you see the Packers do differently from the first half to the second half?
I thought they became more comfortable with the offense they were running. Time of possession wore down the Bears, and that's when the missed tackles began.
With both Eddie Lacy and Sam Shields on injured reserve, can the Packers only activate one of them later on?
Only one player may return to the active roster from injured reserve.
Where was Clay Matthews tonight against the Bears?
Knocking the starting quarterback out of the game?
Winning fixes everything, right, Vic?
Enjoy the stress-free weekend.
Insiders, first off, thank you for all you give to this column. Really appreciate it and look forward to the insights and the perspective gained from you all each week. Keep up the good work! Davante Adams is getting the majority of the postgame coverage, and rightly so. He had a phenomenal and historic performance. However, if I had to choose an MVP for the game, it would be Ty Montgomery. Facing the loss of Lacy and Starks before the game (and Jackson during it), Montgomery racked up 126 yards of offense with 60 yards of rushing and an eye-popping 6.7 yards per carry. He kept the Chicago defense honest and created the passing opportunities that contributed to Adams' and Cobb's monster games. What are your thoughts on Montgomery?
He found his niche last night. In the process, he created one more thing the Packers can do on offense. Mike McCarthy preaches "less volume, more creativity." Last night was an example of that philosophy.
Vic, Phil Simms believes it's the receivers not getting open. Is it really that simple?
The telecast focused on a lack of separation. That decision was likely part of the telecast's pregame strategy. I watched with interest. You have to win your one-on-ones.
Vic, what do the Packers have to do to beat the Falcons?
I think they need to achieve some stability at the running back position. I'd like to see them blend the Montgomery package with a conventional running game.
Tom from Collegeville, MN
Davante the hero? It makes for a good storyline.
It's amazing what can be achieved with commitment, perseverance and patience.