*As part of the Green Bay Packers' celebration of the 10th anniversary season of the Super Bowl XXXI Championship, Packers.com is running a series of stories about the people responsible for bringing the Vince Lombardi trophy back home to Titletown.
Bill Schroeder spent 11 seasons in the NFL. He had 304 catches for almost 4,600 yards and finished with a 15-yard average.
When the 6-foot-2, 198-pound wide receiver looks back on his career, he can do so with satisfaction. After all, it would have been difficult to predict this kind of success, since he spent only one year playing college football. Division III football, no less.
And it would come as no surprise if Schroeder didn't remember too much about the 1996 season, especially since he spent the entire year on the Packers' practice squad in what was his second go-round with the team.
However, Schroeder, 35, believes that year was one of the most important in his entire career. To him, it's when he really began to understand what it took to be a quality wide receiver in the NFL.
It also didn't hurt that Schroeder was facing the likes of LeRoy Butler, Eugene Robinson, Doug Evans, Craig Newsome, and Tyrone Williams day in and day out, and that was only the secondary.
"There was no question that at the time, that was basically the best defense in the league," Schroeder admitted. "For me to go against them every day in practice, you couldn't ask for any more. Everyone wants to go against the best, it's only going to make you better.
"Luckily, I had that chance to do that every single day."
Perhaps the best part to Schroeder taking part in every practice was that he was not only improving his own skills but also helping everyone else do the same.
"I remember Reggie White and Doug Evans and so many defensive players had come up to me during the season, saying how personally I helped them get better," Schroeder proudly recalled. "Because I did every play 100 percent. The way I looked at it was that I was going against basically the best defense in the league and the best defensive backs in the league. And I thought if I can beat these guys every once in a while, I may have a shot in this league.
"So I worked hard all the time and I learned a lot from every one of those guys there. We all had a great relationship, we all worked well together. My job was to make them better. Their job wasn't to make me better because I was on the practice squad. But at the same time, they respected that I did everything 100 percent. That came straight from their mouth."
According to Schroeder, hearing those sentiments from his teammates only drove him to do better things.
"When you hear that from the defense we had that year, it made me feel really good," Schroeder explained. "It made me work even harder and let me know that I was being recognized for the work I was doing. And it gave me a very gratifying satisfaction that I was doing my job. That was what (general manager) Ron Wolf brought me in for."
That's where the irony in the Bill Schroeder story starts as well. After being drafted in the sixth round out of the University of Wisconsin-La Crosse in 1994, Schroeder spent most of the season on the Packers' practice squad. The following year he was traded to New England in training camp, and spent the entire season on injured reserve after breaking a bone in his foot in the preseason finale.
The Packers brought Schroeder back in '96 and he subsequently spent the season on the practice squad while the team won the Super Bowl XXXI Trophy.
Receiver Proved He Belonged
It may have been a strange set of circumstances for Schroeder, but he really had no choice but to roll with the punches. In the end, maybe the path less traveled turned out to be a blessing after all.
"I surely did not want to be traded," Schroeder admitted. "But there was just a stack of receivers in Green Bay so I knew I had a better chance of playing in New England. And I ended up breaking my foot, which was absolutely horrible for my career. But at the same time, it helped me grow as an athlete to realize that I was able to play.
"I was lucky that I got drafted by the Packers and for the Patriots to pick me up...it let me understand that there was more than one team interested in me. So it made me work that much harder."
Considering Schroeder was drafted in '94 and he didn't get much of an opportunity to play for three seasons, one might think he would get extremely frustrated over the situation. But Schroeder managed to make the most of it.
"Coming out of La Crosse, on a D-III level, I really got to soak everything in," Schroeder explained. "I didn't know how long my career was going to last. I didn't know if it was going to be a year or a week, or whatever it was. So I just made sure that I soaked everything up, listened to what people said, and tried to improve as much as I could.
"And have fun. I mean, you can't have enough fun when your job is playing in the NFL. It's a dream that basically every boy growing up wants. They want to do something at the professional level. It doesn't matter whether it's being a spelling bee champion, or the CEO of a company, being able to play for the team that I wanted to play for my entire life was a dream come true. I was going to go with it as long as it lasted."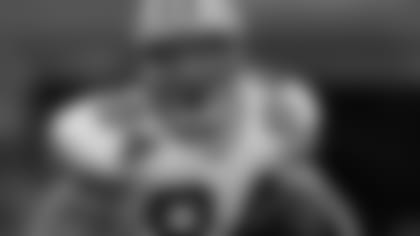 Evidently, all the hard work did indeed pay off for both Schroeder and the Green and Gold. He played six total seasons with the Packers and finished with 225 receptions for 3,435 yards. Those numbers would also add up to a more significant average if you throw out the '97 season in which Schroeder only started one game.
Simply put, Schroeder, who was born in Eau Claire and grew up in Sheboygan, wasn't just a local boy who made good. No, he was much better than that. And though he was a 17-time All-American in track at UW-L, with only a single season on the gridiron, Schroeder eventually got to the point where he knew he belonged.
"I think when I finally broke into the starting lineup and I got my first year with 1,000 yards, I think after then, it was OK, let's shake off that, 'I'm lucky to be here' type stuff, and now let's be the best I can be and prove I should be here. And you know, pretty much my whole life I haven't settled for anything less than being the best. I get frustrated when I don't play as well as I can.
"When I get mad at myself, everybody thinks that's the wrong attitude, but that's just the way I am. I expect the best out of myself all the time, and when I don't do it, I get very disappointed and get very hard on myself."
Besides hailing from a small town and a small university, Schroeder had plenty of other things to be proud of, too. At less than 200 pounds, he may not have been the biggest athlete, but Schroeder possessed a certain toughness that isn't always easy to come by.
"I never let down," Schroeder said. "Injuries hurt me later in my career. And I thought 'How am I going to get myself out of it?' And it was just to keep working hard and there were so many guys that I played with and looking at how many of them played hurt -- guys like Reggie and Sean Jones and so many guys that were playing with injuries -- that's what you had to learn to do."
Still a Big Fan of the Home Team
Schroeder, who lives in Green Bay with his wife Shelly and their two children -- a 5-year-old daughter, Mara, and a 2-year old son, Luke -- is now trying to pass on to others the dedication, focus, and desire it takes to be a great athlete. He's been working at Aurora BayCare in sports medicine and admits that it's very enjoyable, not to mention rewarding.
And Schroeder still finds the time to quench his competitive thirst these days, too. He's now a professional in the Remax Long Drive Competition and in the first event he entered, he hit a golf ball 407 yards. Now Schroeder is shooting for the championship in Las Vegas.
He may have found a new outlet for his competitiveness, but that doesn't mean Schroeder has totally disregarded his passion for the sport that he played professionally. It's just that now he doesn't have as many opportunities to see the men who made playing so enjoyable.
For Schroeder, those are the memories that he's taken with him in the 10 years since the Packers' Super Bowl XXXI victory.
"Don Beebe and I became great friends because we were roommates then, and that was probably the biggest highlight for me, other than winning," Schroeder said. "But Don was just a great friend of mine and a great friend of our family.
"And friends is what it's all about. You build so many great relationships playing in sports. And every time someone retires what's the one thing that they miss? They always say the locker room. And you know, that's something I definitely miss. I truly miss that."
Clearly, his playing days are over, and though he doesn't mind reminiscing about the fond memories he developed through the years, it'd be understandable if Schroeder no longer made time for football with his busy schedule. But then again, that really wouldn't be his style.
Lifelong Packer fans don't let go of the game that easily.
"I don't miss any games and it's still my hometown team," Schroeder said. "I still love them. I haven't missed a single game since I've been home. I even tried to watch all the games when I played with Detroit and when I was playing with Tampa.
"Playing with those guys all those years, I have kept in touch with Ahman Green and Donald Driver, William Henderson, and every time I see them, we sit down and talk for a while. I still like watching those guys."