GREEN BAY – Monday night will be like a flashback to practice for T.J. Lang.
Except it won't be practice anymore.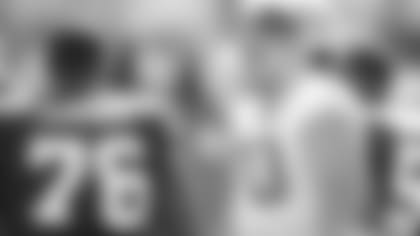 As the former Packers guard prepares to play as a visiting opponent at Lambeau Field for the first time in his nine-year career, Lang's thoughts aren't as much on the atmosphere, nostalgia and memories as on his anticipated counterpart at the line of scrimmage.
"The first thing that comes to mind is I'm going to have a pretty tough game ahead of me with Mike Daniels across from me," Lang, now playing for Detroit, told Green Bay media in an entertaining conference call Thursday. "Pretty good rivalry that we've built the five years we practiced together."
So, will Lang have anything to say to his former teammate before they start knocking heads in Monday night's NFC North showdown? The short answer is no.
"I don't plan on trying to initiate any conversations with him to try to get him angry at me," Lang said. "I'm sure I'll talk to him after the game, same with a lot of guys."
The postgame pleasantries will be meaningful, because Lang was as respected as anyone in the Packers' locker room during his eight seasons in Green Bay (2009-16). He was selected for his first Pro Bowl in his final season with the Packers, but the consensus amongst his teammates was the recognition was long overdue.
Head Coach Mike McCarthy said Thursday he always viewed Lang as one of the league's best pass-protecting guards, and he feels Lang is the Lions' best lineman after reviewing Detroit film.
"I don't like the colors he's wearing, but he looks good out there," McCarthy said.
For Lang, the decision to sign a free-agent contract in the offseason with Detroit was "definitely difficult," but he understood all the business aspects involved, which he rattled off – offseason hip surgery, possible second contracts coming up for players like center Corey Linsley and receiver Davante Adams, and his already receiving a second contract when he was their age.
Still, it wasn't easy to leave the team that drafted him in the fourth round out of Eastern Michigan, the organization and friends with whom he won a Super Bowl, and the place he began raising his family, even if he was returning to his home state of Michigan.
"You want to build a legacy. You'd like to finish your career in the same spot you started it, because you understand it's not a very common thing and it's special to do that," he said. "But when the time came and we had to handle business, it turned out the way that it was.
"There's no hard feelings on my part. It wasn't a burned-bridges type of split. I still have a tremendous amount of respect for everybody in Green Bay – Ted Thompson, Mark Murphy, obviously Coach McCarthy, the guys who were responsible for bringing me there and giving me the opportunity to have such a great eight-year run in the same spot. Had to make a tough decision, but I'm not looking back on it. I'm definitely happy to be in Detroit now."
Lang has missed one game for the 3-4 Lions due to a back injury, and his self-evaluation is that he's been "a little bit inconsistent" in his first season in Detroit.
That lines up with his new team as a whole, which started 3-1 but has now lost three straight. The Lions will need to beat the Packers to prevent from falling three games behind the division-leading Vikings (6-2) at the season's midway point.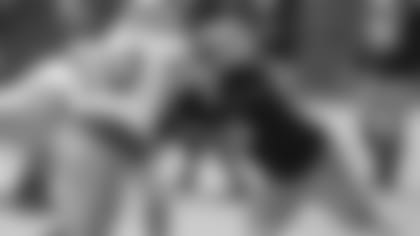 It's an NFC North headed for a somewhat unpredictable second half following Packers QB Aaron Rodgers' broken collarbone. While Lang certainly didn't enjoy seeing his longtime friend get hurt, he also explained the news didn't send any major waves through a Lions team focused on winning a division title that has tantalizingly eluded it in recent years.
"If you're looking outside the building for external help, whether it's injury or teams whooping up on somebody, it's just a loser's mentality," Lang said.
"It was really tough to watch him get injured. I don't think there was any conversation in our locker room about, 'Hey guys, now we have a pretty good chance,' whatever it is. There was nothing. Everybody kind of acknowledged it, 'Man, it's tough Aaron got hurt,' but nobody was excited about it. It's bad for football when those star guys, when the best player in the league gets hurt. It's just not good."
Lang knows what the Packers are going through, of course, having been with Green Bay in 2013 when Rodgers broke a collarbone previously. He was complimentary of backup QB Brett Hundley's command, leadership and talent in taking the reins of the offense.
But Green Bay's offense isn't Lang's concern, its defense is, and that brings it back to Daniels and what should make for some intensity in the trenches on Monday night.
"You've all seen clips of Mike D. when he's miked up on game day, and he's an animal, man," Lang said. "He doesn't make any friends out there. His goal is to just beat your (butt) for 60, 70 plays, however long it takes.
"That's what he tries to do, and that's why I loved him so much as a teammate, because as players, you respect the hell out of it. I know it's going to be a tough battle."