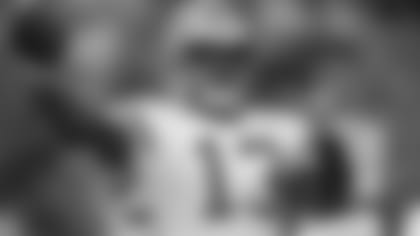 QB Vince Young
GREEN BAY—With official notification of waiver claims still pending and the process of finalizing the Packers' practice squad ongoing, General Manager Ted Thompson didn't address many specifics on Sunday with regards to potential transactions that could happen in the coming hours or days.
He did, however, specify that any blame for Vince Young failing to make the roster as Aaron Rodgers' backup quarterback lies at Thompson's feet.
"It probably wasn't fair to Vince," Thompson said. "We threw a lot on his plate and the fault is probably mine. I probably should have had him in here earlier."
Brought in after seven practices and the annual Family Night scrimmage were already complete, Young took a crash course in Mike McCarthy's offense but ultimately didn't pass it. Released along with 21 other players on Saturday, Young turned the backup job over, for now, to second-year pro B.J. Coleman.
How long the job remains Coleman's, however, is anyone's guess. Thompson wouldn't say whether the Packers were awarded any waiver claims, and he didn't discuss any practice-squad signings or any other potential plans.
"A lot of things are going to change," he said. "The NFL is a fluid business. At every position, we're looking to see if we can get better."
The Packers certainly can't get much deeper on the defensive line, where they kept eight players, counting hybrid defensive end-outside linebacker Mike Neal.
That's a large number for a 3-4 defense, but it came about in part due to the remarkable comeback of Johnny Jolly, who returned to the Packers this season after three years away from the game that included jail time and suspension. A long shot at first to stick on the 53-man roster, Jolly played so well in the preseason it would have been a surprise had he not made the team.
"Johnny's a real natural football player. I've always said that," Thompson said. "He really loves to play the game. I think he's a bit infectious with our team. Not necessarily trying to, I think he's sort of a natural lead-by-example player. He seems to be well-respected amongst his peers."
DE Johnny Jolly
Thompson said some of those peers came to him during the offseason, after Jolly was reinstated by the commissioner, and put in a good word for their former teammate, who played with the Packers for four seasons (2006-09) prior to his suspension. Thompson also confessed to being one of Jolly's many "admirers here," which played into giving Jolly another shot.
"I don't think any of us can really speak to the journey he's been on, because I'm not sure any of us know all the things that are encompassed in that journey," Thompson said. "I admire him. I've said this all along – I liked him before when he was here, and I like him now that he's here. When he wasn't here, I can't speak to that. I just know that different people have different challenges as they go through life."
Thompson reiterated that the last couple of days are the most challenging, annually, for him.
With close calls at a lot of positions, the Packers ultimately kept Sam Barrington over Terrell Manning at inside linebacker, Andrew Quarless and Brandon Bostick over D.J. Williams at tight end, Andy Mulumba and Nate Palmer over Dezman Moses at outside linebacker, Greg Van Roten and Lane Taylor over Patrick Lewis on the offensive line, and James Starks over Alex Green at running back.
According to media reports, all the aforementioned players let go were claimed off waivers by other teams.
"There were a lot of considerations, not only people that play the identical position, but people that play different positions," Thompson said. "It's the 53 that you're getting down to, and there are certain numbers at each position, but it's a little more complicated than saying it's one player against another."
As for running back, where Green's release leaves the Packers with just three tailbacks, plus fullback John Kuhn, Thompson said, "You're always a little bit light at one spot."
That, like anything else, could change, of course.
"There are lot of balls still up in the air, and you never know what the next few days might bring," Thompson said.
For a look at the Packers' current 53-man roster, position by position, click here.