Michael from Goldvein, VA
Myles Garrett is graded at 7.63 and is the only selectee scored at seven or higher. Some of the Packers selections were rated higher than individuals playing the same position who were selected earlier, and some were lower than players selected later. To what extent can the coaching staff close fitness, skill or experience gaps? We appropriately give Ted Thompson a lot of credit for his draft acumen, but how many of those picks develop better in Green Bay than they would on some other teams because of the caliber of our coaching staff?
It begins with commitment; that's the real genius in developing young talent.
Isaac from Springfield, MO
What grade would you give the Packers on the draft?
In my opinion, all draft classes that address need without sacrificing quality deserve an A, and then they all go down from there. Hey, it's inevitable. Not every pick will become a fixture on the roster. Injury will claim some careers, as will competition from undrafted free agents. What will the grade be three years from now? That's the bigger question. Right now, I see a 10-player haul of talent that addressed need without sacrificing quality. What will we see three years from now?
Maxwell from Milwaukee, WI
Vic, are you surprised the Packers didn't address edge rusher until the fourth round? What are your thoughts on Vince Biegel?
You can't draft everybody, right? The Packers addressed their secondary with each of their first two picks, and I think everybody would agree pass defense was an issue last season. If the Packers had picked T.J. Watt in round one, they wouldn't have Kevin King on their roster today. I asked Tony Pauline for his opinion on Biegel: "I like him. There are injury concerns but he's very productive and forceful up the field; no mental breakdowns." The pass rush issue now falls on young players such as Kyler Fackrell, Jayrone Elliott and Biegel.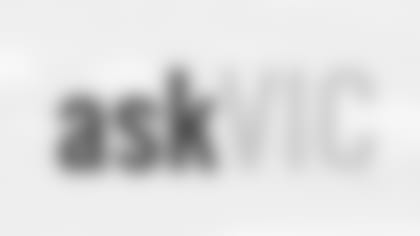 Jerry from Wilmington, NC
Vic, what do you make of so much uncertainty concerning the potential NFL success of so many top draft picks?
It's all about making the jump to a higher level of competition. Some do it, some don't, and that's why the draft is a crystal ball business. You don't draft a guy because of what he did, you draft him for what you believe he'll do.
James from San Francisco, CA
Really like what the Packers did defensively in this draft, but I question investing three picks at running back. While I am intrigued with our selections, wouldn't it have been more prudent to select a higher-value runner earlier in the draft and use those extra two picks to shore up some other needs?
If that would've required sacrificing quality, I'm opposed to it. Based on the Packers' commitment to drafting BAP – moving back four spots to pick Kevin King is another example of fitting yourself to the pick and getting the full value of the original spot – I'm inclined to believe those three running backs were at the top of the Packers' board when they were selected. You'll never regret picking a good football player, regardless of position, but you will regret picking a bad one. How can a guy address a need if he can't make your roster? Addressing need must not be at the cost of quality; I'll allow some wiggle room at quarterback. Considering the run of injuries the Packers sustained at running back last season, I can't imagine why anyone would complain about a lack of depth at that position.
Bosko from Belgrade, Serbia
Were there any interesting pass rushers late in the draft?
This was a rush and cover draft and both positions were exhausted early and were still being picked on the third day. I think the Bills, a team with a need at quarterback, got a steal in quarterback Nathan Peterman in the fifth round, and it's because teams were still picking pass rushers late in the draft. I saw small-college pass rushers going off the board ahead of Peterman, a quarterback who took down Clemson last season. Hey, some of those guys had to be over-drafted. The Packers didn't do that, and I think it's wise. I was all in on drafting pass rushers, but I think that ship sailed in day two.
What is NFL Network's purpose? Conjecture? Speculation? Debate or just star appreciation? I flipped to it for a moment to maybe see some debate on the draft and found nothing but adoration for the stars these players could one day become.
NFL Network's purpose is the same as every media outlet's purpose: make money. The fans want excitement. They want suspense, drama, surprise, joy. NFL Network provided each, as did ESPN. I watched ESPN because I enjoy Mel Kiper's analysis and presentation, and I find ESPN's coverage every bit as promotional as NFL Network's. I wish I had a birdie for every time Trey Wingo used the word unbelievable to describe the crowd at the draft. I would use another word to describe the crowd: nauseating. Hey, the booing routine was over the top. Boo Edwin Mulitalo? Really? That did it for me. I began muting the announcement.
Chad from Tarpon Springs, FL
Why do the physical dimensions of players at different positions matter?
It's because the game has become overly structured and specialized. Players are being cast in specific roles and asked to do a particular thing. For example, hold the point of attack or rush the passer, not both; drop into coverage or rush the passer, not both; stop the run or drop into coverage, not both; run between the tackles or catch the ball out of the backfield, not both; block for the run or catch the ball downfield, not both. If you're looking for a tight end that can block, you want a big, thick guy; if you want a tight end for the passing game, you want a tall, thin guy. I'd like to see less specialization, but that would require reducing roster size, and that's not going to happen.
Vic, in the world outside football, the best prospects in every field usually have the opportunity to vie for the top available jobs. Isn't it ironic the NFL rewards top draft prospects by allowing them to be selected first by teams with the worst records? That treatment seems like a slap in the face. It makes their road to greatness that much harder to travel. Traditionally, how have the top draft picks fared in the NFL?
These are the previous 10 No. 1 overall picks: Jared Goff, Jameis Winston, Jadeveon Clowney, Eric Fisher, Andrew Luck, Cam Newton, Sam Bradford, Matthew Stafford, Jake Long and Jamarcus Russell. Relative to the high cost and expectation for that position, I would put the success percentage at 66 percent, with Goff excluded for the obvious reason it's too early to judge him.
Vic, by all accounts, John Lynch completely hoodwinked the Bears. He supposedly led the Bears to believe, incorrectly as it seems, other teams had contacted them about moving up to the second pick. Will this be construed by other teams in the league as bargaining in bad faith or is it just a case of caveat emptor?
The Bears were not hoodwinked. They were held hostage by the high cost of needing a franchise quarterback, and they knew it was a price they had to be willing to pay. Consider what the Texans have spent on that position the past two years: two first-round picks, a second-round pick and $21 million. Never take for granted what the Packers have enjoyed at that position for the past several years.
Coach McCarthy emphasized in his press conference he is looking for players to play multiple positions. How far back must we look in history to see a league without as much player specialization?
The rules changes of 1978 began the age of specialization. Coach McCarthy is an innovator. He sees the advantage he can gain by having players that can do more than one thing.
I'm a little confused why three running backs and two receivers were drafted by Green Bay. I know we lost both Lacy and Starks to injury and free agency, but it seems excessive to draft more players at a certain position, so why do it?
The draft is all about value. Get as much as you can because you can't predict to what degree fate will rob you of it.
This year, I was able to connect to the idea that having "The Man" makes your drafting work that much better, with all the picks going to the supporting cast. This is a time to cherish, isn't it?
Aaron Rodgers tilts the field.
We watch Ted Thompson do this time and again, yet, so many still question his decisions. I'm forever impressed with his ability to move to the right spot where value and need meet. CB was clearly a need and not many would argue King wasn't the BAP.
Thompson could've picked King at No. 29 and nobody would've accused Thompson of reaching. Instead, he moved back four spots to what would become King's true place in the draft, thus, recouping the full value of the No. 29 spot by acquiring an additional pick. That's true value drafting. Imagine the cumulative effect of that strategy over a lot of years.
Chris from New Canaan, CT
The division matters first and foremost. Any opinion on how the Packers' draft compares to our division rivals?
The Vikings' 11-player class is topped by Dalvin Cook, who represents extreme value at pick No. 41. The Bears have made the move into the Mitchell Trubisky era. That kind of franchise quarterback draft usually results in boom or bust. The Lions drafted to stop Aaron Rodgers. The Packers added 10 players to a roster that has some holes to fill. I see each team in the division addressing a specific theme.
Obviously, we can't see the Packers' board to know for sure, but do you think the Packers stayed true to their board or do you think they started reaching in hopes of winning a championship?
If you're going to reach to win a championship, you do it in the first round. What did the Packers do? They traded back. The Packers don't reach. They are committed to value.
I wanted the Packers to pick T.J. Watt, but they picked Kevin King. I felt better later when they picked Wisconsin's Vince Biegel. Do you think picking King and Biegel is a better strategy than picking Watt in the first round?
The answer to that question will define this year's draft for Packers fans. Only time will tell.