Cliff Christl started gathering oral histories with former Packers and others associated with the team in 2000 and will continue to gather them as Packers historian. Excerpts from those interviews will be periodically posted at www.packers.com
The Astor Hotel served as home to many Packers, especially the single ones, for at least three decades. Players started staying there in the late 1920s, notably after Jake Geurts and Herman Holz purchased and remodeled the hotel in 1929, and some were still living there after Vince Lombardi took over as Packers coach in 1959. Two women, Mayme Toule and Sue Wallen, ran the hotel for most of the years when Curly Lambeau was coaching and probably played a bigger part in the Packers' survival than anyone has ever realized. They looked after the players almost as if they were their own kids and made them feel at home while living in a strange city with no roots. Jim Miller was Toule's son and Wallen's nephew, and he hung around the hotel as a young boy and later worked there as a teenager. The Astor Hotel bar was also a popular hangout for Packers fans both during Prohibition and after. "The Astor Hotel was like a fraternity house for the players and Sue Wallen was our house mother," Packers Hall of Fame center Charley Brock said after the hotel was destroyed by fire in 1966. Actually, when Lambeau was coach, other than when the Packers lived at Rockwood Lodge in the late 1940s, he'd tell his players, especially the rookies, to report to the Astor when they arrived in town and they'd be welcomed to Green Bay and given the arrangements for their stay. "She looked after us like she was our mother," end Nolan Luhn, who played for the Packers from 1945 to 1949, said of Wallen years later. "A real nice lady. She'd talk to every one of the players every day. She'd more or less screen prank calls or whatever. She knew every player and their mom and dad and girlfriends." Toule worked at the Astor for much of the 1930s before Wallen replaced her as assistant manager. Wallen then worked there until she remarried in 1947. Six years earlier, her son, Earl D. Wallen, a Marine private, died at Pearl Harbor. He was Green Bay's first casualty in World War II. Miller was born in Green Bay in 1928.
On the years his mother, aunt and he worked at the Astor: "My mother was married to James R. Toule, my biological father. I was born in '28 and my dad died in '28. My mother was already working there at the time. She started as a clerk and became manager. When she became manager, I can't pinpoint that. I'd say she ran it – and this would be a pretty accurate guess – from '32 until '38, when she remarried. Charles R. Miller was my stepfather. I was a bellhop there in '42. And when my mother remarried, my Aunt Sue took over as manager. And she managed it until she married later on. I went to junior high at Green Bay West and then we moved to Missouri."
On the players who lived there during the season when he worked there: "In those days, the Packer players, the single ones, stayed there. Of course, they weren't making millions, they were making hundreds. The married players didn't stay there. I literally saw Clarke Hinkle, all the greats of the time."
On his mother and aunt looking after the players: "This was back when young men had a little more principles. I know my mother and Aunt Sue did. So no problem for me. You're familiar with Johnny Blood. My Aunt Sue told me that at least once she had to send Johnny Blood money to get back to Green Bay to play ball. He was quite the vagabond. I lived in Pensaukee (north of Green Bay) and (Blood) spent the summer here way back when romancing one of the Drolette girls."
How would you describe the Astor? "It was a small hotel. The Astor fronted on Adams Street. I'll describe the street from south to north: Bosse's News Depot was on the corner (of Adams and Cherry streets). Next was Timmer's Barber Shop, which was adjacent to the Astor lobby. The front entrance of the Astor had a marquee over the front with cables and turnbuckles and the Astor Hotel logo on it. Next, came the Astor bar with a door from the hotel lobby to the bar. Then, I believe, it was a car dealership, possibly an office supply store and Oliver's Ice Cream shop was on the corner (at Adams and Pine streets)."
On whether the hotel and bar were separate: "With a partition. They were one and the same. You could walk from the lobby into the bar. In fact, the men's john joined the bar and the hotel lobby."
On whether it was a nice bar: "No. It was just a bar."
On whether the lobby took up the rest of the first floor other than the bar: "It was the lobby, the front desk, an office where my mother worked and where Sue worked, and a storage room for someone who wanted to store their luggage. That would have been adjacent behind Timmer's Barber Shop."
On whether there was a staircase in the lobby: "Yup, right next to Timmer's Barber Shop, the stairway went up. No elevator. They had three floors. And I believe I'm accurate on this, a regular room with just a sink was a buck-and-a-quarter. A room with a stool was a buck-and-half. And a room with all three and a tub was $3.50, I believe."
On what the lobby was like: "Very scant. I believe there was one couch, one radio, maybe three occasional chairs. Basically, the (players) pretty much hung outside and shot the breeze."
On how much time the players spent sitting in front of the hotel and hanging around the lobby: "Quite a bit when they weren't practicing."
On whether the players brought visitors to their rooms: "I know when I worked for my Aunt Sue there was a back entrance to the hotel, which went into a small parking lot to the alley. My Aunt Sue, when she was on duty when I was there, which was most of the time, she'd say, 'Jim, go check the back hall for girls.' So there were groupies way back then. Several times, when I'd go back there, there'd be a half-dozen girls waiting for the guys to come down the backstairs."
What would you do? "I'd shoo them away. I was a dutiful employee."
On whether it was true that Larry Craig, who played from 1939-49 and was nicknamed "Superman," was a favorite among female fans: "He was a good-looking dude. I knew him. Yeah. In fact, he and my Aunt Sue and their wives were quite close."
On what kind of guy Craig was: "Nice guy. Flashy. Drove a convertible. If you were going to compare him in dazzle, Paul Hornung, only better looking."
On any other players he remembered: "My mother dated Claude Perry for a short period. My grandmother said don't hang out with that bozo. His nickname was Palooka. Roger Grove gave my mother the ball that was signed by the 1934-'35 players that I later donated to the Packers Hall of Fame. My mother was a nice-looking lady and a young widow. I'm just guessing but there had to be a reason Roger Grove gave my mother the football. But I don't think my mother and Aunt Sue dated the players a lot."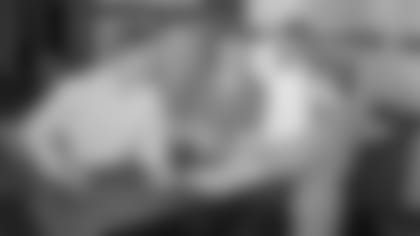 On whether Lambeau hung around the hotel: "My mother and Aunt Sue never cared for Curly because they were player-oriented and Curly was a strict dude. He was all for Curly. He was a great man in his own right, but he was not a real nice man."
On whether the players then confided in your mother and aunt when they had problems with Curly: "Oh sure. Lot of financial promises not fulfilled. Whatever worked is what Curly did."
On how many players would live at the Astor during the season: "About 20 in the early '40s. There were only single rooms, although a few might have had two beds. There were tubs, but I don't recall showers. The expensive rooms had baths, the others had shared baths on the floors. The rooms were pretty sparse. Almost like a nunnery."
On what the rest of the clientele was like other than the players: "Mostly sales people. Out of towners."
Was it still a respectable place in the 1940s? "Oh yes. Otherwise, they wouldn't have stayed there, and my mother and Aunt Sue wouldn't have been running it. No, it was hygienically OK. It wasn't luxurious, but it was clean and adequate."
How would you describe your mother? "She's my mother. Great gal. Fine looking woman. Classy woman."
How about your Aunt Sue? "Same thing. My mother was born about 1901 and Sue in about 1907."
On what happened to them: "My mother died in 1990 at age 89. She was still driving her own car. Earrings. Fingernails polished. She died in our bedroom. We were taking care of her. Aunt Sue married Al Casabona, a certified public accountant who worked for Foster Wheeler Corporation and traveled the world, wherever jobs took him. I assume Aunt Sue met him when he was in Green Bay on business. Al was from New York. When Al retired, he and Sue returned to this area and stayed with my mother in Pensaukee for several years. They're buried in Brookside Cemetery near Pensaukee."
On what he remembered about Earl Wallen: "Aunt Sue divorced early after she had her son, Earl. She was divorced when she ran the Astor, then she remarried and left. Earl spent his early years in Escanaba (Mich.), where his dad was a car salesman. Earl and I were like brothers. Earl Wallen knocked Don Lambeau (Curly's son) on his ass once in a fight. Earl did some fighting in the Marine Corps."
Miller died in 2016 at age 88. The excerpts here were taken from interviews conducted in 2008 and 2013.