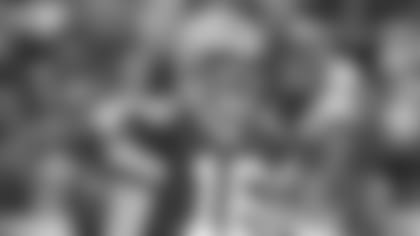 QB Scott Tolzien
GREEN BAY—Every time Mike McCarthy has discussed Scott Tolzien since the former University of Wisconsin quarterback arrived in Green Bay, the head coach's compliments have always included the words "work ethic."
As Tolzien gets ready for his first NFL start this week, his own words on Wednesday illustrate that McCarthy hasn't been paying him simple lip service or coachspeak.
When asked what he can take away from his experiences at Wisconsin, playing in big games against Ohio State and at the Rose Bowl, Tolzien didn't talk about crowd noise or halftime adjustments. All he talked about was putting in the work, every single day.
"The preparation week is where you make your hay," Tolzien said. "You have to win the week first. That's where a lot of the wins and losses come. It's how you approach the week leading up to the game. That's the best way to combat pressure, to prepare the right way."
If there are any doubts about Tolzien heading into Sunday's road game against the Giants, how prepared he'll be isn't one of them.
He proved that last week in his performance against the Eagles, coming off the bench in the first quarter. With no more than a handful of snaps under his belt from practice that week, he engineered five drives of between 47 and 91 yards and never looked overwhelmed in the first regular-season action of his three-year career.
Tolzien also never got rattled, even when two wayward throws were intercepted. He kept his command of the offense and his head in the game, and his teammates noticed.
"The way he came in and just controlled the huddle, he was very confident in the way he spoke," receiver Jordy Nelson said. "If he was just lying to us the way he was speaking, or if he was just trying to put off a good vibe, he was very confident.
"He knows his stuff. We see the work he puts in. When you see a guy grinding like he does every day, you know he's going to be prepared."
Tolzien appreciates that kind of support, and his approach stems from wanting to repay the confidence in him, knowing at the quarterback position that "10 other guys are counting on me."
The Packers are counting on Tolzien to get a win or two and keep the team in the playoff hunt until Aaron Rodgers can return from his broken collarbone. It doesn't all fall on him, of course, but even if it did, it doesn't seem he'd mind.
McCarthy said Tolzien has been around the facility constantly, not just this week but since he was signed to the practice squad in Week 1. The two were discussing the Giants game plan on Tuesday as late as 9:30 p.m.
"The man loves it, and you have to appreciate his work ethic," McCarthy said, uttering those familiar words again. "It's refreshing, and it's good for everybody. He's going about it the right way."
So is Rodgers, who was on the practice field again Wednesday, tutoring Tolzien and new backup Matt Flynn in his return to Green Bay.
Rodgers' backup for four seasons (2008-11), Flynn said he's plenty comfortable already with the playbook as far as the passing game, but he'll need some time to get up to speed with the changes made in the running game.
Flynn confessed he never thought he'd be back in Green Bay after leaving as a free agent in early 2012 with an eye on becoming a starter. But he wasn't able to win jobs in Seattle last year or Oakland this year before a recent stint with Buffalo ended quickly and made him available to help the Packers in a pinch.
"It definitely didn't go the way I planned," said Flynn, who also dismissed concerns about his elbow and proclaimed his throwing arm fine. "Since I've left here, I've learned three different playbooks, three different terminologies, three different philosophies on how to attack defense, how to do footwork this way or that way.
"But I've been ingrained in this offense for so long, knew it inside and out, was fluent in the language, fluent in what we're trying to do, that it's come back pretty quickly, and I see myself having it down pretty close to 100 percent very soon."
McCarthy has no worries with respect to Flynn's readiness to step in if needed, but he's choosing not to even ponder the possibility of his starting QB going down a third straight week.
"We're not going to need him, OK?" McCarthy said, eliciting some laughter from the media while figuratively knocking on the wooden podium in front of him. "I've had enough of this bad karma about quarterbacks getting injured. Scott's going to play the whole game."
That would be a return to normalcy of sorts for a team that's been knocked off kilter by the events of the last two games. McCarthy said he has no "four-point outline" for how to navigate a rough patch like this. Getting back to work is all he knows, which is probably why he and Tolzien seem to have hit it off.
"This is a tough business," McCarthy said. "We've won a lot of games around here, and frankly, when it goes the way it has the last two weeks, you're humbled, and I think it's good for everybody. But it's a new week." Additional coverage - Nov. 13