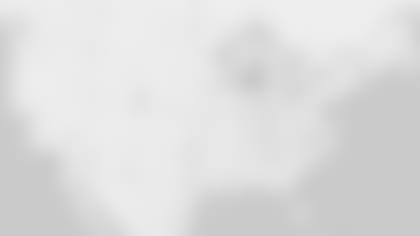 As a younger fan that never had the privilege to watch past quarterbacks, what do you make of the major increase of pass attempts and Rodgers' pass attempts to interceptions ratio?
Quarterbacks today are much more efficient than they were when I started covering the game. There are several reasons for that, and the main reason is the rules changes of 1978 changed the game forever. They increased pass attempts dramatically, which meant quarterbacks had to be more efficient or interceptions would become too many to overcome. Bob Griese only threw seven passes in Super Bowl VIII, yet, the Dolphins won going away. In those days, quarterbacks didn't nibble, they bombed. Today's quarterbacks are technicians, and I think Aaron Rodgers is the best of them.
You're surprised by the defense of Rodgers vs. Bradshaw, the worry for this team, the fire everyone stances and the chortling. Through reading your column, I've come to understand we Packers fans are the parents of an only child. Every good thing is great, every challenge consumes us with worry, and don't dare speak ill of our little one. I think the first step in gaining perspective is understanding our current view.
Vic, my favorite Aaron Rodgers game was the 2010 playoff game against the Falcons. I get goose bumps watching highlights from that game. Do you remember watching it?
I remember watching it. He was sensational. My favorite Rodgers game is last year's regular season finale in Chicago. He was in his first game back from a long injury recovery, and he got better as the game wore on. For me, quarterbacks are all about crunch time, and Rodgers was at his best when the game was on the line. The touchdown pass to Randall Cobb was a Roy Hobbs moment.
Vic, it pains me to see fans disrespecting Terry Bradshaw. As great as Aaron Rodgers is, he is not and never will be Bradshaw. Likewise, Andrew Luck will never be Rodgers. Who the heck cares? I love watching them all. My son is a Colts fan and when he asks me who the best quarterback is, I tell him it doesn't matter because they are all good and some are just better than the rest.
That's a very healthy attitude. I just continue to be amazed at how this Rodgers-Bradshaw topic has lit up my inbox. I don't see the rub.
Vic, Aaron Rodgers seems to have way more yards and touchdowns per completion than any other quarterback we've played. Why is that?
He plays for the Packers?
Vic, can we take a moment to look at what happened to the Bears? How did a team with that much talent end up with such a bad season? It seems to me almost like their two meetings with the Packers broke their will.
Yeah, the Packers will do that to an opponent. I also think there's a chance the Bears are the victim of unrealistic expectations. They were anointed in the preseason and I didn't get it.
Michael from Las Vegas, NV
I was born, raised, educated, worked and lived about the first half my life in Wisconsin, yet, when reading your column it mystifies me that a small but vocal faction of fans seem strangely obsessed with needing everything Packers to be liked best, including themselves. That does not seem at all winsome to me. I don't remember people feeling that way when I last lived back there. Could it be the winsome version of smack talk? Have you ever observed this phenomena with any another fan base?
No, I haven't. All of a sudden, I'm feeling a desire to be liked.
Vic, as crazy as this sounds, I'm glad Detroit is right on our heels for the division. We have to keep our momentum and focus high to stay ahead. That'll prevent us from getting complacent heading into December and anything after. This has a feel similar to our run at the end of the 2010 regular season, at least from an excitement standpoint.
Sometimes the coach doesn't have to peak his team. Sometimes the competition does it for him.
In your comparison of Rodgers and Bradshaw, you spoke a lot of great arm strength. It seems to me that for Favre's entire career his arm strength and the velocity he put on the ball were constant items of discussion. Of all the quarterbacks you have seen play, who could put the most zip on the ball?
Rodgers, Bradshaw, Favre, Marino, Elway all have great arms, but in different ways. Rodgers throws a dart; his quick motion achieves that look. Bradshaw had to take something off his throws for them to be caught, so he developed a flat-footed throwing motion. When he cut it loose, his ball needed a heat shield. Marino and Elway threw what appeared to be a heavy ball, which was the result of their throwing motions being compact and shoulder driven. Favre threw with a full, pitcher-like arm motion, and that made his pass look pretty.
Vic, I don't know if it is just me or have there been more blowouts than usual this season? Do you have the stats on that?
Mark Murphy made mention the other day in the conference call we did that the margin of difference in games this season is up a couple of points, on the average. That doesn't sound like much, but it is.
Vic, you made an interesting point about quarterbacks remembering games, and I remember reading not long ago that Peyton Manning can remember each of his TD passes. If it's common for them to have such great memories, where did the phrase "good QBs need a short memory" come from?
I think that's actually good cornerbacks need a short memory.
Leonardo from Norwood, MA
Vic, again, great column. I've been reading it since you got to Green Bay. My question is do you think the weather will be a factor for Atlanta again this time around? After all, they are a dome team, and last year at Lambeau was pretty frosty. Although Atlanta was winning in double digits at the half, the Packers came back to win it with Flynn at the helm.
I thought the cold grabbed the Falcons a little bit late in that game. They didn't have the same bounce in their step they had early in the game. The forecast for this game is considerably milder than the conditions in which last year's game was played. I don't see weather being a factor on Monday. By the way, due to the lateness of the hour, there will be no "Ask Vic Live Postgame Chat" on Monday.
Bradshaw has four rings. If you want to compare Rodgers to Bradshaw, I'm on board.
That's the way I look at it. This notion that defense won those rings is ridiculous. Defense won the first one. Bradshaw won the last two – he was the MVP in each – and you could make the point that it was Bradshaw throwing those bombs Lynn Swann caught in Super Bowl X that made Swann the MVP of that game. The "Steel Curtain" was in decline in XIII and XIV. Without Bradshaw, that team doesn't have four rings, it only has two, maybe only one.