Steve from Smithfield, NC
Maybe wishful thinking, since no one else has talked about it, but I am impressed with the defense's front three. It has been a while since I have seen this many tackles from this group. New containment scheme from the corners on running plays?
The Packers always have emphasized tackling with their cornerbacks and safeties. In base defenses, it's usually the responsibility of the defensive backs to give support on the edge. So I haven't seen a huge change in the first two preseason games in that area. I will say Mike Daniels, Kenny Clark and the defensive front are making life difficult on running backs. Not to mention the Packers received good news this week on Dean Lowry's knee.
Jared from Philadelphia, PA
Starting to worry about our supposed starting corner Davon House. He has seen very limited action in camp and zero preseason game action.
Soft-muscle injuries are complicated. It doesn't appear it's going to be anything long-term, but there hasn't been a timeline given. The Packers just want to make sure it doesn't get worse. They're going to need House this season.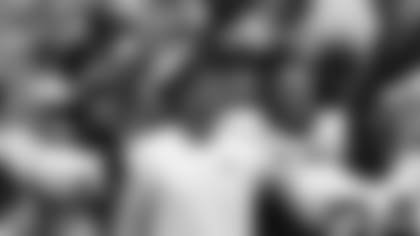 Please tell me Rodgers is going to keep that beard? That could be his thing this year. Instead of the belt he can just stroke the beard for good luck.
Historically, Rodgers grows out the beard during training camp and trims it into a mustache for the Packers' welcome-back luncheon.
I don't know about you but I'm not feeling too good about our run game. Is it too early to feel like this, or did you also hope to see a little bit better during our preseason games at this point?
You can feel however you choose to feel, but I'm not worried about it. I want to see how it performs running behind the starting offensive line in the regular season before rushing to any conclusions. Get it? Rushing.
Rick from San Francisco, CA
Wow, it looks like we will be in the wonderful position of making extremely difficult cut-down decisions this year. What sways these decisions? A specific position? Who might not make it to the practice squad? We are having trouble deciding who's going to be our third QB. We have new and second-year corners and safeties galore.
The Packers are one of the truest examples of picking the 53 best players to keep on their opening roster. They've gone heavy at receiver, tight end, running back, offensive line and safety during my time on the beat. They're not just looking at position, though. It's also about finding the right players for special teams. It's going to be a tough cut. Difficult decisions will need to be made, but coaches and scouts wouldn't have it any other way.
Has Hill earned the No. 3 QB spot and moved past Callahan? I know it has been said Hill has been playing the third- and fourth-stringers on the opposing D, so he is facing inferior talent. But Hill is also surrounded by third- and fourth-stringers on offense and it seems his "inferior talent" really rallies to him.
Hill has earned the right to be in the conversation for the No. 3 job, but there are still two more preseason games to be played. Callahan and Hill are going to get their opportunities, especially in that preseason finale now that there's no longer an initial cut to 75.
When is a player not eligible for the practice squad?
With the addition of the veteran exemption rule, the easiest way to look at it is any player with fewer than 32 regular-season games played. Players have three seasons of eligibility.
To have a respectable run game, which is more important – Having good RBs or a good run-blocking offensive line?
Both have to be good, but I've always heard from people running backs make the difference.
What's your scouting report on Denver's press box? And what about the altitude?
It's probably in the 70th percentile of NFL press boxes. You're slightly high and pushed into the corner, but it provides a fairly decent view of the field. I've never noticed the altitude in Denver other than while flying in. The two times I came closest to getting sick on a plane were due to circling patterns over the airport.
Grant from West Allis, WI
Eighteen games? Please no. Can we go back to a 14-game schedule and add an extra bye? Player safety is priority No. 1, right? Or maybe it's money. It's probably the money.
Safety has to be the top priority. I'm fine with a 16-game schedule. The current alignment with six division games, six NFC contests and four AFC matchups is perfect in my eyes.
Will Max McCaffrey make the team as a sure-handed returner or do they still have Trevor Davis in that role?
*They're both still competing for the job with Randall Cobb. That competition isn't over. *
Several non-rookies with less than four years of experience have taken a big step in training camp. The bottom half of the roster is very crowded with skill-position players. Based on media coverage, I believe we will see at least four of this year's draft picks on the practice squad or PUP during Week 1.
Biegel is the only rookie who's eligible for PUP. If you practice during training camp and get injured, you can only be placed on injured reserve. Again, tough calls will have to be made with 10 rookie draft picks, but there's still plenty of time for each of them.
I realize Biegel is a high pick, but how do you evaluate him when it comes to cut time if he has not participated in training camp? He hasn't competed against guys who have been in camp and produced film and shown potential. Do they put him on IR to bring him in later?
It's pretty simple. If he returns before the end of camp, you evaluate him based on what you've seen. If he doesn't return before final cuts, then you place him on regular-season PUP.
Eric from Sturgeon Bay, WI
McCarthy elaborated on the three levels of players this week. Today you talked about difference-makers. Is any one player jumping to the next tier? To me, 21-year-old Kenny Clark or fifth-year guard Lane Taylor are those guys.
I mentioned this on today's podcast. I'm really liking what I'm seeing from Clark. He's been clogging up the inside throughout camp. Taylor is in a good place, too. He has the full trust of Aaron Rodgers and the rest of the Packers' offensive line.
Daniel from Castle Rock, CO
I saw on this week's Dope Sheet the Packers' roster is comprised of 44 players whose careers began as an UDFA, 36 that began with the Pack. Also that 60 percent of the roster is players drafted in the sixth round or later. How incredible is that and what does that speak to the quality of our coaching staff to be able to take guys that were not highly regarded to be drafted higher than the sixth round, if at all?
*The Packers bat for a higher average than most teams when it comes to carrying undrafted free agents and late-round picks on their offseason roster, but it's also not unheard of this time of year. The Packers give those players a platform. How many times have we seen it before? This is when you make a name for yourself. *
Jerry from Kansas City, MO
With the first team likely getting a lot more snaps against the Broncos, what are the odds that a young guy or two is tossed in for a few plays to see what they can do against the Broncos stars?
It's possible, especially on defense. Even if Rodgers and the stars play in the first half, I wouldn't expect the Packers to keep the same 11 guys on the field the entire time. I'd imagine the young guys who are "next man up" will get opportunities.
Insiders, why trade up to get Spriggs if he's just going to sit? That must be frustrating to Spriggs, too, who as a second-rounder could be playing if drafted by a team in need.
The Packers needed a natural NFL tackle behind David Bakhtiari and Bryan Bulaga. The 2015 season proved that. Spriggs was a first-round caliber talent. The Packers felt they got good value for him, trading up in the second round. As McCarthy said Tuesday, there were a lot of factors in play during the Washington game. He'll get more opportunities to show what he can do.
When teams give veteran players the day off, is it mandatory, or up to the player? Specifically, if a veteran is on the roster bubble, and needs to fight for a spot, is he still allowed to practice on the veterans' day off?
It sounds like it's mandatory based on how the Packers handled Julius Peppers last year. There were several times when McCarthy said Peppers wanted to practice, but the coaches felt it would be in his best interest to rest.
Everyone talks about Ted changing his style and adding more free agents than ever. Don't you think he added more free agents because he lost more quality free agents than in years past? In Ted we trust.
I do. He's said as much this offseason. It's nearly impossible to replace seven unrestricted free agents with seven draft picks. The Packers had to do some shuffling to replenish the coffers. Also, you can only get up to four compensatory picks. At some point, the difference of the net-loss formula becomes negligible.
Dean from Leavenworth, IN
Wes, at a risk of losing the "circle of trust," sorry but I must say I was very disappointed with your answer to my question on Tuesday. I was NOT suggesting the Packers should trade Hundley before the end of the season. The unedited question was meant to look at it from the perspective of another team's GM. The reality in life is nearly everyone and everything has its price. We won't know what TT would do if another team offered a first-round pick or a player they like at a position of need for Hundley. The question was if you're a GM on an opposing team, has Hundley shown enough in preseason games to tempt you to make an offer "they just can't refuse"? The follow-up to that would be, weighing the importance of a trusted backup QB with the reality that he may never play another meaningful snap for the Pack, what would constitute an offer "you just can't refuse"?
Your post was shortened for consideration of the readers, but I'm now running your full 164-word question to make sure there is no confusion. My answer remains the same, only flipped. I don't know why any team would make an offer Green Bay "just can't refuse" at this juncture of the season for a quarterback who would then need to learn the playbook and scheme. If you haven't made a move by now, you're better off waiting until after the season.
Mitch from Bettendorf, IA
Aren't rugby players known for missing teeth? Case closed.
As long as players don't use their helmets as a weapon, I don't see any reason to make such a drastic change as removing facemasks. Just one man's opinion, though.
Regarding the removal of the face guard from helmets, most would rather risk a concussion over the loss of an eye. Maybe a clear plexiglass shield would be the answer.
I think you gotta have something there.
Try the Seahawks' website.
Derek from Eau Claire, WI
Could you remind us of how much the first-team units have typically played in the third preseason game over the past few years?
Historically, somewhere between one or two quarters.
Joseph from East Moline, IL
Mayweather. As a UFC fan, it hurts to say, but Floyd is the greatest defensive boxer ever. He may be 40, but I don't see how Conor knocks him out, which I think is his only path to victory.
I haven't seen this talked about too much in here, but I just wanted to point out what a class act Ha Ha Clinton-Dix is. From his charity "Ha Ha's HERO Foundation" to writing the names of slain police officers to let their families know they have his support, he seems to be an incredible person on and off the field. I believe Packers fans will be blessed with Ha Ha's presence for many years to come.
You have to commend Clinton-Dix for everything he's done off the field during his short time in Green Bay. Coincidentally, I'll be writing about his internship with the Brown County Courthouse today on packers.com. Be sure to check it out.
Please give us perspective. If you answered every question that arrived in the Inbox, how long would that take? Do you realize the Insider Inbox allows people to be heard, affirms them, answers their Packers questions, rejoices with them in victory, and calms them in adversity? Your column creates a community.
It usually takes me about two hours to answer around 25-28 questions. On Tuesday, there were a little more than 150 questions submitted. So I guess it would take around 12 or 13 hours?