*As part of the Green Bay Packers' celebration of the 10th anniversary season of the Super Bowl XXXI Championship, Packers.com is running a series of stories about the people responsible for bringing the Vince Lombardi trophy back home to Titletown.
Jeff Thomason was a third-string tight end in Green Bay for the majority of his career, including the 1996 season when the Packers brought the Lombardi Trophy home.
But while it may have been difficult to find time on the field behind Mark Chmura and Keith Jackson, that doesn't mean Thomason didn't get the full-fledged effect of what life was like as a Green Bay Packer.
"It's just a neat place to play because everyone takes you in and adores you in a sense," Thomason, 37, marveled. "And they support you in such an incredible way. It's like no other place I ever played in."
The 6-foot-5, 250-pound Thomason spent 10 seasons in the NFL, five of them in Green Bay. His role in the '96 season was primarily on special teams, but he provided valuable depth at the tight end position when Chmura went down for three games in the regular season.
Now as he reflects on his time with the Packers, Thomason insists that although you can win a Super Bowl somewhere else, it just wouldn't be the same.
"You just could not have, as a player, picked a better place to win a Super Bowl," he said. "That town has got so much pride and love for their Packers. It was just so neat to be a part of that thing."
Thomason also got the opportunity to play in Super Bowl XXXIX with the Philadelphia Eagles, filling in for injured started Chad Lewis. It was the only game Thomason played that season, as he found a new line of work in New Jersey with a construction company called Toll Brothers.
Thomason, who oversees different communities as a developer, transferred to just outside of Denver last year. He's married to Blake and the couple has two daughters, Taylor and Lily, and a little boy named Beau.
Though he's been out of the NFL for a couple of seasons, Thomason hasn't stopped being an athlete. He competes in a couple of triathlons each year, and says that he works out in the morning every day for about an hour, either biking, running or swimming.
Someday, Thomason would like to compete in the Ironman competition, but right now the time constraints have put that goal on the backburner.
Speaking of goals, Thomason said he would like to get back to Lambeau Field soon, especially since he hasn't been there since the 2000 season with the Eagles.
"I plan on getting back there with my family and to show my kids," Thomason said. "It was such a great memory of my life, and to see the fans and the town, it would be a real thrill."
Thomason's desire to get back to Green Bay shouldn't come as a surprise because he admits that the atmosphere there is one of the things he remembers the most from the Packers' Super Bowl run.
"One of my greatest memories is when we won the NFC Championship game in Green Bay," Thomason explained. "I think there was like two or three minutes left in the game and everyone on the sidelines was just hugging each other and going crazy. The fans and the town were so supportive and I think it was about negative-three degrees. It was just freezing.
"The Super Bowl itself was incredible. Everything about it was awesome, but that one moment to be in that town and the city and be a part of that team, I mean it was something that I look back on and get chills. Everybody walking around and putting their NFC Championship hats on, it was such a neat place to be. I'm so happy I got to share that with those guys."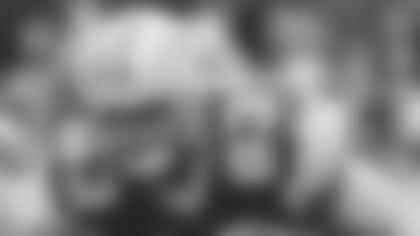 For Thomason, the team's arrival in Green Bay after being crowned Super Bowl champions is also something he will never forget.
"One of the things that was so incredible was when we had the parade the day after the Super Bowl," Thomason explained. "It was 10 degrees, there were no windows on the buses, and we're cruising around and we couldn't even move the buses because there were people everywhere on the street and people without their shirts on.
"And we got to the stadium about four hours late and not a single soul had left. They waited for us in a packed stadium."
Thomason said he still keeps in touch with Bob Kuberski and Doug Pederson, though he'd "love to see everybody again." After all, it was the relationships that his teammates had with one another that made the super season possible.
"It was such a tight group of guys," Thomason explained. "All of us got along so well. There were so many great memories hanging out in the locker room playing backgammon or making fun of each other. It was just such a fun group of guys to be around. Everyone seemed to mesh well together."
He may not wear his '96 Super Bowl ring very often, but Thomason said it symbolizes everything that was great about that team.
"I was wearing it when I was doing my interviews and doing that kind of thing for a while," Thomason said. "It's neat to go back to. It's not the ring itself, it's just the memories I have around it with the people I experienced it with that year. I could sit there and tell stories with so many guys about that year. It was so fun to share that with so many people."
And when he says "so many people," it's clear that Thomason wasn't only referring to his teammates, but also to the Packer Backers that made up so many of his special memories in Green Bay.