"Through the Lens" will appear once per week during the offseason. Packers team photographer Evan Siegle takes us inside his favorite shots from the 2016 season.
On training camp days, I usually start out by capturing images of players as they trek to practice on bicycles. The tradition never gets old to photograph. Sometimes I get lucky and capture a nice moment of a player and youngster as they interact, but on the last day of training camp I instead found myself capturing a pretty comical photo.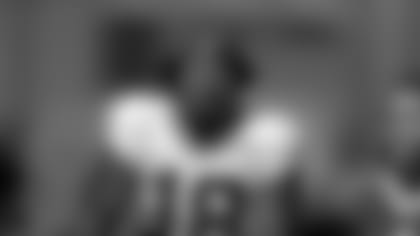 Randall Cobb, who referred to himself that day as Reggie Leroy, was decked out with a curly wig, glasses, baseball cap and some sweet lamb chops and goatee. It was a great way to end the last day of training camp. This photo was taken with a 400mm lens (ISO 100, aperture = f2.8, shutter = 1/4000th).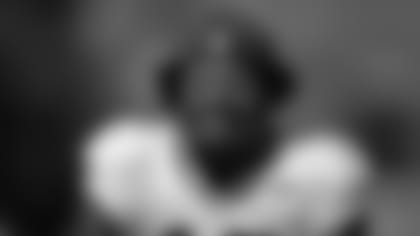 My advice is to always keep shooting, always. I say that because sometimes the reaction is better than the action, or in this case, the reaction is all that I had. A photographer's nightmare is having a ref or player obstruct you from getting the shot or just simply missing the play itself because of the wrong lens choice or the photo being out of focus. Regardless of what happened, it's an agonizing feeling because you always want to get the shot. During the Monday night game in Philadelphia, Week 12, I had one of those moments but thankfully I kept shooting. The play happened to be at the beginning of the second quarter – Aaron Rodgers connected with Davante Adams for a 20-yard touchdown. I missed the play due to being over-lensed, but luckily I had my 35mm lens on my other camera to grab a scene-setter of Adams being congratulated by teammate Randall Cobb. I think the official signaling for the touchdown adds a nice layer to the image, too. I wish I would've captured the play itself, but in the end I did manage to come away with a storytelling image.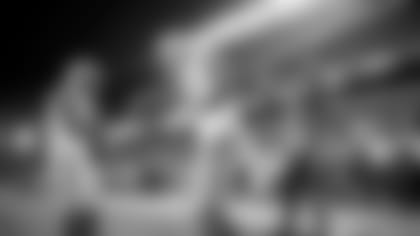 The first thing I noticed inside FedExField (home of the Washington Redskins) was the red wall located near the visitors' tunnel. You could say that I'm addicted to painted vibrant hues. A wall color can add such local flavor to an image too, which is the reason I wanted to incorporate it into my photo. I love how the red wall pops with color and how the shadows set the mood. I photographed several players as they walked out to the field for warm-ups. I liked Nick Perry's focus and body language the best. I shot this image with a 50mm lens (ISO 2000, aperture = f2, shutter = 1/640th).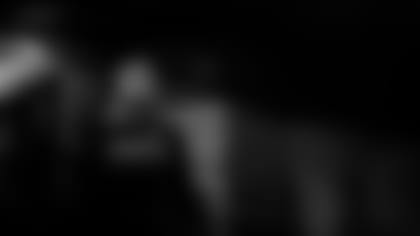 Team Photographer Evan Siegle shares some of his favorite images of the 2016 season.