*As part of the Green Bay Packers' celebration of the 10th anniversary season of the Super Bowl XXXI Championship, Packers.com is running a series of stories about the people responsible for bringing the Vince Lombardi trophy back home to Titletown.
Green Bay is one of the smallest cities in all of professional sports. To some players coming out of college, that's not an exciting prospect. But to others, a small-town atmosphere is ideal.
When the Packers selected Tyrone Williams in the third round of the 1996 NFL Draft, it wasn't really a matter of whether the city of Green Bay was too big or too small.
To him, it just felt right.
Williams was coming from the University of Nebraska where he played in three national championship games, winning two of them. He had two first-team All-Big Eight seasons and usually played his best football in big games. In short, he was a winner.
Plus, Williams was accustomed to the type of football atmosphere that existed in Titletown. So, when he landed in Green Bay in his rookie season, it was a good fit for both parties.
"It wasn't too bad," Williams, 33, said. "The only reason I say that is because I was coming from Nebraska and I kind of knew how a small town works. I know guys who came from USC and at first, they didn't know what to do. But to me, it was so similar to Nebraska it was an easy transition."
Williams played in the nickel and dime packages as a rookie and helped the Packers win Super Bowl XXXI in New Orleans. He played seven seasons and became a mainstay on defense in Green Bay, but for how much he enjoyed his time here, Williams didn't fully appreciate it until he left.
"It was so much fun," Williams explained. "You don't really notice it until you go to another team. I mean, once you go to another team...you start to appreciate the old feeling that two or three years ago, this was this way, and that was that way, and it was so great.'
"So, it's crazy. But the memories are going to be there because it's kind of hard to put a team together and be close and be really like a family and have fun. And on top of that it was genuine. It was a special time in my life, I'll never forget it."
Williams sat out all of last year after playing with the Atlanta Falcons and Dallas Cowboys following eight seasons with the Packers. During that time, the 5-foot-11, 195-pound cornerback realized how much the game really meant to him, and he's doing everything he can to make an NFL comeback, including working out at the IMG Academy in Florida.
"My drive is still there and I found that out this year," Williams said. "At first, it was like, 'Man, I'm tired of football.'
"But taking a year off refreshes you so much. You look out there and you see guys like Deion Sanders, Dale Carter, and Terrell Buckley, and it kind of gives you a little inspiration."
While Williams finds motivation in watching some of the older players maintain an NFL career, he often finds inspiration in being around some of the younger guys, too.
"I'm out there with a lot of college kids that are coming out," Williams explained. "Working out with kids like (Heisman Trophy winner) Reggie Bush, it kind of gets you pumped up about playing again. Everybody is over there."
Williams and his wife Shantel have three kids, Michael, Cameron, and Tyra. They reside in Bradenton, Fla., and though Tyrone is working on his NFL comeback, he is also involved in real estate, owning property in Atlanta, Florida, Houston, and Kansas City.
Though many miles removed from Green Bay, Williams said that doesn't change how he or his family feels about the city.
"My kids and wife, everybody loves Green Bay so we keep up on what they're doing," Williams said. "And Green Bay is definitely always going to be a part of me."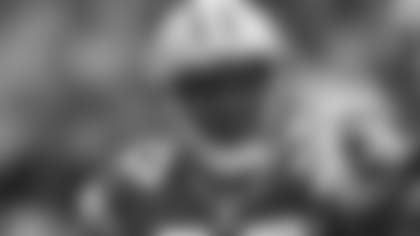 At this point, Williams said one of the most significant things to happen to him since he left Green Bay and played in a Super Bowl is renewing the quest to get back to the big game.
"It's a lot of fun once you go there," Williams explained. "If you've never been there, I feel sorry for you because it's definitely something you should experience at least once in your career."
Whether that happens again for him or not remains to be seen, but one thing is for certain: Williams is going to go down as one of the best football players in Nebraska's history.
"Last year they sent me a letter about how they voted me into the Nebraska Football Hall of Fame and they are going to retire my jersey," Williams proudly stated. "This fall I'll be going in, and if I'm playing ball I won't be there, but I'll still get inducted so it'll be a good thing, either way."
Williams, who keeps both of his Nebraska championship rings as well as his Super Bowl ring in a safe deposit box, said he's very happy to have been a part of Nebraska and Green Bay Packer history.
"It doesn't get any better than that," Williams said. "I mean, to leave my high school and go to the University of Nebraska and to leave there and go to an organization like Green Bay, I mean, I fulfilled every dream I ever had."