*As part of the Green Bay Packers' celebration of the 10th anniversary season of the Super Bowl XXXI Championship, Packers.com is running a series of stories about the people responsible for bringing the Vince Lombardi trophy back home to Titletown.
Today's NFL has turned into a game of numbers.
At the pre-draft combine workout, for instance, the 40-yard dash and 225-pound bench press garner a great deal of attention. On Sundays, millions of fans spend several hours crunching their favorite players stats for their fantasy football team.
And the box score on Monday morning is often times the only thing fans can hold onto if they don't actually get to watch the game.
In this case, only the die-hard fans would know who Earl Dotson is. After all, offensive linemen don't grab headlines and they certainly don't rack up fantasy statistics. In some ways, what they do is very difficult to measure.
But then again, the size of one's heart doesn't show up in box scores, either. And that's where Dotson could have stacked up with anyone.
The 6-foot-4, 315-pound right tackle played 10 seasons with the Green Bay Packers, including the 1996 season when he started 15 regular season games as well as the three postseason games that followed.
Though Dotson stayed relatively healthy in that super season, he battled injuries throughout his career. Between his back, elbow and ankle problems, Dotson dealt with plenty of pain, but he refused to let it get the best of him.
Yet, that doesn't mean Dotson didn't wonder about how long he'd be able to play.
"It got to the point where I had to do so much just to prepare for a game off the field that yeah, those thoughts go through your head," Dotson admitted. "And a couple games, I couldn't do it.
"But, I've always been one of those guys that didn't like to let my teammates down so I pushed it the extra mile. I look back on it now and I don't regret a thing I did."
In addition to being part of such a great team, Dotson also took satisfaction from that season simply because there were no shortcuts. Nothing came easy as the Packers had fallen short in the three seasons leading up to their Super Bowl win.
That's not something Dotson took lightly, either, especially when it came against the Dallas Cowboys for three consecutive seasons.
The irony is that Dotson and the rest of his teammates never got the opportunity to meet the Cowboys in the playoffs the next season, but in the end, it really didn't matter.
"It was time to get over the hump," Dotson explained. "It's kind of weird because I live down here in Texas but they gave us all we could handle all those years leading up to that. And we always thought if we could just get past that one game, we'd be on our way to the Super Bowl.
"But we finally did it against Carolina. Yeah, it would have been better against Dallas, but hey, we got there. And I just think it was a time where everybody knew what they had to do and they stepped up."
The Super Bowl win was obviously the pinnacle to that season, but when Dotson reflects back on it now, it wasn't the most memorable aspect of the year.
"I've got fond memories of the Super Bowl, but to tell you the truth, my best memories are the championship game against Carolina before the Super Bowl that got us there," Dotson said. "I think that was just a game in my heart that everybody pulled together as one, we overcame, we got the job done and got to the next level."
Dotson also had the pleasure of playing with a great offensive line and in the Carolina game that he so fondly recalls, he was part of a group that paved the way for 201 rushing yards, many of which came on his right side of the line.
The Packers also averaged 114 rushing yards a game in '96, up from an 89-yard average the year before. It was a special group, but again, not one that always received the notoriety it probably deserved.
However, that's not something that bothered the group, according to Dotson. Instead, he thought the lack of attention brought the unit closer together.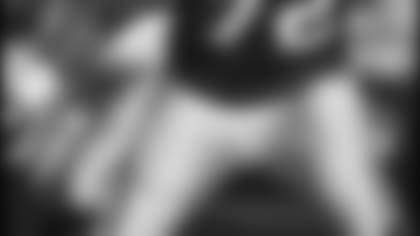 "You know what, we're still a tight bunch," Dotson said. "Especially Adam Timmerman, a great guy, I loved playing with him. We had a lot of nice guys. Frankie Winters, the leader of the offensive line, A.T., (Aaron Taylor) we just had a real nice group.
"So, I have real fond memories of those guys. After that, it's kind of (part of) the game. After we won the game, a lot of guys went to other teams. I just wish we could have stayed together a little longer. We could have done great things."
As it stood, Dotson and the Packers certainly did their share of special things, and he insists that he still is a "big fan" of the Packers and counts Rob Davis and William Henderson as close friends.
To Dotson, it was a treat to play with a storied franchise and serve as one of Brett Favre's personal protectors. He admitted that it was special to share the huddle with the legendary signal caller, too.
"You can't help but think of him," Dotson said. "The guy has so much confidence that you can't help going into a game thinking, 'You know what, as long as we've got No. 4, we've got a fighting chance.'
"He's just got that aura about him where you feel like you can be down 20 points in the fourth quarter and you can look into his eyes and he'll say, 'You know what, we can still do this.' He's a born leader, I think."
Dotson has found out that there are many people quite fond of not just Favre, but the Packers altogether, many of whom reside in Texas. He said he often sees Packer Backers at the 50-Yard Line, a sports bar he owns, as well as the lounge he owns named 624.
Dotson is happy with his life in Texas and said that he feels good, although he did undergo two back surgeries.
"I'm getting along with it," he said. "I worked out and dropped some weight so I'm feeling pretty comfortable right now."
And even if he wasn't, you could bet Dotson would still go out there and compete on Sunday.
It's that type of dedication that made the Packers champions, and in a game of numbers, that's still the most important statistic of all.