GREEN BAY – Hi, everybody. Welcome to Season 5 of What You Might've Missed.
I know, you're not used to reading WYMM, but we're trying something different this year, and I ask that you try it with me.
The idea is still the same – to point out and explain some of the little, or not so obvious, things from the previous week's game that factored into the outcome. Instead of a video presentation, though, the content will be in the form of text and game-film telestrations, with the hope that the written portions can provide more detail to help make up for the absence of live film.
So, please bear with me as we make this transition. On with Week 1, and a look at the offense's blitz adjustments and the defense's crunch-time work.
---
Play No. 1: Third quarter, 13:08 left, third-and-10 from the Green Bay 37.
Result: A 32-yard completion to WR Randall Cobb, the Packers' longest of the game.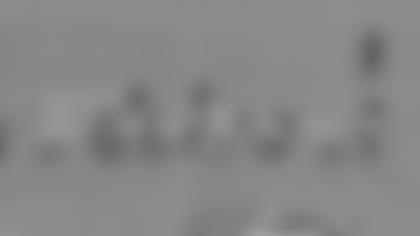 This was QB Aaron Rodgers' at his pre-snap best. In the photo above, he's motioning to TE Jared Cook (89) to come into the backfield to help with blitz pickup. The protection doesn't appear to have Jaguars LB Paul Posluszny (51, circled) accounted for should he rush, and from the middle he can wreck the play in a hurry, so Rodgers wants interior help.
---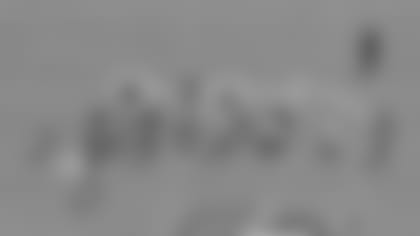 Now with Cook in the backfield, Rodgers has a blocker for Posluszny (51). As Jaguars S Johnathan Cyprien (arrow, left) bails from the line of scrimmage, Rodgers points toward CB Jalen Ramsey (20) as the blitzer RB James Starks (44) is now responsible for.
---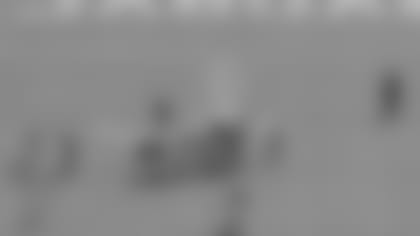 Rodgers' adjustments work nicely, as Posluszny (51) gets swallowed up by Cook, Starks slides across to fend off Ramsey (20), and the linemen form a solid pocket. Rodgers buys a little extra time with his feet as Cobb breaks wide open downfield – he leaps and makes the juggling catch while falling on his back, you might recall – and the Packers convert a big third down.
---
Play No. 2: Third quarter, 11:40 left, third-and-9 from the Jacksonville 30.
Result: A 22-yard completion to TE Richard Rodgers.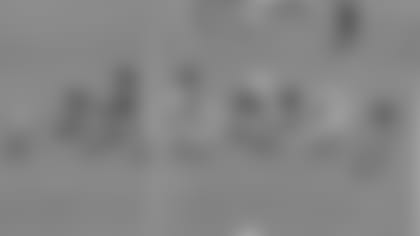 Three plays later on that same drive, the Packers face third-and-long again. This time, the Jaguars are cross-blitzing two linebackers up the middle in Telvin Smith (50, partially blocked by goalpost) and Posluszny (51). Meanwhile, DL Jared Odrick (75) and DE Dante Fowler (56) are running a similar twist on the Packers' left side.
---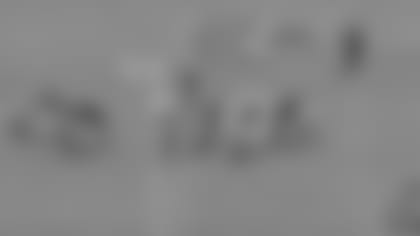 The protection unit has no trouble with the stunts. As the linebackers cross, C JC Tretter picks up Smith (50) and Starks (44) steps right into Posluszny's (51) path. New LG Lane Taylor (circled) also smoothly transitions to blocking Fowler while LT David Bakhtiari doesn't miss a beat in picking up Odrick (75).
With no one even near him, Rodgers' long throw from the right hash to the left sideline is hauled in by TE Richard Rodgers to make it first-and-goal, leading to a field goal.
---
Play No. 3: Fourth quarter, 6:02 left, third-and-11 from the Green Bay 30.
Result: LB Nick Perry gets the sack.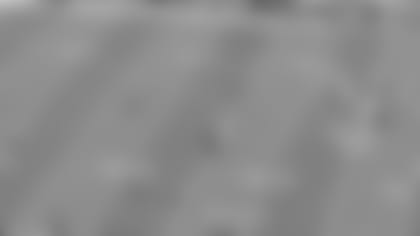 This is the first of two big defensive plays when the Packers needed them. The Jaguars trail, 27-20, but just turned third-and-6 into third-and-11 due to a delay of game, and the Packers unleash perhaps their best straight four-man rush of the day.
The snapshot above is just 1.9 seconds after the snap, and Jaguars QB Blake Bortles already has to bail. Outside LBs Julius Peppers on the high side and Clay Matthews on the low side are closing in. The key is the strong inside push generated by DE/LB Datone Jones (95), giving Bortles nowhere to step up and make a throw, even if someone were open.
The Jaguars have three blockers available on Perry (circled) but left everyone else one-on-one and certainly could have used more help elsewhere. Perry is the beneficiary of his teammates' work, as Bortles' brief scramble leads to Perry's 2-yard sack, and Jacksonville settles for a 50-yard field goal.
---
Play No. 4: Fourth quarter, :23 left, fourth-and-1 from the Green Bay 14.
Result: The game-winning stop.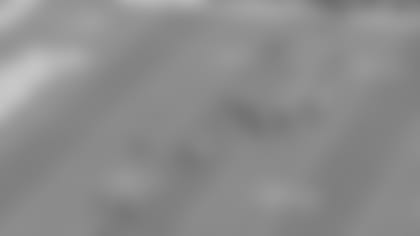 The Jaguars' bubble screen with the Packers in a "zero pressure" look (no safety deep) appears as though it should work. The snapshot above is at the moment when WR Allen Hurns catches Bortles' quick pass. A first down doesn't look too difficult.
But because DB Micah Hyde (33) is able to draw a stalemate against blocking WR Allen Robinson, Hurns can't just put his head down and dive forward to the marker. Hyde holding his own also gives CB Damarious Randall a chance to knife through to begin blowing the play up.
---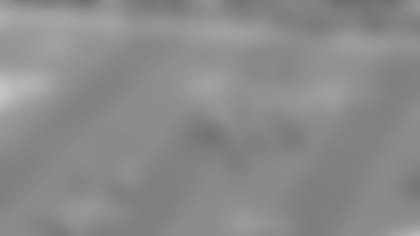 The next shot shows how fast Randall reacted and got to Hurns, given the look of the previous picture. Compare the two and it's an impressive display of instincts and quickness by the up-and-coming second-year corner. At this point, LB Joe Thomas (48), S Morgan Burnett (42) and Perry (53) are on their way to help clean up and seal the victory.