Responding to your post last week on great Packers runs. In 1963, Tom Moore, filling in for Paul Hornung, had a nice 77-yard touchdown run against the Lions breaking a number of tackles.
Tom, thanks for the video. Great memory. And I think it's an understatement to call it merely a nice run. No. 1, the Lions had the second-best rushing defense in the league that season behind only the NFL champion Bears. No. 2, watching Moore run through a tackle attempt close to 20 yards up field almost immediately after spinning out of the grasp of the first would-be tackler was truly impressive. Plus, his vision and acceleration jumped out at the start of the run when he cut back inside pulling guard Jerry Kramer and burst to daylight. Click here for a video clip of the run. Moore has become a somewhat forgotten figure from the Lombardi era, but he was a big, strong, fast back. What's more, Lombardi thought so highly of him that he considered switching back to his three-back offense that he had used in New York and for the first half of his first season in Green Bay. The Packers selected Moore with the fifth pick of the 1960 draft, which gives him the distinction of being the answer to this trivia question. Who was the only No. 1 draft pick made by Vince Lombardi in tandem with top scout Jack Vainisi? That also was the draft where landslide Heisman Trophy winner Billy Cannon of LSU went No. 1. Like Cannon, Moore played in the SEC at Vanderbilt, and Lombardi liked him better because he was bigger and faster. Moore was 6-foot-2, 215 pounds and, according to his personnel report, which is still on file in our offices, ran a 10.1 100-yard dash coming out of college. In fact, Lombardi claimed he was even faster. "(Moore) runs the 100 in less than 10 seconds," Lombardi said at the time. "He has great moves and cuts. Billy Cannon was perhaps the finest college football player in the country last fall, but Moore is more our kind of player." As a rookie, Moore led the NFL in kickoff returns with a 33.1 average. He also averaged 5.3 yards per carry as Paul Hornung's backup. As a result, up until two days before the start of training camp, Lombardi contemplated going back to a full-house backfield so he could play Moore regularly. "We have three great running backs in Moore, Taylor and Hornung," Lombardi said in mid-March as he was deliberating over his options. "Great" was not a word Lombardi tossed around loosely, but he used it several times that offseason to describe Moore's potential. In the end, Lombardi scrapped the idea because it would have forced him to flank Hornung, the left halfback, in formations where the right halfback and fullback were alone in the backfield. Lombardi decided that would have been a waste of Hornung's talents. Instead, Lombardi used Moore as a backup for both Hornung and Taylor. In 1963, when Hornung was suspended for the season, Moore took his place and finished second to Taylor in team rushing with 658 yards and a 5-yard average. He also finished fourth in receiving with 23 catches and a 10.3 average. At that point, Moore was widely considered the best backup halfback in the league, partly because of his big-play ability. The records died with the game, but in the Runner-up Bowl following the 1963 season, Moore circled out of the backfield and turned a short Bart Starr pass into a 99-yard touchdown in a victory over Cleveland. But by 1965, Moore fell into Lombardi's doghouse. He injured his foot and it went undiagnosed back before CT scans and MRIs. Thus, Moore's injury remained a mystery to him and the Packers' medical staff. "My foot just started hurting," Moore told me in a 2003 interview. "I could still run to some degree. But late in the year when the ground was hard, it was just so painful. When I tried to run, cut and turn corners, it was like somebody was trying to stab (me) in the foot. I never got my speed back after that." Hornung was injured for much of the year and Lombardi was unforgiving when Moore wasn't available to take his place, especially with an injury he couldn't comprehend. Pat Peppler, the Packers' personnel director, told me years later that he realized before the season was over that Moore's days were numbered. "I remember an instance when (Lombardi) called for Tom to go in and (the trainer) came over and said, 'He can't go,'" said Peppler. "Vince went over to him and said, 'Damn it, every time I want you, you're hurt.' I thought, 'Oh, oh.'" Moore was well aware of Lombardi's intolerance about injuries. Earlier in his career, he had broken his wrist in training camp and the doctors casted it. When Lombardi spotted the cast that evening, he called the doctors and ordered it removed. Moore was given a leather wrap to put around his wrist and played through the injury. Prior to the 1965 season, Lombardi had drafted halfback Donny Anderson as a first-round future and then after that season drafted fullback Jim Grabowski No. 1. Now deep in running backs, Lombardi traded Moore to the Rams for quarterback Ron Smith and a draft choice. Smith and tackle Dick Arndt, the draft pick, didn't pan out in Green Bay; and Moore never recovered, averaging 2.6 yards per carry in his one year with the Rams. Clearly, there was no winner in the trade, but Lombardi fleeced first-year coach George Allen in a way not many others did in future years. He had peddled him damaged goods. It's interesting that Elijah Pitts and Travis Williams, two other halfbacks who played for Lombardi, have been elected to the Packers Hall of Fame, but not Moore. Pitts played behind Moore from 1961-64 and rushed for only 1,684 yards with the Packers, whereas Moore's total was 2,069. Williams' rushing total in Green Bay was 1,063. Granted, he made the Packers Hall of Fame more as a kick returner, but even there his average in Green Bay was 26.7, only slightly better than Moore's 26.5 average on just six fewer returns.
Pete from Whitefish Bay, WI
What was Veryl Switzer's number and how many years did he play for the Packers?
Switzer, who wore No. 27, is the answer to another trivia question: Who was the first African-American player drafted by the Packers in the first round? Similar to Moore, Switzer had a star-crossed career. Selected with the fourth overall choice in the 1954 draft, he played just two years, mostly on offense, although doubling as a defensive back in a pinch. In fact, his first extended action as a rookie was on defense. Against the Bears in the second game of the season, he was in on eight tackles. Switzer played during the 11-year stretch, pre-Lombardi, where the Packers didn't have a winning season. But with Lisle Blackbourn, an old-school taskmaster with an eye for talent, as his coach, the Packers were at least competitive during Switzer's two seasons. In '54, they were 4-8, but seven of their losses were by a total of 35 points. The next year, they were 6-6. Although Switzer had big-play ability, his playing time on offense was limited because he shared the right halfback position with Al Carmichael, another former No. 1 draft pick. In fact, they also shared kick return duties and both ranked among the best in the league. For example, Switzer led the NFL in punt returns as a rookie with a 12.8 average, including a 93-yard return against the Bears. On kickoff returns, he ranked seventh and sixth in the league in his two years. As a right halfback, Switzer often lined up as a flanker and was used as much as a receiver as he was a runner, catching a total of 31 passes. Yet he also averaged 5.2 yards on 31 rushes and was considered an outstanding blocker. Popular with his teammates, Switzer was the first Black player to make Green Bay his year-round home. He worked for Farah's Liquor in the offseason as an in-store salesman and also did promotional work in the Green Bay area. After his second season, Switzer, a lieutenant in the Air Corps Reserve, was ordered to report to Lackland Air Force Base in Texas to learn to become a pilot. After two seasons of active duty, Switzer returned in 1958 and was cut late in camp by Scooter McLean. He played three more years in the Canadian Football League and then went back to Kansas State, his alma mater, where he held a number of administrative and athletic department jobs. Switzer also was a charter inductee, along with Lynn Dickey, in the school's Hall of Fame and football ring of honor.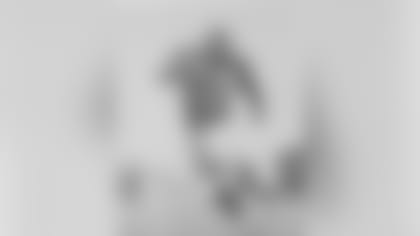 Marty from Greenfield, WI
What can you tell me about a lineman named Ruetz, who played for the Packers in the early 1950s?
Howie Ruetz was a 6-3, 250-pound defensive tackle who played from 1951-53. But he's probably best remembered for his bloodlines. A Racine, Wis., native, Howie was a high school standout there at St. Catherine's and then played at Loras College in Dubuque, Iowa. After being drafted by the Los Angeles Rams in the 26th round in 1951, Ruetz was cut only two weeks before the season started and claimed by the Packers. The Rams were loaded with talent at the time and won the NFL title that year. Ruetz appeared in all 12 games for the Packers as a rookie, but then in only eight his final two seasons. His father, George "Babe" Ruetz, was more famous. Babe managed and coached the Racine team that played in the NFL from 1922-24 and again in 1926, and was one of the Packers' first big rivals. In fact, Ruetz was running the team in 1921 when it played an independent schedule and faced the Packers for the mythical state championship in Milwaukee on Dec. 4. That was the game where the Packers paid three University of Notre Dame players under-the-table money and played them under assumed names, only to get caught and briefly thrown out of what soon became the NFL. The game ended in a 3-3 tie, but drew a big crowd and paved the way for Ruetz to get his team into the three-year-old league. Ruetz was in Canton, Ohio, at the Jan. 28, 1922 league meeting, seeking a franchise for Racine, on behalf of the local American Legion club, when the Packers were expelled for using ineligible players. He also was at the meeting in Cleveland on June 24, 1922, the day Racine was granted a franchise and Green Bay was readmitted. At first, it was believed Racine would be given Green Bay's spot in the league. But as it turned out, Ruetz supported the Packers' efforts to be reinstated, figuring their games would continue to draw large crowds and make money. In its first three NFL seasons, the Racine Legion compiled a 14-11-6 record under Ruetz and was 2-3-1 against the Packers. On Jan. 20, 1923, at another NFL meeting in Chicago, it appears that Ruetz might have done the Packers another big favor. The private, badly underfunded Green Bay Football Club organized by Curly Lambeau, George Calhoun, Nate Abrams and Joe Ordens suffered heavy financial losses that again put the Green Bay franchise at risk. But Ruetz moved at that meeting to transfer the franchise into the name of the "Green Bay Football Corporation," which technically didn't exist yet but was trying to raise money through a public stock sale to save the team. After three seasons, the Legion was broke and unable to field a team in 1925. Following a reorganization, Racine was readmitted to the NFL in 1926 under the name Racine Tornadoes. But the season turned out to be a disaster on and off the field. In fact, Racine played its last NFL game on Oct. 24, 1926, losing to the Packers, 35-0, at old City Stadium and folded with a 1-4 record. Howie Ruetz was born in August 1927, three months after his dad had died. Howie died in 1999.