Here's a question that I can't find an answer to anywhere. Who coined the term "Lambeau Leap"?
I've asked around the office. I sent an email to NFL Films to see if one of its announcers might have used the term, maybe on a highlight video. I've searched on newspapers.com and looked elsewhere and can't give you a definitive answer.
But my educated guess would be that Associated Press sportswriter Arnie Stapleton might be the answer to your question.
In fact, the more research I did, the more convinced I became that Stapleton, who covered the Packers as Wisconsin's AP sports editor from 1993-2005, was likely, at the very least, to have been the first one to use the term "Lambeau Leap" in print. Coincidentally, Stapleton's first game assignment after taking the job in Wisconsin was the day of LeRoy Butler's first leap, although that wasn't when Stapleton wrote those words for the first time. Currently, Stapleton is the AP's pro football writer in Denver.
First, here's a summary of my research.
The first newspaper reference that I could find for "Lambeau Leap" was a story written by Stapleton that moved on the AP wire on Dec. 28, 1995. The first reference I found in the Green Bay Press-Gazette was in a Jan. 26, 1996, story written by arts and entertainment writer Warren Gerds. The first reference I found in the Milwaukee Journal Sentinel was a Dec. 16, 1996, story written by Tom Silverstein.
Here was the lead to Stapleton's story:
GREEN BAY, Wis. (AP) – Wide receiver Robert Brooks has been involved in the best leaping catches in Green Bay this season – and not just on the receiving end.
Brooks and several other Packers have made a habit of jumping into the clutches of fans behind the end zones at Lambeau Field following touchdowns or big interceptions.
Five graphs later, Stapleton wrote this:
But Brooks doesn't get any points for creativity.
Those all belong to Butler, the strong safety who invented the "Lambeau Leap'' on Dec. 26, 1993, when he took a lateral from defensive end Reggie White and scored to spark the Packers' 28-0 victory over the Los Angeles Raiders and clinch a playoff berth.
Keep in mind, when Butler pioneered the leap, not much was made of it by the media at the time. As a matter of fact, I not only didn't find any reference to "Lambeau Leap" in newspapers the next day, I barely found any stories that mentioned Butler had jumped into the stands to celebrate his TD.
There were photographers who captured the moment and, truthfully, if not for their pictures and the captions, there would be little record, in print at least, of Butler's spontaneous conception of what is now one of the Packers' most acclaimed traditions.
The photographers who got a picture of it and had it published the next day included Richard Wood of The Milwaukee Journal, Richard Broozeller of the Milwaukee Sentinel and Mark Courtney of the Appleton Post-Crescent, all of whom snapped their photos from Butler's backside and from more of a distance, capturing the scene from a wide or elevated angle.
Cathy Acherman of the La Crosse Tribune took a tighter shot of Butler's backside as he reached the railing, while Roberto Borea of the AP shot another close-up that certainly captured the emotions of the moment. That photo ran in at least two Wisconsin newspapers, The Reporter in Fond du Lac and Chippewa Herald Telegram, as well as the Detroit Free Press, The Sun of Baltimore and some other smaller papers around the country. However, far more papers ran an action shot of Butler breaking up a pass in the end zone in the third quarter.
Let's not forget that the Packers' victory over the Raiders that day was the last home game of the season. Both playoff games were played on the road. Then, I'm not sure if Butler repeated his act in 1994 or if any other Packers copied it. Remember, the Packers were still splitting their home games between Green Bay and Milwaukee, so there were only five regular-season games and a playoff at Lambeau. Butler didn't score that year and Brooks scored only three of his six TDs in Green Bay.
Brooks brought the leap back in 1995, but didn't score his first touchdown at Lambeau until the third game of the season, on Sept. 17, and his second until the sixth game on Oct. 15, almost a month later. Then on Nov. 12, in the 10th game and almost another month later, he scored twice. He had another two-touchdown game on Nov. 26, the 12th game. Based on my research, the evidence suggests that writers maybe didn't really catch on to Brooks' routine until mid- to late November.
For the sake of historical accuracy, I must admit I can't guarantee the above dates were the first references to the "Lambeau Leap" for those in-state news sources alone, yet others.
But I found no earlier references to "Lambeau Leap" in Sports Illustrated's archives or by paging through the 1994 and '95 Green Bay Packers Yearbooks. With the help of Katie Foust, archivist for the Green Bay Packers Hall of Fame, Inc., we scanned Packer Reports in the issue following Butler's initial leap and then during the 1995 season without coming across the term. Our communications intern Claire Trattner looked through our 1995 game programs and didn't find it, only a notation after the Nov. 12, 1995, game against the Bears that referenced Brooks leaping into the stands. This week, I also scanned the Green Bay News-Chronicle in December 1995 and also on other previous and significant dates where Packers players had likely landed in the stands.
What I found to be most telling was that over several weeks preceding Stapleton's story there were several features written about Brooks in various publications and also the first story that I found devoted to the act of Packers jumping into the stands, and the term "Lambeau Leap" didn't appear in any of them.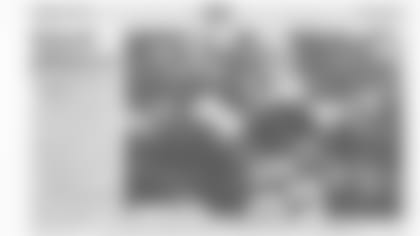 The first "Leap" story that I found was in the Dec. 16, 1995, Packer Report, or what was labeled the "Official Publication of the Green Bay Packers," and the headline read, "Crowd Pleasers" with the sub-title, "Players leaping into stands to celebrate with Packers fans."
"Instead of slapping hands with fans after a touchdown or interception, Robert Brooks, LeRoy Butler, Mark Ingram and a few other Packer players have taken it a step, or leap, further with Packer fans seated around the end zone at Lambeau Field," the story noted.
But the words "Lambeau Leap" were missing.
Obviously, there are other possible candidates besides Stapleton, including all the television and radio announcers that did Packers games over that period, although Larry McCarren told me that he didn't recall the Packers' radio crew – himself, Jim Irwin and Max McGee – coining it. Or one of ESPN's announcers or even a state sportscaster could have used the term on their nightly sportscasts. Maybe there were fans who used it even before the media embraced it.
But when I asked Stapleton this week if he thought he was the first, he said he believed he was. "NFL Films reached out to me about a year ago saying they believed I was the coiner, too," he wrote in an email.
Any readers have anything more to offer on the subject?
Tony from River Falls, WI
Could you do some research on the history of the Cheesehead?
Foamation, a Milwaukee company, started manufacturing the Cheesehead hats in 1987. The company's owner unveiled his invention at a Milwaukee Brewers game, but sales that first year were less than 1,000. It was in 1993, when the Packers made the playoffs for the first time in 11 years and the Wisconsin Badgers climaxed their season by playing in the Rose Bowl for the first time in 31 years, that the Cheesehead craze took off. Sales that year nearly reached 10,000.
Deion Sanders wasn't offered a contract from Atlanta when his rookie contract ended after the 1993 season. Did Ron Wolf consider signing him?
Wolf was interested. At the time, as you noted, Sanders was an unrestricted free agent playing baseball for the Cincinnati Reds but considering a return to football with the major leagues facing the threat of a strike.
In late July 1994, when he was asked about Sanders, Wolf said: "I don't want to get something started here but he's a great football player. We'd like to have him be a part here if he would like to come up here. It's all a matter of affording him. The word has filtered back to us that he doesn't like cold weather." Within the next two weeks, Wolf called Sanders' agent and was told the cornerback wasn't interested.
Remember, Sanders famously said before the 1989 draft: "I don't want to turn in my alligator shoes for snow boots or my Mercedes for a bobsled. I won't go (to Green Bay)."
Sanders signed with the San Francisco 49ers on Sept. 15, 1994. Months later, Wolf admitted, "We were told there was no way in God's green earth that he would come."
I had no idea that Ron Wolf traded for Eric Dickerson during the 1993 season. Can you elaborate on what happened? Was he acquired to be the starting halfback? Why did the Packers fail him on his physical when Dickerson hadn't missed any significant time due to injury?
The trade was agreed to on Oct. 13, 1993. The Packers acquired Dickerson, then 33 and second to Walter Payton on the NFL's all-time rushing list, in a trade with Atlanta. In return, the Falcons received running back John Stephens, who was in his first season with the Packers after being acquired from New England for a fourth-round draft pick.
Two days after the trade was announced, the Packers flunked Dickerson on his physical because of a bulging disk in his neck. Team doctor Pat McKenzie determined that Dickerson would be at risk of suffering a serious neck injury, one that could even cause paralysis. Considering that Dickerson announced his retirement five days later, perhaps he was unaware of what McKenzie discovered on an MRI.
That was Wolf's second full season as general manager and he was willing to do anything to improve his roster. That year, he consummated a league-high 23 trades before the deadline. What happened was backup corner Corey Harris injured his knee 10 days earlier, and Wolf was desperately shopping for a replacement. In the previous game, the Packers had to play Muhammad Oliver in Harris' role. And if you don't remember Oliver, it's because his Packers career lasted two games.
Anyway, with the trade deadline a week away, Wolf called Ken Herock, his longtime cohort with the Raiders and then Atlanta's vice president of personnel, looking for a corner and wound up with Dickerson, as well as a corner. In a separate deal, Wolf gave the Falcons a conditional draft pick for Bruce Pickens, who had been the third player taken in the 1991 draft.
The Falcons were Dickerson's third team in three years, and he had lost his starting job in the first month of the season. Thus, he wanted out and his name came up as Wolf and Herock were talking. Intrigued, Wolf consulted with Packers offensive assistants Tom Lovat and Gil Haskell, who had worked with Dickerson at Indianapolis and with the Los Angeles Rams, respectively. Both endorsed the deal and Wolf closed it.
By then, Wolf also knew Stephens wasn't going to be the answer to the Packers' need for a featured runner. He had started the first five games but had gained a mere 14 yards on 14 carries in the previous two. As it turned out, the Packers lost Stephens without receiving anything in return because the trade wasn't conditional, but it didn't really matter. The Falcons cut Stephens two weeks later before he even appeared in a game.
Did the Packers intend to start Dickerson once he got acclimated? I think so. "In some ways it was a difficult decision, because I was very excited about bringing him in here, and so was he," coach Mike Holmgren said after Dickerson's rights were returned to the Falcons. Lovat, who had been with Indianapolis during Dickerson's first two seasons there, talked to him on the phone before the trade and said, "I think he can still play." Dickerson had gained just 91 yards on 26 carries over the Falcons' first five games, but he had rushed for 729 yards with a 3.9 average the year before with the Los Angeles Raiders.
Once the deal fell through, the Packers turned to former No. 1 draft pick Darrell Thompson as their starter for the remainder of the season.
As for Pickens, he appeared in two games for the Packers and was released on Nov. 29.
Did the Packers Heritage Trail. What is your favorite spot?
Not counting the Packers Heritage Trail Plaza, old City Stadium might be No. 1. But the Northland Hotel, old Chicago & North Western depot and the former Columbus Club probably would be in the top five, too.
Actually, one of my favorites is the old Milwaukee Road depot. There are some compelling stories to tell about that building, and I was just reminded of it in the past few weeks because the replacement plaque has been installed finally, and I stopped to read it. The plaque there had been damaged beyond repair by a drunk driver, and it took time to make a new one. But it's the same wording as before.
My question regards the time around Bob Harlan's leaving as president. I was under the impression at the time that Mike Reinfeldt, UWM alumni and former NFL player, was being groomed to succeed Harlan. Instead John Jones became president. Was I wrong to think that about Reinfeldt?
No, when Harlan hired Reinfeldt as chief financial officer in November 1990, it was with the idea that he'd be his eventual successor. When Harlan interviewed for the job of president, board member Bob Gallagher asked him if he had a plan in mind for a successor if something happened to him. Harlan had to admit that he hadn't given it any thought and, thus, hired Reinfeldt just shy of a year-and-a-half into his presidency with that in mind. But when Mike Holmgren left for Seattle following the 1998 season, the Seahawks offered Reinfeldt a job, as well, and he took it. He became their senior vice president.
"He just didn't want to wait the eight more years," Harlan told me in a 2006 interview, referring to his retirement date. "Plus, (Reinfeldt) said, 'Bob, they've offered me money I can't believe.' They flew him out there in a jet and picked him up in a limo. He said, 'I felt like I was being recruited for god sakes.' We tried to increase his salary. I think we got up to 350 or 4 and, hell, I was about halfway to what Paul Allen (Seattle's owner) was offering."
Following Reinfeldt's departure, the Packers hired Jones shortly thereafter and he was anointed heir apparent.