THIS! This is up! It's so cool that you guys do this.
Yeah, it is! Really cool - glad I get a chance to talk to you!
What's up, Terry? Glad to see you in today!
Hey Randall ... Watch any good movies during your time off?
I just saw Steve Jobs. It was pretty good. I didn't realize how different he was.
Randall! Omg! You are my fav! I've been rocking with you since your Kentucky days!
some say corn on the Cobb, I say cherry-cheese COBBler. What is your favorite nickname?
What is your favorite desert?
BTS Cake from Plae Bistro in Green Bay
Would you like to play in London?
Yeah, as long as it's not a home game!
Would you rather go back to the past or into the future
Let's go into the future.
When Ike Taylor confessed his love for you on the top 100. Have you had a conversation with him since? and what was said? If not, what do you plan to say to him the next time you see him?
Hey man! That picture of you in the bleachers for team pictures was hilarious. Everyone was looking straight ahead and your face was great. Thanks for the laugh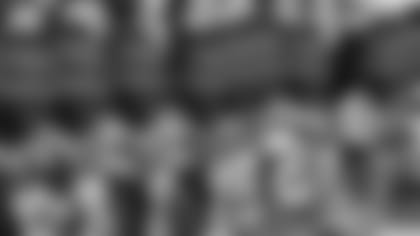 Who's your favorite artist right now ?
Bryson Tiller. Trap Soul. Look him up.
What's up Randall! Quick question - what's your favourite movie of all time?
When you play Mario Kart, what character is your favorite?
My wife wants to know if you wear colored contacts.
No. They're all-natural, Rob.
Hey Randall, I've got a funny here. Would you rather be half your height or double your weight?
I'd rather be double my weight.
Randall, when you smile, I smile
I smile knowing that you're smiling!
What is your favorite sport other than Football?
Comment From JOE From West Plains,mo 
darn looks like my questions are going to go unanswered again
You've got to ask a question for it to be answered!
cobb can you see my questions?
Great question! Yes, I can.
What is your all time favorite dinner? I mean, I'm talking that homecooked meal you can't live without.
Toss kabob. It's a Persian dish.
Any advice for getting a ketchup stain out of a green and gold #18 jersey?
Clorox. No stain in my game.
Randall, any current TV shows you recommend?
Narcos about Pablo Escobar.
Just want to let you know my mom is obsessed with you!
I'm obsessed with your mom as well.
Who is the funniest person on the team?
James Jones. Close second: Ty Montgomery.
What's your favorite scary movie? Halloween is coming up after all!
I'm still scared of Chucky.
Do you miss Jordy Nelson? We miss him a lot.
If anybody was going to play you in a film about your life? Who would it be?
Do you like the show Suits? Which is your favourite character?
Yeah. My favorite character is Louis, because he's always messing something up.
Breaking bad, walking dead, or game of thrones?
How are your cooking skills?
What's your favorite vegetable?
Previously, John Kuhn said in this chat that he could take on John Cena in a cage match. What do you think about this?
Of course! He's Kuuuuuuhhhhhnnnnn.
Comment From Luke Robinette 
You guys pull pranks and scare each other in and around the locker rooms?
All the time. The best is scaring coaches when we pop out behind walls when they're walking.
Who would win in a fight between Spiderman and Batman?
I've never thought of it that way.
Corn on the Cobb? or Canned?
Teacher that made a difference in your life?
Miss Miller. My 6th grade teacher at Alcoa Middle School.
Randall, how long has your hair ever gotten?
Every time I tried to grow it out as a kid, my mom said I was acting bad. It never got very long. I would have gotten kicked out of the house.
It was great hanging out with y'all. Bye!