*As part of the Green Bay Packers' celebration of the 10th anniversary season of the Super Bowl XXXI Championship, Packers.com is running a series of stories about the people responsible for bringing the Vince Lombardi trophy back home to Titletown.
It's only natural for a center to have a special bond with his quarterback. After all, each snap goes through those two, and they work closely together on a daily basis.
For Frank Winters and Brett Favre, this center-quarterback relationship developed many years ago. Winters signed with the Packers as a Plan B free agent in 1992, the same year Favre was traded to Green Bay.
According to Winters, 42, it was a relationship that lasted 11 years on the gridiron, but will last well beyond that off the field.
"He was a great player on the field and equally great off the field," Winters said. "It's probably a friendship that will last throughout our lifetimes. We still get together in the offseason and play golf and talk about the old times."
Winters said it was Favre's ability to keep the mood light that enabled him to lead the Packers to many great seasons, including a Super Bowl XXXI victory.
"He was a lot of fun," Winters explained. "Fun in the sense that he would take pressure off those around them because he was funny, he was a practical joker. I think that put people at ease in tense times in Green Bay. He'd come in the huddle and say, 'Hey, let's go down and score this touchdown and get out of here.'"
Although he recalls the Super Bowl win as if it just happened yesterday, Winters said he knows that's far from the reality of the situation. In fact, that realization, he says, is the most significant thing that has happened to him since the game itself.
"The only thing I can really recall is that time has really flown by," Winters said. "You can kind of look back like it was yesterday, but it's not, it's 10 years ago. Things have changed a lot. When you look at it, a fourth of my life has gone by in the last 10 years. It's just amazing how fast it's gone by."
Winters currently lives in Overland Park, Kan., with his wife Alita and two daughters, Aubre, 17, and Alexa, 16. He owns two restaurants in Ohio and said that in the three years he's been retired, he is "just kind of enjoying it." Winters served as an assistant football coach last season at Blue Valley North High School, where his daughters attend.
"That was kind of fun, just giving back to the community," Winters said. "I was having a good time with the kids that I see on a regular basis throughout the year so it was kind of fun."
Despite this enjoyment, Winters doesn't know if coaching is part of his future plans, especially in professional football. He admits that the lifestyle of many NFL coaches isn't for him.
"You miss the guys and stuff, but it's just a different game today. I honestly think that coaches make it harder than it really is," Winters explained. "It's gotten to the point where they just beat themselves over the head with it. I think from a player's perspective, it's more of a mental and physical toll it takes on your body, but I think from a coach's perspective it's just a mental thing.
"I think coaches believe if they spend 101 hours in the meeting room a week and the coach they're playing against spends 100, they think they'll win. The game has gotten so complicated right now and I think they just beat themselves over the head."
Winters acknowledges that the game may be a little different now then when he played, but regardless of the coaches' involvement, one thing remains the same.
"You've got to remember, the players got to go out there and play, and if you don't have the players you're not going to win, I don't care what kind of coaches you have," the 6-foot-3, 292-pound former center said.
"You look around the league and sometimes it mind-boggles me because the coaches that are coaching, it seems like a recycled league. They get fired and the next thing you know they get hired by another team the next week. The turnover ratio is unbelievable."
It's not that Winters is an opponent of coaches putting in long hours. Rather, he said he doesn't know if that's the best approach.
"Does it work? I'm not sure," Winters said. "You look at (Bill) Parcells and (Dick) Vermeil, they won Super Bowls. It probably doesn't work for everybody, but you know, if that's how they believe it works, you wish them the best of luck."
Though Winters considers himself a casual fan of the game these days, he still has fond memories of the league in which he spent 16 seasons. And life as a Packer was a good one for the New Jersey-born Winters.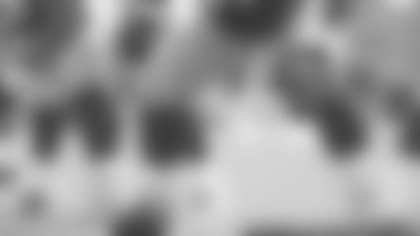 Winters thinks the basis for those good times came from the fact that the team enjoyed being around one another.
"Basically it was just a bunch of good guys that played in that Super Bowl," Winters said. "It was a bunch of guys who did a lot of things together. We were real close as teammates. And to this day, when you see these guys, you still remain close to them.
"It was just a great experience, a whole team effort. We had a bunch of guys who played well. You had your superstars like Brett and Reggie (White), but for the most part, we were a bunch of blue-collar guys who went out there and accomplished great things."
It was with the help of those teammates that Winters made it through one of the tougher times in his life, which happened to be the week of the Super Bowl. It was just two days after the Packers beat the Carolina Panthers in the NFC Championship that his brother, John Winters, passed away with a heart ailment. Frank said football was his outlet, but his family wasn't so fortunate.
"It's always tough when you go through a family tragedy like that," Winters explained. "I think it was tougher on my mom and dad and family members because they had to deal with it after I left and I had to go and get ready for a game. I had my friends' and teammates' support. I had a bunch of people around me supporting me, but for my family, once everyone left, they were there by themselves and maybe a select few individuals."
It wasn't until after the game that the trauma really hit home for Winters.
"With the Super Bowl going on, going through the tragedy, everything was kind of like a blur, until after the season was over with and you sit down and reflect about the good things of winning a Super Bowl and the bad things like losing a brother during that period of time," Winters recalled.
"I think it was tougher after the Super Bowl because you're sitting home by yourself and everybody has gone home to their family and friends and you're just with your family. I think it's a lot tougher during those times."
Speaking of tough, that's one quality Winters never lacked on the field. He played 156 games in 11 seasons for the Packers, but this circumstance required a different kind of toughness. Winters stayed the course because he felt an obligation to his teammates and he had the desire to win the ever-elusive Super Bowl ring. Not that he wears it all that often.
"I think since we won that Super Bowl, I've worn it 15 times, mostly at weddings and functions," Winters said of his ring. "Not to say I don't appreciate it. It's just so big and awkward on your hand. The older you get, the more you'll wear it, and the more you'll appreciate it.
"I'm not really a big jewelry guy, I usually just wear a watch. It's not my style as much as some people. And that's not to say that I don't cherish it and adore it, but I know some guys that wear it every day."
Winters laughs when he thinks about another issue that stems from wearing the hefty piece of jewelry.
"There's nothing worse when you go out and you wear the Super Bowl ring and you have one of these guys who squeeze your hand," Winters said with a laugh. "And you're screaming in pain and you have one of these guys who think it's like a vice grip and they try to squeeze your hand off.
"I had that happen before and I've been almost crying and someone asked me what was wrong, and I was like, 'Nothing, nothing at all.' You know, you just got to live with it."
Sounds like a problem a lot of players would love to have.