*As part of the Green Bay Packers' celebration of the 10th anniversary season of the Super Bowl XXXI Championship, Packers.com is running a series of stories about the people responsible for bringing the Vince Lombardi trophy back home to Titletown.
Minutes after the Green Bay Packers won Super Bowl XXXI, second-year fullback William Henderson sat next to defensive tackle Gilbert Brown at the steps of the Superdome podium set up for the Vince Lombardi Trophy presentation. They soaked in the moment following a year of intense dedication.
"It was such a whirlwind that year," Henderson said. "We're sitting there. Both of us are dog tired from the adrenaline and everything else, and we look across each other like 'What do we do now?'"
Henderson would continue to do the same thing he did during that Super Bowl-winning season well into the 21st century. He bulldozes a path for the running backs, takes out blitzing defenders, hauls in key receptions and carries the ball once in a blue moon. Even in his 11th season, Henderson remained one of the few starters in the NFL to contribute consistently on special teams.
"I've learned the best thing I can do is just be a utility person," Henderson said. "Whatever I'm asked to do, I try to do to the best of my ability and whatever my team needs I try to execute for the sake of winning."
That single-minded drive has allowed the 35-year-old to play more than a decade for the Packers. Along with Brett Favre he remains the only holdover from that Super Bowl-winning team on the current roster. He ranks eighth in franchise history in receptions with 308 and sixth in games played with 174.
In 1996, Henderson caught 27 passes for 203 yards and one touchdown. Eleven years later he compiled even better numbers -- 30 receptions for 264 yards and earned alternate status to the 2006 Pro Bowl.
In a league where running backs in their mid-30s are few and far between, Henderson credits his endurance to three main things -- the grace of God, luck and conditioning. As a result Henderson has missed just two training camp practices in the last five years. Further displaying his dedication to keeping himself in shape year round, Henderson conducted this interview shortly after a March 2 workout at the Packers' facility. During the first two weeks in March, most NFL players are on vacation -- but not Henderson.
"If you love the game, you've got to jump on it and keep yourself in shape while others are letting themselves get out of shape," Henderson said. "I give my conditioning and hard work a lot of the credit for me having my longevity."
Henderson has an extra edge too. Having majored in physical therapy with a concentration in sports science at North Carolina, he uses that knowledge to better regulate his diet and exercise.
"That's probably one of my best assets," Henderson said. "I kind of know how to train myself. I know my own body."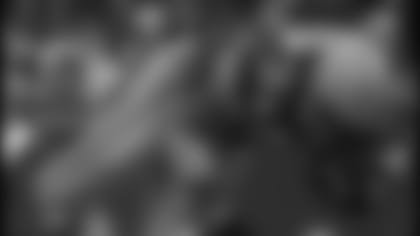 As durable and hard-working as he is, Henderson knows he cannot play forever and may put his undergraduate major to use after he finishes his NFL career. Next year he likely will take an internship with Stryker Corp., a pharmaceutical sales company, during the offseason.
"It's an amazing company," Henderson said. "They're one of the top in the world for any type of medical sales or medical equipment."
Henderson also continues to pursue a career in broadcasting. He has served as co-host of Monday Night Kickoff, a show on Green Bay's ABC affiliate since 1999. In the spring of 2003, he began working as an analyst for Fox's telecasts of NFL Europe. This past April, Henderson also worked for ESPN as an analyst during the NFL Draft.
"That's just the ultimate opportunity for me," Henderson said, "to be in front of the cameras talking about athletes."
Henderson has entertained a captive audience in other ways. He rarely removes his 1996 Super Bowl ring from the jewelry box in house but does so during special occasions. When he spoke to kids at Thomas Dale (Va.) High School (his former high school), he used it as part of a message of improving one's lot in life.
"Mom and Dad didn't have everything so it's up to you," Henderson said. "It's your job to get academically and physically eligible so that someday you can have one of these."
Indeed Henderson exemplifies what can happen with a little hard work.