Chad from Tarpon Springs, FL
How different would Packers' history have been had they drafted Jim Brown over Paul Hornung? To me, this is more interesting than the 1989 draft or the trade for Brett Favre or any other personnel move.
Chad, intriguing question and it makes for a great conversation piece considering what a great player Brown was. But let's start with a caveat. If you're younger than 62, give or take a few years, and you're asking based on the words of a stat geek or talking head who knew nothing about the Lombardi Packers or the evolution of pro football, beware of what you wish for.
Lisle Blackbourn with input from Jack Vainisi made the decision to take Hornung over Brown after considerable deliberation. Bud Lea of the Milwaukee Sentinel reported the day before the draft if the Packers won the coin flip for the first choice their decision would come down to those two players. They liked Hornung's versatility and Brown as a pure runner.
But I think what you're getting at is this: Who would Lombardi have picked if he could have done a draft do-over when he gave up coaching in Green Bay after winning five NFL championships in nine seasons?
I love your question because I'd love to know what Lombardi's answer would have been. In fact, I'm not so sure he wouldn't have still taken Hornung, whose stats don't translate to today's game but was viewed by Lombardi as his biggest playmaker.
Let me make one thing clear here. If you had asked me who was the greatest player in the history of the NFL, I might have answered Brown. My guess would be that Lombardi would have said Johnny Unitas or Brown.
But if you asked me what player other than Tom Brady and some of the game's other great quarterbacks was most valuable to his team over any five-year run in history, Hornung would be one of the players on my short list of considerations.
Had Hornung not come back for the final four games in 1965, I don't think the Packers would have won the NFL title. In 1960, when he scored a league-record 176 points, I'm not sure they would have gotten to the championship game without him. I'm not even sure the 1961 team would have won it all minus Hornung. That was the year he was MVP of both the regular season and the NFL Championship Game. What's more, when the Packers didn't win in 1963, the talk among opposing coaches and players alike at the Runner-up Bowl in Miami was that Hornung's year-long suspension was what cost the Packers a third straight title.
But why wouldn't Brown have performed even better than Hornung if he was a greater player? Because I'm not sure how Lombardi would have weighed four questions that I'm almost certain would have dictated his decision.
1) Would Brown have been a better left halfback than Hornung in his offense? 2) Could Brown have thrown the halfback option well enough to keep defenses honest? 3) How did Brown compare to Hornung as a blocker? 4) If Brown would have been a better fit at fullback, would he have been better off with a backfield of Tom Moore and Brown, than Hornung and Jim Taylor?
Let's take those questions one at a time.
No doubt, Brown was the faster and more explosive runner. Plus, he proved to be the more durable of the two, never missing a game in his nine seasons.
But the left halfback in Lombardi's offense had to be more than just a runner. Lombardi referred to his left halfback as "the key operative" in his attack. That was because Lombardi had built his offense around two plays: The power sweep and the halfback option. And the left halfback was always the guy with the ball in his hands on those two plays. As a footnote, the Packers also ran a weak-side sweep with the fullback carrying, but it wasn't Lombardi's signature play.
In "Vince Lombardi on Football," the legendary coach wrote, "Every football team eventually arrives at a lead play. It becomes the team's bread-and-butter play, the top-priority play. It is the play that the team knows it must make go, and the one the opponents know they must stop. Continued success with the play, of course, makes for a No. 1 play, because from that success stems your confidence, and behind that is the basic truth that it expresses the coach as a coach and the players as a team and they feel complete satisfaction when they execute it and it's completely right. My No. 1 play has been the power sweep."
Lombardi could stand at a chalkboard and talk about the nuances of the play for hours. He drilled his players on it incessantly in practice. He built his game plans around it. The tight end's block was perhaps the most critical. The guards led the way. The center might have had the most difficult block. Lombardi demanded flawless execution by everyone. And what was critical to the success of the play was that the left halfback run "under control" and patiently wait for his blockers to create daylight.
Brown was poetry in motion as a runner. I can't imagine he wouldn't have been able to make the same instantaneous decisions and the same instinctive cuts as Hornung. But would he have been as well-suited for the position?
*While the power sweep was the play that made the Packers' offense go; the halfback option was the play that made the sweep work, according to Lombardi. *
In "Run to Daylight," he called the halfback option "the greatest play in football." In "Vince Lombardi on Football," he wrote, "In fact, if you want to make the sweep go you must be able to execute the halfback option where the back can either run or throw." In 1963 when the Packers were coming off their second straight NFL title and Lombardi was giving thought to moving former No. 1 draft pick Earl Gros from fullback to halfback, he said, "If Earl Gros can throw the ball he will be a tremendous halfback, but he has to throw. We only threw the option pass about 15 times last year, but we called it 70 times and it's the most important play in our offense."
Brown was an exceptional all-around athlete and he threw 12 passes during his career. But could he effectively run the halfback option? If not, Lombardi might not have played him there.
What's more, the left halfback in Lombardi's offense did more blocking than running. The fullback in Green Bay, just as Brown was in Cleveland, was the principal ball carrier. Lombardi wrote in his book on football that Hornung "may have been the best all-around back ever to play football," and then added, "his blocking was one of the reasons for that." The weak-side slant that John Brockington ran so effectively behind MacArthur Lane was a Lombardi play, and Hornung did the same for Jim Taylor. When a conversation turns to the best blocking backs in Packers history, the list starts with Larry Craig, Hornung, Lane and William Henderson.
So if Lombardi would have determined Brown was better suited to play fullback than halfback in his offense, would he have preferred a backfield combination of Moore or Elijah Pitts with Brown as opposed to Hornung and Taylor? Maybe. It's hard to fathom Lombardi turning down Jim Brown. Plus, Moore was a talented back and Pitts was about as solid they come.
One more footnote here. Taylor wasn't suited to play left halfback in Lombardi's offense and Brown's talents might have been wasted there to a degree.
Also, let's not forget that Brown never rushed for more than 74 yards against the Packers and Taylor was the next-best fullback in the league. In 1963, Buddy Young, who had been an outstanding back for the Baltimore Colts and would soon become the first African-American executive in the NFL office, offered this comparison of Brown and Taylor.
"The Packers' Jim Taylor is an awesome runner," Young wrote in the Baltimore News-Post. "I think he's a more complete football player than Cleveland's Jim Brown, if you want my opinion. Brown has more finesse as a runner, but not the power."
So here's my question for you: Would Lombardi have risked his signature play, the most important play in his playbook, the play that gave his teams their confidence and identity, if he wasn't absolutely certain Brown would have fit the bill as a left halfback?
Plus, we haven't even gotten into Hornung's leadership and what losing him might have done to the locker room.
Here's what some of the Lombardi Packers have said about that and Hornung over the years.
Herb Adderley: "Vince called him our money player and he was just that. He should have been the first player from our team in the Hall of Fame."
Jerry Kramer: "He was always the star of our team, even after he stopped being the best player."
Bart Starr: "He was one of the finest clutch players ever."
Max McGee: "He was our leader."
Gary Knafelc: "Paul was as good an athlete as you've ever seen."
Of course, plenty of pundits out there who crunch nothing but numbers will tell you they know better.
Carl from St. Louis Park, MN
I have a question that's more for you personally. I have been a Packer fan for my entire life (61 years) and have purchased just about every book written on the history of the Packers. Why no book on the greatest Packer of all, Don Hutson? And would you consider writing one?
*Sixty-one! You're a young buck. *
Carl, to be honest, writing biographies doesn't interest me much. I enjoy reading them. "When Pride Still Mattered" might have been my favorite sports book. My most recent read was, "Alexander Hamilton," and there have been few books that I've enjoyed more.
But I think you need a compelling personality to produce a good biography and I don't know if Hutson had one, or even a very interesting life outside the game. And if the book was going to be all about football, I don't know if it would be possible to sufficiently research it with limited film to watch, no scouting reports to read and nobody left to interview who truly had historical perspective on that era.
I've read every Green Bay Press-Gazette over Hutson's 11-year career and the sports pages of either the Milwaukee Sentinel or Milwaukee Journal for those roughly 4,000 days, as well. I've also interviewed numerous players about him from the 1930s and '40s, and everyone raved about his pass-catching ability. What's more, when Paul Zimmerman came to Green Bay and watched film of Hutson for a 1989 Sports Illustrated story, he said he saw enough to confirm his greatness, and I've always had a lot respect for Zimmerman.
My impression is Hutson was a one-of-a-kind player with a special talent who helped revolutionize the game.
But here are some questions I'd want to have answered by coaches and players before writing a book about him, and I don't believe that would be possible anymore.
How often did Hutson split out wide on offense? Old newspaper clippings and quotes from teammates suggest not often, at least until the last year or two of his career. In Curly Lambeau's Notre Dame Box, his offensive ends lined up a yard outside the tackles. Apparently, Lambeau put in some special plays for Hutson, but only game films could confirm how often – or how little – Hutson lined up like one of today's wide receivers.
What were the pluses and minuses of him having to play both ways? Hutson was a gangly 6-foot-1, 185 pounds as a rookie. Only one other end in the league weighed less. The other 44 ends averaged nearly 200 pounds. With limited substitution, ends were primarily blockers on offense and had one of the toughest assignments in the game on defense, protecting their team's flanks with only four defenders playing off the line. Once the Packers added Larry Craig in 1939, Hutson was able to switch to a cover position on defense, while Craig doubled as a blocking back and defensive end. But in Hutson's first four years, he played defensive end on a seven-man front. Some of his teammates gave him credit for trying, but the impression they left was that he was a liability as a blocker and defending against the run. Again, only game film could provide insight as to whether his big plays as a receiver more than made up for his shortcomings in other areas.
Why did so many of their teammates consider Clarke Hinkle a better player than Hutson? Pro Football Hall of Fame guard Mike Michalske said Hinkle "was the best player the Packers ever had," and noted Hutson's idea of playing defense was letting somebody else make the tackle. Buckets Goldenberg played 11 years with Hutson and nine with Hinkle. He said, "Clarke Hinkle was the greatest all-around player of all time." Verne Lewellen who starred for the Packers from 1924-32 and then lived in Green Bay for most of his remaining 48 years, said Hutson "was the greatest offensive threat we have ever seen," but "Clarke Hinkle was the greatest all-around ballplayer I've seen." Packers Hall of Famer Milt Gantenbein, who played end opposite Hutson, didn't even pick him on his 11-man, all-time Packers team. Was Hutson strictly a specialist in a game where your teammates judged you on how you played for 60 minutes? I remember what Zimmerman wrote when he was watching film of Hutson, "another figure kept emerging," and it was Hinkle.
What about Hutson's stats? In the years 1935-41 and '45, he averaged 39 receptions, 642 yards and eight touchdowns. From 1942-44, when most of the league's best players were off to war, he averaged 60 catches, 951 yards and 12 TDs.
I didn't raise those questions to denigrate Hutson's impact, but I don't know how you could write a definitive biography without exploring them and interviewing people at length who played with and against him.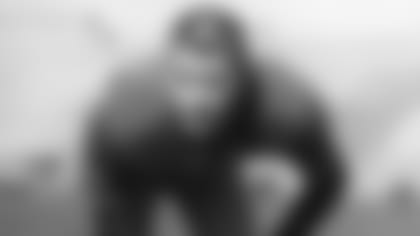 Ed Frank in 1954 Training Camp Photo
In 1954, I tried out with the Packers. I had graduated from Marquette University where I co-captained the 1953 football team. I played in the first three exhibition games before being cut. My only record of any of this was my contract, which I can't locate, and a program from one of the games that contained little other than a roster. I'm wondering if the Packers have anything that proves I tried out.
There's a bio of you in the 1954 Packers Press and Radio Guide. "An extremely diligent athlete, never missed a practice, or had a time taken out for him at Marquette," it reads. You were listed as a 6-3, 198-pound end, although the Green Bay Press-Gazette referred to you as a tackle when you signed in mid-March.
You trained in Stevens Point and were on the winning team, the Golds, in the intra-squad game, played before 5,000 fans at Goerke Field. "Long Ed Frank got in plenty of licks," the Press-Gazette reported in its story on the game. Four days later, Art Daley wrote, you were still "looking good in camp." Then you played in three exhibition games, just as you stated: Against the Chicago Cardinals in Minneapolis, the Cleveland Browns in Green Bay, and the Steelers in Pittsburgh. You were cut Aug. 30 in Stevens Point.
It's not unusual to find 1954 Packers press guides on sale at websites such as eBay. Or if you're in Madison, you could go to the State Historical Society and look back on microfilm at the Press-Gazette's coverage of camp. I've always found that the people there are very helpful.
Whatever, be proud! Even if you didn't play in the NFL, I'm sure you're still in select company by having lasted a month or so in a pro football training camp.