Packers FAN Hall of Fame Finalists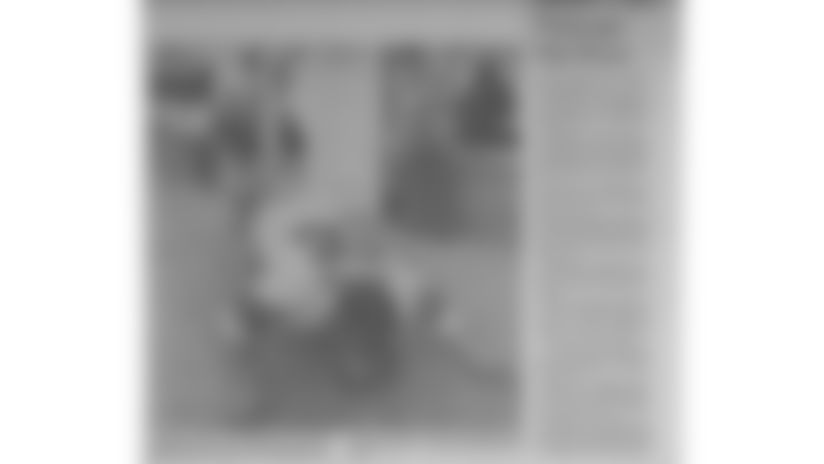 Dr. Gordon Dammann - Lena, IL
What makes a fan worthy of enshrinement into a mecca of professional football like the Green Bay Packers Hall of Fame? A lifelong loyalty to the team through thick and thin? Devoting a large portion of the square footage of their home and personal fortune to the glorification of that team? Passing down a love of that organization to future generations? My nominee for this honor, my Father, Dr. Gordon Dammann, has done all of these. What separates him as a true Hall of Famer, however, is one recorded moment of devotion to the franchise in 1976. It wasn't easy to be a Packers fan in the late 1970's, especially one living in Illinois. The team didn't have a lot of success, but that didn't stop Dad from believing in the team and putting his dignity on the line to support the Pack. In 1976, Dad made a friendly wager on the first Bears-Packers game of that season with a local Bear-fan, Jim Huber. The bet, made over a few drinks after a round of golf, stipulated that the loser would roll a football--with his nose--for one block in their shared hometown of Lena .The deed would take place at high noon the day after the game. The Packers lost that game to the Bears 23-14. The next day, my father arrived at the agreed upon starting point, put on a number Ray Nitschke jersey, got down on all fours and pushed a football down the sidewalk with his nose. Halfway through the ordeal, Mr. Huber said the bet was paid in full and Dad could quit, but he continued on for the entire city block as prescribed under the terms of the agreement. A photographer and reporter from the Freeport Journal Standard were dispatched to cover the event. Photos were taken of Dad on all fours pushing the ball, and an article appeared in the paper the next day. The photographs were sent to a national wire service and went "viral." People mailed Dad newspaper clippings of him pushing the ball from the Chicago Tribune, Milwaukee Journal Sentinel, Dallas Morning News, Los Angeles Times, Atlanta Journal, and Fairbanks Alaska Daily News Miner. The coup de' gras occurred on November 27, 1976, when the photo of Dad appeared on "Weekend Update" of Saturday Night Live. The following fall Dad was named Packers Fan of the Week by The Packer Report for paying off the bet. Today, Dad remains a loyal Packers fan. For his devotion to the Pack in those lean years in the late 1970's, I believe he deserves to be enshrined in the Packers Fan Hall of Fame.
Quote: "In 1959 as a young lad of 14, I shook the hand of Coach Lombardi. This experience converted me into a Packers fan. To be inducted into the Packers Hall of Fame would be the culmination of my love affair with the Green and Gold."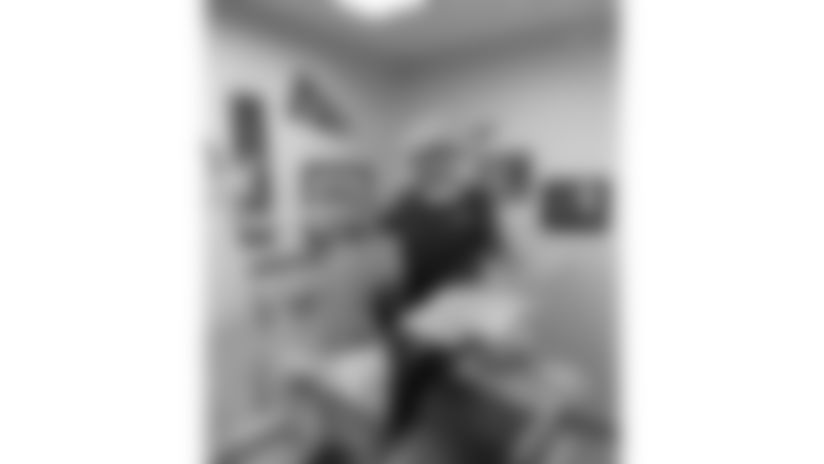 Jeff Gasser - Coleman, WI
To my dad, being a Packers fan is not only a privilege, but a way of life. I am nominating Jeff Gasser because he embodies what it means to be a Packers fan. He values the history and tradition of the franchise while leveraging his fandom as a way to bring his family and community closer together.After graduating from Marquette Dental School and serving honorably in the Air Force, my dad started a dental practice in Coleman, a small town in Northeast Wisconsin. In his modest dental office, he dedicated a room to the Packers, decorating it with team pictures, pennants, and autographs. He even added a Packers mobile above the examination chair to distract his patient from the potential discomfort coming their way! I once asked my dad why he settled in a small town. He explained that small town folks need dental work too and by working in a more rural area he was able get to know his patients better and talk shop along the way. And by "talk shop," I know he meant talking about the Packers! His commitment to the community reflects the way the Packers give back to Wisconsin. He served on the local school board and coached youth and high school sports for over 20 years. He donated time to grade school classrooms to explain dentistry and was instrumental in gathering support to build a baseball field for the local high school. He even helped pioneer the reconstruction of a local church. I am proud of him and the impact he has made on his community. Like many Packers fans who added their names to the season tickets waiting list in the early 1980's, my dad eagerly waited for his turn in line. I remember the excitement in his voice when he found out 30 years later he would be a season ticket holder! I think he even got a little choked up. Throughout my childhood, my dad, grandpa, and I would often travel to Green Bay to watch training camp practices. Dad organized these summer trips as a way for us to bond. Every year I ask him if he thinks we will win the Super Bowl and he always has enthusiastically responds, "Yea, I don't see why not!" My dad's spirit can't be crushed by a bad game or a bad season, even if it stings for a few days. On game days he hosts tailgate parties near Lambeau Field and always makes sure the spread is top notch with brats and his famous chili. He is welcoming to passersby and even offers food to opposing fans. He takes pride knowing Lambeau Field is daunting to opposing teams while still hospitable to their fans. My dad is very deserving of the Packers Hall of Fame and a perfect embodiment of a Packers fan. I leave you with the same words my dad encourages my young daughter to say each time he sees her. "Go Pack Go!"
Quote: "Wow, what an honor! Growing up having role models like Bart Starr instilled in me values such as service and a commitment to excellence. It is truly humbling to be associated with the greatest sports franchise in the world. Go Pack Go!"
Kari Bernier - Dyersburg, TN
I would like to nominate my wife, Kari Bernier, for the Packers FAN Hall of Fame. Packers fans are definitely a special class of fanatic and my wife exemplifies that. There is NO way she will miss a game, even sitting in a bar by herself to catch a game that's not on regular TV. Her parents say that when she was two, she would take a little wicker chair and sit in front of the TV to watch her Pack play. I didn't even watch football until I met her, but her passion was catching and she converted me. Taking her to Lambeau gave me huge brownie points. (That and the year I bought her a share of her team!) In Green Bay, when the fans heard we came all the way from Tennessee, beers were on them! Kari was born near Milwaukee but has lived across the United States, meeting me in New Hampshire and then we moved to Tennessee. Her Packers obsession has never wavered, even during the lean years. She will talk to anyone that will listen about her team. None of our friends dare to say anything negative about the Pack! A good friend of ours is an avid Notre Dame fan and Kari will tell him that's acceptable as had it not been for Notre Dame and Curly finding his love of football there, we might not have the Green Bay Packers.
The day that Bart Starr passed away, my wife called to tell me and I couldn't understand her through all the sobbing. I was scared to death that some traumatic event happened but it was just my wife displaying her team pride and dedication. She has a therapy dog at the school she works at and loves to explain why the dog's name is Starr. She certainly does her best to recruit young Packers Backers! On a recent game day, one of our friends witnessed my wife meet other Pack fans throughout the day, seeing the standard "Go Pack Go" exchanges and said, "You part of some cult?" There just is no other passion quite like Green Bay Packers passion and Kari bleeds green and gold. I cannot think of anyone else more deserving of this honor. I know she would be extremely grateful and truly honored to receive this recognition.
Quote: "I am completely dumbfounded and utterly thrilled to have the honor of being nominated! I know that I am just one of the countless Packers fans out there and therefore the distinction is that much more astounding. Hollywood loves to say that it's just an honor to be nominated but, in this case, it is sincerely and absolutely true. If chosen, I would do my utmost to serve Packers fandom well!!!!"
Kathy Fermanich - New London, WI
I would like to nominate my mom, Kathy Fermanich. To say the least, she is one of the most unselfish people that I know. Each and every day, she chooses to put her husband, children, and grandchildren before herself. Even through her physical struggles with multiple sclerosis, brain aneurysms, and leukemia, she remains stronger than ever for her own family and for her chosen family, the Packers family. From the time I was a wee little girl, the Packers were hugely important in our home. From decorating our entire basement in green and gold, to having a wardrobe consisting of almost entirely Packers attire, it was made abundantly clear what team my mom rooted for. We always had the games on our TV as our holiday ritual and I have fond memories of how we would wake up with sore throats the next morning from how loudly we cheered the Packers on. As a season ticket-holder, my mom never misses a game, wheelchair and all. Needless to say, she only packs clothing and items in two colors....green and gold. Every Christmas, she decorates her own special Packers tree, with her large cardboard cutout of Aaron Rodgers standing guard over it. A few years back, my mom was voted the "Packers Fan of the Week" in the Appleton Post Crescent. Her article includes a large picture of her, which features her green and gold car with Packers license plates that read, "ILUVM" (I Love Em). If it wasn't already obvious, her favorite Packers player is Aaron Rodgers. Since her maiden name was Rodgers, she swears that they must be related by blood somewhere. She owns every single one of his #12 jerseys and the first item on her bucket list is to get to meet him in person and shake his hand. Even if it turns out that my mom and Aaron Rodgers aren't actually related by blood, it is more than clear that she bleeds green and gold with every fiber of her being, and I can't think of anything more special than for the Green Bay Packers to recognize her for the #1 fan that she is. Thank you for your consideration!
Quote: "A word to describe how I feel about being nominated to the Packers Fan Hall of Fame, and being a finalist is, surprised, honored, happy, blessed, and emotional! The Packers mean so much to me, that there is no ONE word, to describe how this would be a huge part of my life. I love our Green Bay Packers and would be so proud to honor them!"
Leo DeGroot - West Bend, WI
At 88 years young, and as stated on his brick in Lambeau Field, Leo DeGroot remains the "#1 Dad and Packers Backer" to his family. He has lived his life by the words of the great Vince Lombardi: God, Family and the Green Bay Packers. Dad was originally a baseball fan, but he fell in love with the Packers when his family moved from Calvary to De Pere in 1943. He has always been a rule follower, but one of the few times he was willing to bend the rules, was when he and his high school friends jumped the fence at City Stadium. With a twinkle in his eye and a devilish smile on his face, he told us how the security guards made him and his friends sit in the end zone for the entire game. It was no punishment. He got to watch his team. When the Packers moved to Lambeau Field in 1957, Dad, Uncle Paul and Grandpa purchased season tickets that would become a family legacy. Dad has had the same tickets on the goal line for the last 62 years and has witnessed some of the most iconic games in Packers History. He braved -13 degrees in the Ice Bowl, watched Chester Marcol run his blocked field goal in for a touchdown and saw Majikowski's "After Further Review." Even during the "Dark Days" of the 70's and 80's, Dad remained loyal in his love for the Green and Gold. During this time, he added 4 new Packers Backers to the house. If he wasn't at the game, he was watching it with his family. We would listen to the church sermon, which usually mentioned the Packers, and then rush home to watch pre-game. The only year that Dad wasn't able to attend a game in person, was when he had open heart surgery. If he could have had it his way, he would have scheduled surgery around football season. Dad's passion for the Packers was contagious. His kids grew up hearing stories about Starr, Hornung and Kramer. When they were old enough to sit still, the kids started making Packers memories of their own with Dad. Later, it would be the grand kids. Everyone looked forward to their annual game with him and loved to hear the joy in his voice as he told stories of past and present Packers Glory. In 2011 the entire family came together from all over the country to cheer on a Packers Super Bowl win. Dad grinned from ear to ear to share it with those most important to him. Dad became a Packers fan because it was his local team. But he has stayed a Packers Fan because the organization has always put integrity above everything. Like my Dad, the Packers are concerned about the quality of people they bring into their family. Dad does not go to as many games as he used to, but his Packers Pride has never been stronger.
Quote: "WOW! I am shocked, honored, and humbled. Thank you to the Packers for a lifetime of great memories."
Carole Gutowski - Green Bay, WI
In my eyes, a Packers fan is a dedicated individual who honors tradition. My Grandmother is such that. Carole Gutowski (also referred to as "Grandma Football") has been a huge fan of the game ever since she was 8 years old. She tells me about the games she went to with her father beginning in the mid-1940's. He would hoist her onto his shoulders and carry her into Packers games at City Stadium. Back then, if you could be carried into a game, you would get in free. She also remembers Packers fans passing around a hat to donate money to pay the players. Things have changed a lot since then. My Great Grandfather was an original ticket holder of 12 seats when the "new" City Stadium was built in 1957. Carole then inherited his tickets in 1981. Her love and dedication to the Packers is demonstrated by the games she attends. In fact, she has only missed 4 home games in the last 62 years! One of those unattended games included the birth of one of her daughters. Every game she proudly climbs 24 steps to get to Section 120, Row 47, Seat 2 at Lambeau Field. Once she settles in her seat, a ritual group photo is captured. She starts munching on her "must have popcorn" then takes one (and only one) sip of her daughter's beer. Carole then waits with anticipation for kickoff. It's just tradition. She braves the coldest weather. Like many fans during harsh winter games, she wears the traditional long underwear, a variety of layered clothing and hand warmers. However, she has a secret weapon to combat the elements of the Frozen Tundra. Once at her seat, she steps into a sleeping bag, pulls it up, and then attaches suspenders so it won't fall down when she stands to cheer. Her dedication to the Packers does not end when the game clock counts down to zero. Once she gets home and defrosts, she will watch the recorded football game in the comfort of her recliner. Grandma may not paint her face green and gold, and she's not the loudest fan at the game. But, she is still a devoted fan of many years. Grandma attended Super Bowl XXXI and XXXII. She is proud to have helped bring the Lombardi Trophy back home to Titletown in 1997 after the Packers victory over the New England Patriots. Grandma attends Shareholders Annual Meetings and has been to a Packers Hall of Fame Induction Banquet. She was even at the receiving end of a preseason Lambeau Leap! I am nominating my Grandmother for the Packers FAN Hall of Fame because her story is unique and exceptional. She is a dedicated Packers fan who has honored tradition from a young age. In fact, she celebrated her 80th birthday on October 19th! Thank you for reading about such an incredible fan, but an even more incredible Grandma.
Quote: "Since attending football games at City Stadium with my Dad at a very young age and now being referred to as Grandma Football by my family, I feel very honored to be selected as a top ten finalist to the Packers Fan Hall of Fame.
My dad, Bob Pinzl, exemplifies what it means to be a "Packers fan" and would be a worthy addition to the Green Bay Packers Fan Hall of Fame. Vince Lombardi once said, "God, family, and the Green Bay Packers, in that order," and that is a philosophy by which my father has raised his children. For as long as I can remember, Sundays were a day that consisted of two things: church and Packers football. While the timing of the day's events occurred in that order, the two were not necessarily separate entities. My dad's attire in church always consisted of Packers clothing: a polo shirt, socks, shoes, watch, a hat or some conglomeration of a few; just for good measure. While these things may have just been items purchased from a store, displaying them meant so much more than "team pride". To my dad, it meant and still means, "Family". As a little girl, Sundays were my favorite day of the week due to the quality time I got to spend with my dad. Once church had ended, we'd head home for lunch - usually hot ham and rolls accompanied by some game time snacks, and of course - a cold beer for my dad in a Packers koozie. Depending on game time, we'd spend time together doing yard work; cutting the grass during pre-season, raking leaves as fall set in, or shoveling the latest snowfall, all dependent upon what kind of weather Wisconsin had thrown at us that week. Looking back, somehow those chores didn't seem so terrible because there was always something to look forward to when they were done - kickoff! And that's when my favorite part of Sundays began. As the game was underway, my conversations with my dad (between downs, of course) took on a game show quality. Packers games were a time for us to share in something that meant so much to my dad and as his daughter, I wanted to be like him and learn everything he knew. I took pride in learning the history of our team and looked forward to quizzing my friends at school the next day. Watching Green Bay football with my dad instilled in me a sense of tradition that has grown with me into the Packers fan I am today; a tradition I now get to continue with my own daughter. To this day when I cheer for the Green and Gold, I don't just think of a jersey, cheese head, or one of the other Packers novelties that I have grown to love over the years. I think of my dad; his faith in God, his devotion to his family, his loyalty to his team, and the memories we made together on those Sunday afternoons. I think that is exactly what "St. Vince", as Dad would call him, meant when he said, "God, family, and the Green Bay Packers, in that order," and why my dad would be a great addition to the Packers Fan Hall of Fame.
Quote: "Thank you so much for choosing me to be in the top 10 for The Green Bay Packers Fan Hall of Fame! It is quite an honor! Even if I don't win, I take great pride in knowing that I have raised my daughter to be a true Packers fan as well and she now gets to do the same with her daughter. I'm looking forward to creating those memories with my granddaughter and helping the "Packers Pride" tradition live on for a new generation."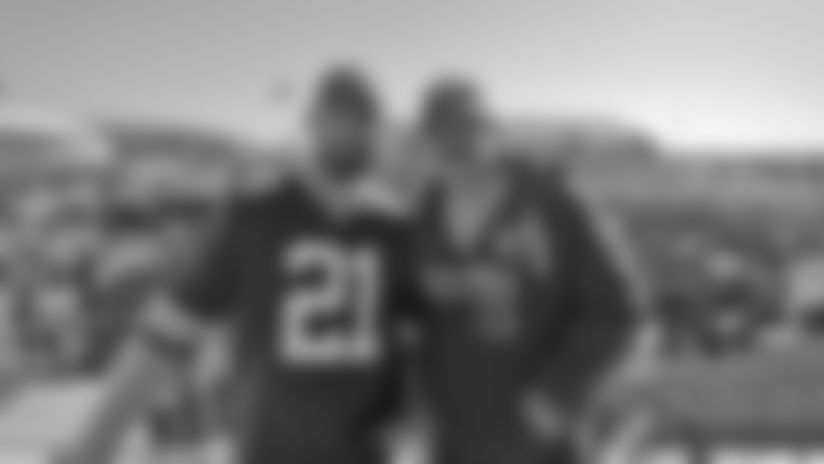 My son Mark, who passed away October 4, 2018 at age 34, was a Packers fan since he was a child growing up in Michigan, just an hour's drive from Detroit, even when everyone around him thought his disloyalty to our Detroit Lions disgraceful. He was a Tigers and Red Wings fan, but when it came to football it was all Green Bay Packers. One of his bucket-list items (and he had only two) was to see his Packers play live, especially at Lambeau Field. In the fall of 2015 while considering Christmas gifts I started exploring Lions/Packers tickets for a game at Ford Field when it hit me, why not look at the Lambeau schedule? My limit was $300 per seat and there were many available for when the Packers would host the Lions. There was just one problem. November 15 is a significant day in northern Michigan, perhaps it is in Wisconsin? Yep, deer season and Mark was a serious hunter! I sent a text to my son asking him where he would rather be on November 15th, in the woods or at Lambeau Field? He asked me not to mess with him (not that politely either). I then called him so that he would know that I was serious (texting was our usual means of communication). I asked him not to get too excited, that I was considering getting Packers tickets for Christmas. There was a moment of silence on the other end of the line (his co-workers said he went pale and had to sit down for a moment) and then he kept saying "are you kidding me? You are the best mom in the world!" Well, that sealed the deal. I went back online and bumped the ticket price up to $350 and purchased three tickets (me, dad and Mark) in the visitor's section, 35-yard line, and fourth row! November 15, 2015 was the most memorable day! It was a beautiful 60 degrees and Lambeau Field was electric! We quickly discovered there was no better place to watch football than in Green Bay, Wisconsin! Afterward, Mark was elated, simply put: "words could not describe this." That Christmas he decorated his tree with Packers decorations, Packers clothing for his children wrapped under the tree, there was even a Packers pacifier for his young son purchased at the pro shop! It has been a year since Mark passed and we are missing him immensely, in the middle of another football season. We find comfort somehow when we watch his Packers on television because we feel like he is here watching with us. Even if this isn't enough to earn him a place in your Hall of Fame, I hope that you find this letter a testament to the joy that the Green Bay Packers brought, and continues to bring, to our family.
Quote: "Words cannot describe the emotion we feel for being nominated as a finalist for the Packers Fan Hall of Fame in honor of our son Mark, but really, he was the true fan and this is for him. If he were here he would probably say (after throwing up from excitement) "Go Pack Go!"
Bill Hughes - Coeur d' Alene, ID
My name is Bill Hughes and I am not just a Packers owner/fan…..I AM A PACKER! Bill Hughes and the Green Bay Packers are synonymous in any part of this country! As we all know, pilgrimages are made continually to fulfill some type of longing. For me, my pilgrimage was to a small town in Wisconsin. I was born in Wisconsin but grew up in California. When I was 10 years old, 58 years ago, I asked my mother what team should I root for? She said "YOU ARE A PACKER!" Made sense, since I was born in Wisconsin. I've been obsessed since. In my early teens, my enthusiasm sky-rocketed to a whole new level after watching the 1965 NFL Championship, Green Bay v. Cleveland better known as the "Mud Bowl." My passion became intense as my love for the team grew. The real moment of truth came when I named my only son, born in 1986, after the GOAT, Vincent Thomas Lombardi in hopes that my son would develop the same type of character and passion I knew growing up. Vince Lombardi was my mentor, and my desires were to pass on his values and his compassion to my boy. Sure enough, the Packers enthusiasm caught on without a hitch! As my son grew older, I knew there would be a time to take him to Green Bay and experience Packers history. That time finally came when my former student, Erik Kramer, then playing QB for the Chicago Bears, gifted me tickets to go to the Packers/Bears game in November 1995. I took my son and brother. We were standing outside of the Packers' locker room getting autographs and we were approached by a man that we became engaged in a conversation with. This man turned out to be the team chaplain. To our surprise, he gave us a tour! Afterwards, he asked if there was anything else he could do for us. Well, I had just purchased a football and a jersey that my son wanted signed, so I asked if this was possible. The kind chaplain took the items into the training room where both Reggie White and Brett Favre were nursing injuries. He returned from the dressing room and told my son that the players would like to meet him, and with that said, my boy got to sit on the table between Brett and Reggie! Following all that excitement, we got to witness Brett Favre throw 5 TD passes! This was all truly a dream come true. Great passion for the Packers continues for me. As a former coach/teacher, my students were constantly reminded of the wisdom of Lombardi, Starr, Kramer and Favre. Again, I am not just a fan, I am a PACKER. (I even named my boat Lambeau Leap!!!!) The tradition that is exhibited every Sunday in Wisconsin has also been revealed in my own life and over my lifetime. I truly admire the Green Bay Packers organization. GO PACK!
Quote: "Being nominated as a finalist is a dream come true and it's amazing……... but I want to WIN!!! Remember…….some famous guy once said, "Winning isn't everything, it's the only thing!"
Roger Cassem - Midlothian, VA
I am Roger Cassem, a "Cheesehead" from Richmond, Virginia, and a Packers fan for the past 56 years. My fanaticism for the Packers runs deep - deep into the dirt of Lambeau, you might say. I became a disciple of Coach Lombardi as a kid, absorbing his beliefs about commitment and dedication to a team effort. Lombardi said, "The achievements of an organization are the results of the combined effort by each individual." Those words and my love for the Packers led me to Green Bay in 1997 as a volunteer to help lay sod for the NFC Title Game. The story began when I read an article in my local paper about a connection between Richmond and Green Bay. I was fascinated to learn that a local sod company had replaced turf between the hashes earlier in the season. After the divisional game against San Francisco, the field needed of repairing before the NFC championship game. I knew if the same company was getting the job, I needed to lend a hand. I called the office, found out they were going back, and offered my services. The shocked secretary who answered the call said it was up to the owner; I managed to get his ear and convinced him that I would be a great asset to his team. The next thing I knew, I was traveling to Green Bay as a volunteer member of the crew that would ready Lambeau Field for "Ice Bowl II." Never mind I didn't know anyone with whom I was traveling or where I would stay or how long or that I didn't have experience with this sort of work. Forget I only had two hours to prepare for the journey since I had called from work and was told the crew would be departing soon. The reality was that I dropped everything, even jeopardizing my job, to take a leap of faith. It led to one of the greatest adventures of my life. It was my pilgrimage. The drive took more than 22 hours, and I found myself behind the wheel for most of it being too excited to sleep. I spent a week working in the cold side by side with residents of the town. I met players from the past and became known as "Virginia" to grounds crew members. When a Carolina news team covering the game asked one of the grounds crew for a diehard fan to interview, he pointed to me! I was even interviewed by a local news affiliate who got wind of my story. The experience of being a part of bringing a title back to Green Bay far outweighed cheering on the Packers from the comfort of home. Unlike other fans, I yearned to help. So when the opportunity to be part of the "combined effort" presented itself, I did not hesitate. Working in Lambeau Field made me feel as if I was becoming a part of Packers history. It was a thrill never to be matched.
Quote: "I never thought anything could top my experience as a volunteer readying Lambeau Field for the 1996 Title Game, and then getting to watch it in person as the Packers won their first championship since the days of Lombardi. Being named a finalist among the greatest fans in all professional sports, however, is right there with it. The thought of it is incredibly exciting and humbling."