Buford "Baby" Ray​
College: Vanderbilt, 1935-37
NFL All-Decade Team: 1940s
Years selected to an all-pro first team: 1939, '41, '43, '44
Packers All-Iron Man Era Team: 1976
A behemoth in his day and a stalwart at left tackle at a time when players played both offense and defense, Ray was dominant as both a blocker and defender. He took over as the starter in his second season and held the job for nine years. Former Milwaukee Sentinel columnist Stoney McGlynn once wrote, "He's the closest thing to the raw-meat type of tackle the Packers haven't had since Cal Hubbard used to train on TNT for sessions with the Giants and Bears."
Mild-mannered off the field, Ray was passionately devoted to the game and a fierce competitor. He started in the 1939 and 1944 NFL championship games, both won by the Packers, although injuries limited his starts in '44.
Rare as it was for a lineman, Ray made two of the biggest plays en route to the Packers winning the Western Division in both 1938 and '39.
In a title-clinching 12-7 victory over Detroit in the Packers' regular-season finale in 1939, Ray blocked a punt for a safety. A year earlier, he recovered a fumble and set up Tiny Engebretsen's game-winning field goal with less than a minute left in a 24-22 victory over the Chicago Cardinals in a season where the Packers won the division by one game. "He was so raw-boned and hard," former teammate Nolan Luhn said of Ray. "He'd hurt me when we had to hit. He was a tough sucker."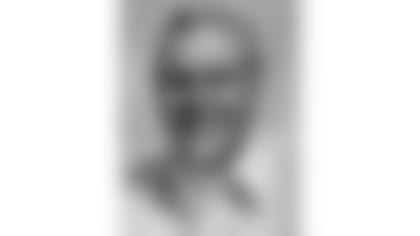 When Ray joined the Packers, he weighed 280 pounds, his playing weight at Vanderbilt, but coach Curly Lambeau promised it was all muscle. By training camp, Ray was listed at 6-6, 250.
"He was a big boy," said Aldo Forte, who spent five years with the Chicago Bears and Detroit Lions and then finished his career with the Packers in 1947. "In those days, anybody who was bigger than 6-2 or 6-3 was a big guy. He was steady. He was there every game. I don't think he ever got hurt. Reliable."
The Packers announced Ray's signing as an undrafted free agent on May 28, 1938, when the draft was 12 rounds and there were only 10 teams. Actually, the Green Bay Press-Gazette reported Ray had signed his contract two months earlier, but no announcement was made because he was captain of Vanderbilt's track team and there was concern it might affect his amateur status.
In 11 seasons, Ray played in 116 games and started 69, including 67 at left tackle.
Following the 1948 season, he accepted a job as line coach at Vanderbilt and held the position through 1966, all the while filing scouting reports for the Packers in advance of the NFL draft. In July 1971, the Packers hired Ray as a full-time scout. In March 1983, Ray retired but continued scouting for the Packers on a part-time basis.
Born Sept. 30, 1914, in Una, Tenn. Given name Buford Garfield Ray. Before his rookie year, Ray explained that he was given the nickname Baby in his childhood and preferred it to his given name, Buford. Died Jan. 21, 1986, at age 71.