Clarke Hinkle​
Height: 5-11; Weight: 202
College: Bucknell, 1929-31
Inducted Pro Football Hall of Fame: 1964
NFL All-Decade Team: 1930s
Official NFL All-Pro Team (11-man team, chosen 1931-42): 1936, '37, '38, '41
Other years selected to an all-pro first team: 1932, '35, '40
Pro All-Star Game Selection (game played 1938-42): 1938, '40
Packers All-Time Team: 1946, '57
Packers 50th Anniversary Team: 1969
Packers All-Iron Man Era Team: 1976
Hinkle was widely regarded by teammates and opponents alike as one of the toughest, most talented and dedicated players of the Iron Man Era, which covered the first three decades of pro football. "Meaner than a rattlesnake," was how former teammate Bob Adkins remembered him.
A contemporary of the Chicago Bears' legendary Bronko Nagurski, Hinkle was four inches shorter and 30 pounds lighter, but just as tough, if not tougher, in the eyes of their peers. "He was the hardest runner I ever tried to tackle," Pro Football Hall of Fame linebacker and center Clyde "Bulldog" Turner of the Chicago Bears once said of Hinkle. "When you hit him, it would just pop every joint all the way down to your toes."
Some of the collisions between Hinkle and Nagurski were legendary, especially a thunderous head-on crash in 1933 that Hinkle walked away from as Nagurski was carted off on a stretcher.
Hinkle played on two of the Packers' NFL championship teams, in 1936 and '39, and he retired after the 1941 season as the NFL's all-time leading rusher with 3,860 yards. That record stood for eight years. "The perfect fullback" was how the Packers described Hinkle in their 1940 press book.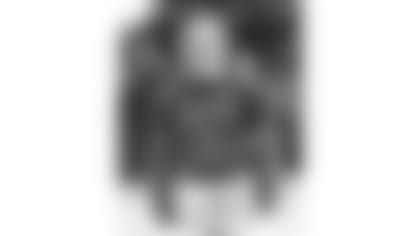 In an era when players doubled on offense and defense, Hinkle was everything a team desired in a back: versatile; a rugged line-smasher with some breakaway speed; a devastating tackler from a linebacker position; and a capable passer, punter and placekicker.
He also was a fierce competitor. "I've never known a man who wanted to win like Hink did," teammate Cecil Isbell once said. "Before the game, he'd get glassy-eyed, he'd be so fired up and eager to play. After the game, if we lost, he'd sit at his locker and cry like a baby."
Hinkle was inducted into the Pro Football Hall of Fame in 1964.
Former teammate Mike Michalske also was a member of that hall of fame class and was as qualified as anyone to pass judgment on the greatest Packers player over the team's first 50 years. Michalske played on the Packers' 1929 to 1931 NFL championship teams and later played five years with Hinkle. Michalske played two seasons with Don Hutson and coached at nearby St. Norbert College for another two years while Hutson was playing. Michalske scouted for the Packers while coaching college football in the 1940s and '50s, and lived in retirement in the Green Bay area during the Lombardi era.
"As far as Hinkle, I believe he was the best player the Packers ever had," Michalske told former Packers public relations director Lee Remmel in 1977, a decade after the Lombardi years had ended. "He could punt and pass, he could kick off, he could back the line, and he could carry the ball as many times as you wanted him to. He was in fine shape and always came to play. I think he was the greatest all-around player we've ever had."
Curly Lambeau announced he had signed Hinkle on Jan. 11, 1932, shortly after he scouted him in the East-West Shrine Game. That was four years before the first NFL draft.
Hinkle had led Bucknell to a 20-5-3 record over three seasons and had once scored eight touchdowns in a game. While Bucknell was located in Lewisburg, Pa., it played Fordham in New York on the Saturday before the Packers played the Giants each year during their championship run from 1929 to 1931. As a result, Hinkle had become a Packers fan. He said that was why he accepted Lambeau's offer of $125 a game over others from the Giants, Portsmouth and Boston.
In all, Hinkle played in 114 games and started 82 for the Packers, all but two at fullback. As testament to his durability, he missed only five games in 10 seasons.
Hinkle enlisted in the United States Coast Guard in May 1942, and didn't return to the Packers following World War II. The Packers named their oldest practice field, located along Oneida Street, Clarke Hinkle Field in 1997.
Born April 10, 1909, in Toronto, Ohio. Given name William Clarke Hinkle. Died Nov. 9, 1988, at age 79.