Don Hutson​
College: Alabama, 1932-34
Inducted Pro Football Hall of Fame: 1963
NFL 50th Anniversary Team: 1969
NFL 75th Anniversary Team: 1994
NFL 75th Anniversary All-Two-Way Team: 1994
NFL All-Decade Team: 1930s
Official NFL MVP – Winner of Joe F. Carr Trophy (awarded 1938-46): 1941, '42
Official NFL All-Pro Team (11-man team, chosen 1931-42): 1936, '38, '39, '40, '41, '42
Associated Press All-Pro Team (chosen since 1940): 1940, '41, '42, '43, '44, '45
Pro All-Star Game Selection (game played 1938-42): 1940, '41, '42
Packers All-Time Team: 1946, '57
Packers 50th Anniversary Team: 1969
Packers All-Iron Man Era Team: 1976
Press-Gazette All-Century Team: 1999
The incomparable Hutson dominated play like few others over the history of the NFL. What's more, he was impervious to whatever efforts were taken and however many special defenses were designed to stop him.
Double-teamed, triple-teamed, it didn't matter. Blessed with a quick start off the line, sheer speed and a deceptive change of pace, Hutson was virtually unstoppable as an offensive end. "Don Hutson was the Jerry Rice of his era," said former teammate and fellow end Bernie Scherer.
Back when the passing game wasn't nearly as sophisticated as today, Hutson could do things running patterns that none of his peers could duplicate. One was his ability to cut sharply at top speed and another was his uncanny knack for adjusting to the flight of the ball and running down what were seemingly out-of-reach passes. "Hutson is the only man who can feint in three directions at once," former Philadelphia coach Greasy Neale once said.
On the first offensive play in Hutson's second NFL game, he caught an 83-yard touchdown pass from Arnie Herber that gave the Packers a 7-0 victory over the Chicago Bears. When he retired following 11 seasons, Hutson owned 19 NFL records.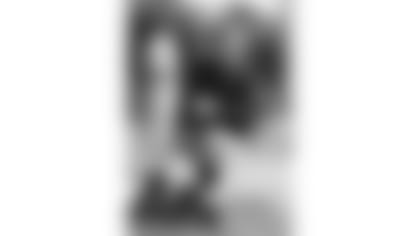 He once scored 29 points in a single quarter against Detroit, illustrating exactly how explosive he could be. He also was one of the most decorated players in league history. From 1938 to 1946, the NFL named an official MVP and awarded the winner the Joe F. Carr Trophy. Hutson won the award twice, in 1941 and '42, the only player to do so.
Hutson also was a fixture on the NFL's official 11-man all-pro team. Starting in 1936, his second season, he was chosen every year but once until the selections were discontinued in 1943. Once the Associated Press started naming its all-pro team in 1940, Hutson made it six straight years, until he retired.
He led the league in pass receptions eight times and in scoring five times. Perhaps his ultimate accomplishment was being as instrumental as anyone in the Packers winning NFL championships in 1936, '39 and '44.
Having played in the age of limited substitution when teams packed the line of scrimmage and ends, as they were called then, lined up as down linemen on both sides of the ball, Hutson's assignments differed vastly from those of today's players. On offense, despite possessing the size and skills of a modern-era wide receiver, Hutson almost always played left end and usually lined up tight to the tackle in Curly Lambeau's Notre Dame Box offense, at least until late in his career. Thus, he was routinely required to block opposing linemen.
He also played defensive end over his first five seasons and that meant he was playing in the trenches on both sides of the ball at 183 pounds. As a result, he took what teammate Cecil Isbell said was "a fearful beating."
Finally, in 1939, the Packers shifted Hutson to the secondary and put rookie blocking back Larry Craig at defensive end.
Once Hutson made the move, he intercepted 30 passes over six years. He also handled placekicking duties, especially over his final six seasons, mainly kicking extra points.
Hutson was inducted into the Pro Football Hall of Fame as a charter member in 1963.
"In the years to come whenever forward-pass catching is mentioned, one name will always be mentioned first – Don Hutson, without a doubt the greatest pass catcher the game of football has ever known and probably the greatest it will ever know," Clark Shaughnessy, longtime college and pro coach, and one of the most renowned strategists in football history, wrote in 1943. "No one but Superman could perform the feats Don Hutson has performed in catching passes."
Hutson signed with Green Bay on Feb. 19, 1935, at a salary of $175 per game, according to his NFL personnel file. The Packers announced his signing three days later upon receiving his contract.
Frank Thomas, Hutson's coach at Alabama, recommended his star end to Lambeau in a phone conversation following the Jan. 1, 1935 Rose Bowl. Thomas and Lambeau both had connections to the University of Notre Dame, where they played under Knute Rockne.
Hutson later said he had signed two contracts, one with the Packers and the other with the NFL Brooklyn Dodgers. Legend has it that the Packers were awarded Hutson's services when their envelope arrived at the desk of league president Joe Carr with an earlier postmark.
Hutson had entered the pro ranks one year before the first NFL draft.
Nicknamed "The Alabama Antelope," Hutson ran track as a senior at Alabama and placed fourth in the 100-yard dash and second in the 220-yard dash in the Southeastern Conference meet. The winning times in the two events were 9.8 in the 100 and 21.7 in the 220. While Hutson claimed at one point he could consistently run a 9.7 100, he was credited while still in college with running a 9.8 once in practice and being able to consistently run a 10-flat in meets.
Hutson played in 117 games for the Packers and started 60, all at left end. He finished with 488 receptions for 7,991 yards, a 16.4 average, and 99 touchdowns.
Hutson announced his retirement on Sept. 27, 1946. He was a player-coach his last two seasons before serving solely as an assistant on Lambeau's staff from 1946 to 1948.
"Don Hutson Day" was held Oct. 21, 1945, at Milwaukee's State Fair Park, and friends and fans presented him with a certificate for a Cadillac at halftime. The Packers retired Hutson's No. 14 during a brief halftime ceremony at Green Bay's City Stadium on Dec. 2, 1951.
Hutson was elected to the Packers' board of directors on Jan. 21, 1952, and served until he became a director emeritus on May 5, 1980. The $4.2 million Don Hutson Center, the Packers' indoor practice facility, was dedicated in 1994.
Born Jan. 31, 1913, in Pine Bluff, Ark. Given name Donald Montgomery Hutson. Died June 26, 1997, at age 84.​