Donny Anderson
College: Texas Tech, 1963-65
Pro Bowl Selection (played since 1950): 1968
Few players ever received more fanfare before joining the Packers than Donny Anderson. On top of being drafted in the first round a year before he was eligible to turn pro, Anderson signed what at the time was the richest contract in NFL history. Nicknamed the "Golden Palamino" at Texas Tech, Anderson was stamped with yet another tag, one of the "Gold Dust Twins," when he and fellow rookie back Jim Grabowski signed their contracts for a combined $1 million-plus prior to the 1966 season.
Anderson was hyped as the eventual replacement for halfback Paul Hornung, whereas Grabowski was pegged as the heir apparent to fullback Jim Taylor. Those were pressure-packed expectations considering Hornung and Taylor were the glamour boys of a backfield that had led the Packers to three NFL championships from 1961 to 1965.
While Anderson might not have fully lived up to his advanced billing, his contributions over six seasons in Green Bay probably were underappreciated.
Most importantly, his shining moment might have been the Ice Bowl, arguably the most famous game in Packers history. On paper, Anderson's stats might not seem that impressive. In reality, what coach Vince Lombardi asked of him in those unforgiving conditions – the temperature was minus-13 degrees; the wind chill, minus-46 – bordered on the extreme.
Anderson handled the ball 30 times, including punts, and stood out on the final, do-or-die, 68-yard drive when he caught three passes for 27 yards and picked up two critical first downs. Overall, Anderson rushed for a team-high 35 yards in 18 carries, caught four passes for 44 yards and punted eight times for 230 yards.
In the locker room afterward, Lombardi put his arm around Anderson and told him, "You became a man today. I'm really proud of you."
In six seasons with the Packers, Anderson never missed a game and led them in rushing in 1968 and 1970. Two weeks after his clutch performance in the Ice Bowl, Anderson played a key role again in the Packers' victory over Oakland in Super Bowl II.
Along with being a slicing, long-striding runner, Anderson was an outstanding receiver out of the backfield. In fact, he might have been a better receiver than runner. "Anderson isn't a good pass receiver, he's a great pass receiver," Cleveland coach Blanton Collier once said. While the Packers toyed with the idea of moving Anderson to flanker over the course of his career, they never did.
In addition, he was the team's punter from 1967 to 1971 and, here again, his 39.6 average was misleading. He was known for his hard-to-handle left-footed boots, his hang time before the term was a football catchword and his ability to drop punts inside the 20-yard line with little roll.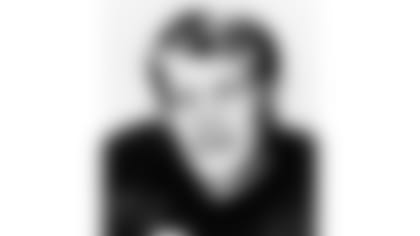 In Anderson's first season as the Packers' punter, they won their third straight NFL title, and he placed a club-record 22 punts inside the 20. Moreover, the Packers' opponents returned a mere 13 punts for 22 yards, a 1.7 average.
"He got more done than you'd think," said Pat Peppler, Lombardi's director of player personnel. "He was a strong guy, but it didn't come out so much as a runner because he didn't have that low center of gravity. He had unbelievably good hands. He had size and speed. He was a punter besides. He was a fine all-around athlete. You wanted a dominant back, which he was not. But Donny played nine years in the league and I don't think he missed a game."
The Packers chose Anderson in the first round, with the seventh overall pick, in the 1965 NFL Draft, held on Nov. 28, 1964. Anderson was classified as a future, a draft-eligible junior who according to the rules of the day couldn't sign a contract until he finished playing college football a year later.
Anderson was only the second future ever selected in the first round of an NFL Draft and the first since the Los Angeles Rams chose Dick Bass six years earlier. The Houston Oilers also picked Anderson, a native of Texas, in the first round of the American Football League's separate redshirt draft.
Thus, a year later, the two franchises engaged in a fierce bidding war for Anderson's services, and the Packers wound up signing him for the unprecedented sum of roughly $700,000. The signing took place in Jacksonville, Fla., on Dec. 31, 1965, shortly after Anderson had played his final game for Texas Tech in the Gator Bowl.
Anderson played sparingly as a rookie behind Hornung and Elijah Pitts, but took over as the starting halfback in 1967 after Pitts tore his Achilles tendon. Thereafter, Anderson started the final six regular-season games and three postseason games as the Packers won their third straight NFL title and Super Bowl II. Two years later, Anderson lost his starting job to Travis Williams, but regained it over the final nine games.
In all, Anderson played in 84 games for the Packers and started 56. He rushed for 3,165 yards, good for a 4.0 average per carry, and caught 125 passes for 1,725 yards, an impressive 13.8 yards per catch.
Anderson was traded to the St. Louis Cardinals on Feb. 22, 1972, for halfback MacArthur Lane. Anderson played three seasons in St. Louis and was traded to Miami in May 1975. He announced his retirement three months later.
Born May 16, 1943, in Borger, Texas. Given name Garry Don Anderson.