Howie Ferguson​
Height: 6'2"; Weight: 218
Selected to an all-pro first team other than AP: 1955
Pro Bowl Selection (game played since 1950): 1955
Like Jim Taylor, his successor as the Packers' fullback, Ferguson was a hard-nosed, never-say-die product of the Bayou State. While Ferguson's numbers didn't match those of Taylor, a member of the Pro Football Hall of Fame, his toughness did, according to players from that period. In fact, Vince Lombardi, despite clashing with Ferguson from day one of his first training camp and trading him within a week partly to create an opening for the then 23-year old Taylor, still saw enough of Ferguson to say, "You can hear the ground shake when he runs."
Ferguson's best season was 1955 when he finished second in the NFL in rushing to rookie fullback Alan Ameche. In what was then a 12-game season, Ferguson rushed for 859 yards on 192 attempts, a 4.5 average. He also caught 22 passes for 153 yards, a seven-yard average.
The highlight of Ferguson's career might have been when the two faced each other for the first time on Oct. 8, 1955, in a Saturday night clash, at Milwaukee's County Stadium.
Both were bruising fullbacks and with the Packers struggling to fill seats at the time in Milwaukee, the newspapers of the day hyped the matchup much like a heavyweight championship fight.
On one side was "The Horse," Ameche's ever-popular and marketable nickname. A native of Kenosha, Wis., and a Heisman Trophy winner at the University of Wisconsin, Ameche was a statewide hero well accustomed to the spotlight.
In sharp contrast, Ferguson never played college football. But there was no doubt he was just as rugged. An all-district boxer and football player in high school, Ferguson spent his off-seasons while he was playing with the Packers working as a rigger in the oil fields near his hometown of New Iberia, La. "The Bayou Bronco," was what The Milwaukee Journal's Chuck Johnson called him in a preview story before his encounter with Ameche.
The game drew 40,199 fans, a record crowd for Milwaukee and the largest home crowd in Packers history at that point, and lived up to its advance billing. Although the Packers, lost, 24-20, Ferguson rushed for 71 yards on 20 attempts, while Ameche rushed for 57, also on 20 carries. "Ferguson got a little better blocking than Alan did," Colts coach Weeb Ewbank said after the game, "but there's nothing wrong with either one of them. I'd like to have both of them."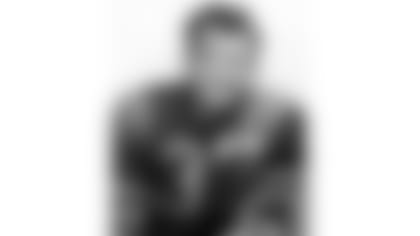 Ferguson's most productive game as a pro came against the Chicago Bears on Oct. 2, 1955, when he rushed for 153 yards on 15 attempts.
"He was an old Cajun from Louisiana," said former end Max McGee, who played collegiately at Tulane in New Orleans. "Talk about tough, he was tough. He was a heck of a fullback. He liked running over people. He liked to get up and run. In those days, you could get up and run again. They had to pin you down. He was a different animal. He just liked to hit people and run over people."
The Packers signed Ferguson as a free agent on Jan. 21, 1953, according to his personnel file in the NFL office. A product of New Iberia High School, Ferguson enlisted in the Navy on Jan. 8, 1948, and played four years of service football. Discharged on Jan. 7, 1952, he signed with the NFL champion Los Angeles Rams on June 11 and was waived on Sept. 19.
Ferguson took over as the Packers' starting fullback in 1954 after backing up Fred Cone as a rookie and then had his breakout season in 1955. Unfortunately, he couldn't stay healthy. In 1956 and '57, he developed chronic knee problems and split time between fullback and halfback. In 1958, Ferguson separated his shoulder and also suffered a chip fracture to it on November 9 against the Bears and played in only seven games. 
Lombardi traded him to Pittsburgh for an undisclosed draft choice on July 28, 1959, but the deal was nullified six days later due to Ferguson's shoulder problems. At that point, he returned to Green Bay, had a pin removed from his shoulder and resumed practicing. But his injuries mounted, including hamstring and back problems, and  he announced his retirement on Sept. 16, 1959.
In six seasons in Green Bay, Ferguson played in 65 games and rushed for 2,120 yards on 544 attempts, a 3.9 average.
In May 1960, Ferguson signed with the Los Angeles Chargers of the newly organized American Football League and helped them win the Western Conference championship by rushing for 438 yards on 126 carries, a 3.5 average. Sid Gillman, his coach that year and former coach of the Rams, called Ferguson "the best blocker in pro ball." But an injury again befell Ferguson. He suffered a detached retina in his right eye in the AFL title game and it ended his career.
Born Aug. 5, 1930, in New Iberia, La. Given name Howard Ferguson Jr. Died Dec. 18, 2005, at age 75.