John Brockington
College: Ohio State, 1968-70
Associated Press NFL Offensive Rookie of the Year (chosen since 1957): 1971
United Press International NFC Rookie of the Year (chosen from 1955-96): 1971
Newspaper Enterprise Association NFC Rookie of the Year (chosen from 1964-96): 1971
Associated Press All-Pro Team (chosen since 1940): 1971
Other years selected to an all-pro first team: 1973
Pro Bowl selection (played since 1950): 1971, '72, '73
Three years into his NFL career, John Brockington had accomplished something no other back in the history of the game had done, including three fullbacks from the two-platoon era already inducted at that point into the Pro Football Hall of Fame: Jim Brown, Marion Motley and Joe Perry. Brockington's record feat was rushing for 1,000 yards or more in his first three NFL seasons.
With his distinct, hell-bent, high-knee-action running style, Brockington punished defenders in his first three seasons like he was out to win a demolition derby. He was faster than most fullbacks of his day, but running with power and busting tackles in traffic was his game.
Playing in the era of 14-game schedules, Brockington rushed for 3,276 yards and averaged 4.3 per carry in his first three seasons and might have been paid the ultimate compliment by Doug Buffone, who played linebacker for 14 years with the Chicago Bears, including eight next to Pro Football Hall of Fame tough guy Dick Butkus. "They had a guy there, John Brockington, who mowed Dick down one year," Buffone vividly remembered more than 15 years into retirement.
In Brockington's first year, he set the NFL rushing record for rookies with 1,105 yards, while averaging 5.1 per carry, and was the only rookie named Associated Press All-Pro. He also was named the NFL Offensive Rookie of the Year by the AP, and NFC Rookie of the Year by both the United Press International and Newspaper Enterprise Association.
Included in Brockington's rushing total that first year was what turned out to be a career-best 149 yards with a 6.5 average against a Minnesota team that won the NFC Central Division with an 11-3 record and featured a defensive line with two future Pro Football Hall of Famers, Alan Page and Carl Eller, plus Jim Marshall, who played 20 years and in what was once a record 270 consecutive games. After that showing, Vikings coach Bud Grant said, "Brockington is as fine a runner as I've seen. He makes many of his own yards by bouncing off people and by accelerating with those quick bursts he has."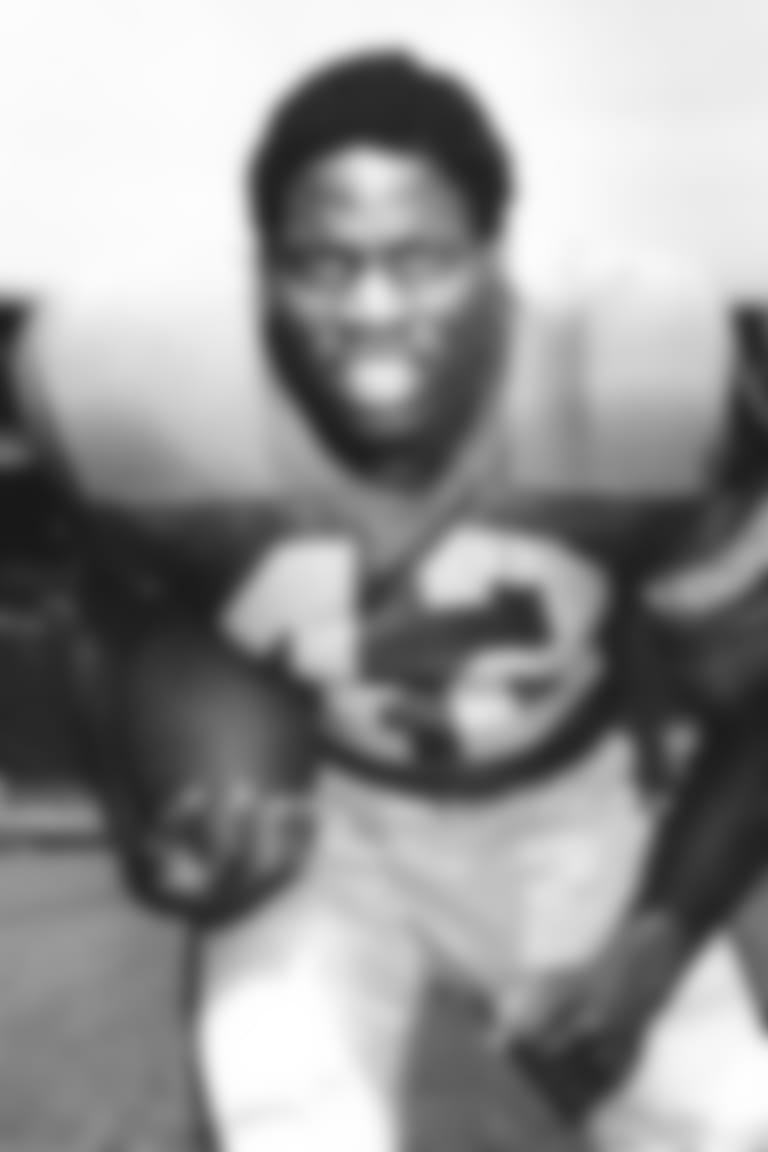 In 1972, Brockington and 220-pound halfback MacArthur Lane combined for 1,848 rushing yards and led the Packers to a 10-4 record and their only division title between the Vince Lombardi and Ron Wolf eras. In 1973, Brockington had five 100-yard rushing games. Even in 1974, when he fell short of 1,000 yards with a team-high total of 883, he also led the Packers in receiving with 43 receptions.
"John Brockington was the toughest, hardest-hitting running back that I knew," Bill Lueck, the Packers' starting left guard from 1969 to 1974, said in 2019.
"We used to joke, 'Nobody wants to be the first guy to make contact with John Brockington.' He was a beast. Nobody wanted to tackle him. He'd run over the first guy. That was his game. But he was elusive also. That's what made him such a dangerous running back. He may run over you the first play, and the next play you're all tensed up and ready for this major collision, and he'd put a move on you. You never knew what was coming: A move or run over you."
However, Brockington's numbers took a nosedive, starting in 1975, when Bart Starr took over as coach, traded Lane – one of the best blocking backs in the league – and scrapped Brockington's signature play and one that also helped put Jim Taylor in the Pro Football Hall of Fame: Brown Right 36 Slant, a weakside, off-tackle run, where the halfback had to execute one of the key blocks on the outside linebacker. In truth, Brockington was a straight-line runner, at least until he broke the line of scrimmage, with only a limited number of pet plays. But Red Cochran, backfield coach for the Packers when both Taylor and Brockington played, also said the latter had one thing going for him that Taylor didn't.
"Brockington was just faster," Cochran said in a 2002 interview. "He'd turn a 6-yard gain into a 30-yard touchdown. He could do everything Taylor could do and with more speed. I think Brockington took a bum rap when Bart took over. People started talking about Brockington dancing. I think what happened, the guy (Starr) brought in (Paul Roach as offensive coordinator) turned that slant from a quick-hitting power play into a kind of read-the-block. I think they took (Brockington's) instincts away. When they made Brockington read that block instead of reading it full tilt, when he stopped and looked, it was gone."
Pursued by the Chicago Fire of the new World Football League after his third 1,000-yard season, Brockington also holds the distinction of signing the first million-dollar contract in Packers history, a three-year, no-cut deal.
The Packers traded up and selected Brockington with the ninth overall pick in the 1971 draft. In all, he played six seasons and one game for the Packers, finishing with 5,024 yards on 1,293 rushing attempts, a 3.9 average, and 138 pass receptions for 1,075 yards, a 7.8 average. His rushing totals in 1975 and '76 fell to 434 and 406 yards, respectively, as he shared playing time with Barty Smith. One game into the 1977 season, Brockington was waived by the Packers and three weeks later he signed with Kansas City, where he played in 10 games over the remainder of the season. A year later, the Chiefs traded Brockington to Detroit during training camp and when the Lions cut him less than two weeks later his career came to an end.
Born Sept. 7, 1948. Given name John Stanley Brockington.